T-Mobile USA Boosts Customers as Takeover by AT&T Drags On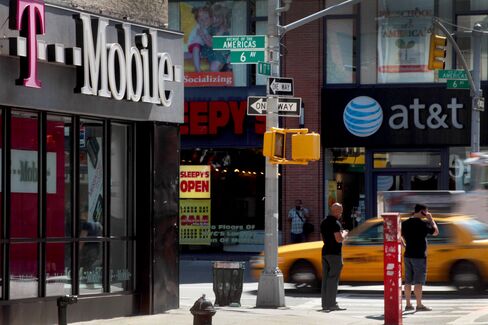 T-Mobile USA, the fourth-largest U.S. wireless company, added customers for the first time in a year and reported profit that beat estimates as its German owner fights to complete the proposed sale of the unit to AT&T Inc.
Third-quarter adjusted earnings before interest, taxes, depreciation and amortization of 1.03 billion euros ($1.4 billion) beat analyst estimates by 17 percent. Losses of contract subscribers slowed, and gains for lower-priced pay-as-you-go plans led to a net addition of 126,000 customers from the previous quarter, T-Mobile said today in a statement.
Deutsche Telekom AG and AT&T are battling a lawsuit over the $39 billion takeover by the U.S. Justice Department, which says it would cut competition. While T-Mobile's third-quarter results may aid the government's case by showing the carrier is still a strong rival to AT&T, Sprint Nextel Corp. and Verizon Wireless, the arrival of Apple Inc.'s iPhone 4S at the three biggest carriers in October might tilt the playing field this quarter.
T-Mobile's third-quarter performance "shouldn't change the DOJ's consideration of the merger," Walt Piecyk, an analyst at BTIG LLC in New York, said in an interview today. "T-Mobile is improving and it could imply they are growing, but you can't jump to any conclusions. The fourth quarter will get more challenging when they are the only ones without the iPhone."
The carrier reported 33.7 million customers at the end of September, compared with 33.69 million three months earlier. The subscriber total fell from 33.8 million a year earlier.
Contract Subscribers
T-Mobile, based in Bellevue, Washington, lost 186,000 contract subscribers in the quarter, bringing the loss during the past four quarters to 1.17 million. The third-quarter decline was narrower than the 281,000-customer loss in the previous three months, as well as the 253,000 average estimate of analysts surveyed by Bloomberg.
"We've gotten better at winning new customers, but the rate at which subscribers are leaving still isn't satisfactory," Deutsche Telekom Chief Executive Officer Rene Obermann said on a call today. "It looks as if that's still going to be the case in the fourth quarter."
The number of pay-as-you-go customers, also called prepaid subscribers, rose to 8.11 million at the end of September from 7.8 million in the second quarter and 7.06 million a year earlier.
Shares Rise
Deutsche Telekom, based in Bonn, rose 3.7 percent to 9.11 euros at the close in Frankfurt. The stock is down 5.6 percent this year, giving the company a market value of 39.4 billion euros.
AT&T, based in Dallas, gained 0.9 percent to $29.16 at the close in New York. Sprint rose 3.7 percent to $2.84. Verizon Communications Inc. climbed 1.2 percent to $37.33.
Deutsche Telekom confirmed a forecast for 2011 adjusted Ebitda at the U.S. business of about $5.5 billion after reaching 71 percent of the target in the first nine months.
T-Mobile's third-quarter capital spending rose 15 percent from a year earlier to $741 million as the operator expanded its network that uses the faster HSPA+ technology. Plans to follow Verizon and AT&T in constructing a so-called long-term evolution network have been put on hold pending completion of the merger.
The antitrust review of the takeover may sap T-Mobile's strength as an independent company, said Roger Entner, an analyst at Recon Analytics in Dedham, Massachusetts.
"They need to be vigorously competitive on post-paid, especially when profitability in prepaid is very challenging," Entner said. T-Mobile needs to add three to four prepaid customers for every postpaid customer it loses if it's to maintain current profitability, he said.