Siemens Sees Stagnant Profit as Revenue Growth Moderates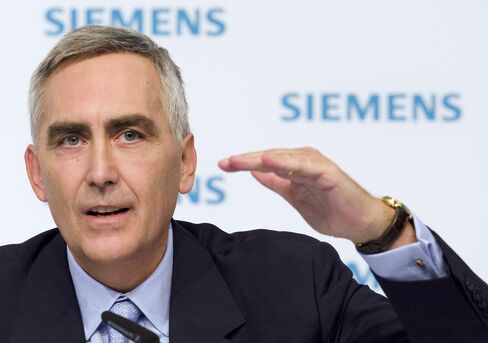 Siemens AG, Europe's largest engineering company, forecast stagnant profit for next year as sales growth moderates and the global economy cools.
The maker of trains, turbines and health-care scanners today said orders dropped 2 percent to 21.16 billion euros ($28.6 billion) in its most recent quarter. Analysts in a Bloomberg survey had expected the Munich-based company to report 20.83 billion euros. Siemens plans to pay a dividend of 3 euros a share, less than analysts had estimated.
"We have an environment that is more volatile, but we have a strong base line going into 2012," Chief Executive Officer Peter Loescher said in a Bloomberg Television interview.
Loescher joins rivals including Schneider Electric SA and ABB Ltd. bracing for a slowdown in spending on infrastructure as cash-strapped governments curb spending. The company said today that it had to write down the value of a solar subsidiary and that it has started negotiations with workers to overhaul parts of its health-care business.
Siemens declined as much as 2.38 euros, or 3.3 percent, to 69.98 euros in Frankfurt. The stock traded little changed at 72.39 euros at 12:14 p.m. and has lost 22 percent of its value this year.
Volatile Environment
The dividend proposal is 6.3 percent less than a Bloomberg forecast of 3.20 euros. Loescher said the payout reflects the current "volatile environment" and a need to maintain cash. Acquisitions are an another reason to refrain from paying more to investors, he said in the interview.
"Overall, this is a bit of a disappointment, especially the dividend," said Ben Uglow, an analyst at Morgan Stanley in London. "The fourth quarter was not bad, but the outlook will not get investors excited," he said.
Revenue in Siemens fiscal first quarter ending Dec. 31 will be "O.K." though it will not match the fourth quarter number, Chief Financial Officer Joe Kaeser said.
Siemens's solar business suffered from canceled projects and there are insufficient subsidies globally for the technology, Loescher said. The newly appointed head for the unit, Theodor Scheidegger, will present his strategy soon, the company said.
Fourth-quarter net income from continuing operations amounted to 1.23 billion euros. Analysts predicted 1.47 billion. Sales rose 5 percent to 20.35 billion euros. For the year, profit increased to 7.01 billion euros, compared with 4.26 billion euros, meeting management's target.
'Well-Positioned'
Next year, the order intake will exceed sales, it said.
"We are well-positioned for moderate revenue growth in fiscal 2012 and surpassing the 100-billion-euro revenue threshold in the medium term," Loescher said.
The forecast for 2012 excludes a gain of 1 billion euros related to the sale of a stake in a joint venture with Areva SA, meaning Siemens aims for about 6 billion euros in net income from continuing operations. Analysts surveyed by Bloomberg currently expect the measure at 6.28 billion euros for 2012.
Siemens plans to improve competitiveness of its health care businesses within the next two years, and measures will include job cuts at its radiation-therapy business. Siemens budgets expenses of about 300 million euros for the revamp in fiscal 2012, Kaeser said.
A fine of 648 million euros for prematurely exiting a nuclear alliance with Areva SA, and a 500 million-euro cash injection into NSN, its telecommunications networks venture with Nokia Oyj, were among last year's setbacks.
NSN Strategy
NSN will present a new strategy outlining how it can regain lost ground by focusing on mobile broadband and services, Kaeser said. The overhaul may cost Siemens a "triple-digit million euro amount" and may include job cuts to reduce costs.
"NSN failed to react on time to slowing demand," he said, and Siemens taking the joint venture over wasn't an option.
Siemens has added a fourth major division called infrastructure and cities to gain more contracts to improve transport networks and provide electronics for buildings. Industry, energy and health care make up the other areas.
An initial public offering for its Osram lighting unit is still the preferred option, CFO Kaeser said, ruling out a spinoff of the business.
"Looking back, we were half a year too late" on selling Osram, he said. A cycle in the industry typically lasts 18 months to 24 months, meaning an IPO of Osram is still possible next year. "We'll try not to miss the next cycle," Kaeser said.
Light Bulbs
Osram generated sales of about 5 billion euros in fiscal 2011, with operating profit of about 400 million euros, Kaeser said. Growth at Osram slowed noticeably in the second half and won't return to previous levels soon, he said. The unit;s fourth-quarter sales rose 6 percent.
Fossil power generation, industry automation and drive technologies, the divisions that generate the most profit at Siemens, all posted double-digit increases in operating profit in the quarter.