Russia's Row With Georgia Plays Out in South Pacific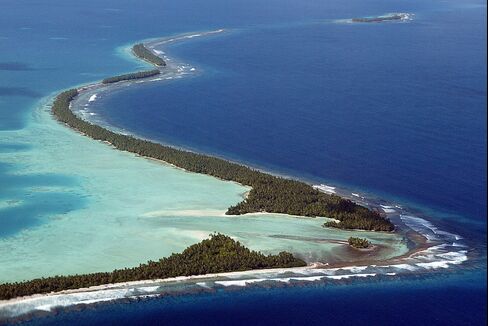 When Tuvalu, a string of atolls in the Pacific Ocean with a population of 11,000, received fresh water from a Russian-backed breakaway region of Georgia last month, the emergency shipment had strings attached.
Georgian officials say the donor, Abkhazia, has been working to persuade aid-dependent countries to recognize it as an independent nation. There were no conditions attached to the water aid, said Juris Gulbis, Abkhazia's ambassador to the Asia-Pacific. The shipment was a response "to a genuine emergency, our principles prevent us from exploiting human hardship for political gain," he said by e-mail.
While Georgia lifted its veto over Russia joining the World Trade Organization last month, their conflict is now playing out 9,000 miles away in the Pacific Ocean. So far four countries acknowledged the independence of Abkhazia and South Ossetia, the separatist state Russia and Georgia went to war over in 2008. Abkhazia has approached a total of 14 countries in the region, including Fiji, Gulbis said.
"This is unquestionably check-book diplomacy," Richard Marles, the Australian parliamentary secretary for Pacific Island affairs, said in a telephone interview from Canberra on Oct. 12. "It would be naive to think this kind of behavior could go on in the Pacific undetected."
Water Arrives
Tuvalu's government confirmed the water shipment arrived on Oct. 21. It officially recognized Abkhazia and South Ossetia as independent states in September, the island state's prime minister, Willy Telavi, said in an Oct. 7 interview.
The other three countries that have given official recognition are Nauru, another Pacific island, and Nicaragua and Venezuela in Latin America.
Russia says it had nothing to do with it. "We heard about Tuvalu's decision from media agencies," Timur Zevakhin, second secretary at the Russian embassy in Canberra, said in an interview on the same day.
"We do not have any idea about other Pacific states establishing relations with South Ossetia and Abkhazia," he said. All Russian aid to the South Pacific region is "transparent," Zevakhin said.
Russia had been bidding to join the WTO for 18 years to help make its energy export-driven economy less reliant on oil and gas. Georgia became the last of the 153 members of the group to approve Russian membership after the European Union supported the accession. Russia expects to conclude the process on Dec. 15, Arkady Dvorkovich, chief economy aide to President Dmitry Medvedev, told reporters in Moscow.
Bad Atmosphere
"Such unfriendly acts from Russia as buying recognition from yet another state worsens the atmosphere," Georgian Deputy Foreign Minister Sergi Kapanadze, said by e-mail on Oct. 13 as he participated in WTO talks.
Georgia last month dispatched its foreign minister to Fiji and regional powers Australia and New Zealand after Tuvalu became the second Pacific state after Nauru to establish relations with the two breakaway regions.
"Obviously if they recognize Abkhazia and South Ossetia, they're aligning themselves with Russian interests and the interests of the other countries that have recognized us," Gulbis, the Abkhaz envoy, said by phone from Suva, Fiji.
Tuvalu and Nauru are the two smallest countries in the world by population other than the Vatican.
The Russian Embassy in Canberra said that Russia has paid $10 million to Nauru, which recognized Abkhazia and South Ossetia in 2009. Tuvalu now too expects Russian aid, premier Telavi said by phone from Funafuti, the island's capital.
Aid Dependent
Tuvalu, whose official development aid made up 44 percent of national income in 2009, according to World Bank data, has only a few paved roads and gets income from remittances by expatriate Tuvaluans and selling the ".tv" Internet domain.
Fiji also is being courted by both Russia and Georgia. Foreign Minister Grigol Vashadze visited last month, offering six scholarships and to send 100 books for schoolchildren, according to a statement by the Fijian government.
Pacific island nations are used to bartering recognition for aid, after exploiting competition between China and Taiwan, said Fergus Hanson, research fellow at the Sydney-based Lowy Institute for International Policy.
"It costs them very little to recognize somewhere like Abkhazia, they couldn't care less, it doesn't affect their international standing because they have very little," Hanson said in a phone interview from Washington.
China, Taiwan
China, which has the support of Fiji, Western Samoa and Tonga, has pledged more than $600 million in loans to Pacific countries over the past five years, said Hanson. Taiwan has 23 allies in the Pacific that include the Solomon Islands, Kiribati, Palau, Nauru and Tuvalu. They since agreed on a truce that commits them not to seek to woo each other's allies.
In Nauru, the Russian government has funded "critical work" on the port and airline and agreed to send doctors and medical assistance, provide scholarships for study in Russia and help in developing the fisheries industry, Kieren Keke, minister for foreign affairs, finance and trade, said by phone from Yaren, the main settlement in Nauru.
Russia's Pacific push comes after the U.S. reportedly thwarted its bid to win over more countries in Latin America in addition to Nicaragua and Venezuela.
The U.S. halted recognition by the Dominican Republic in May, and has also put pressure on Ecuador and Bolivia, Maxim Gvindzhia, who travelled to Latin America twice this year in his then capacity as Abkhaz foreign minister, said in a phone interview from the Abkhaz capital, Sukhumi, on Oct. 12.
'Taking Advantage'
While the U.S. doesn't comment on diplomatic conversations, it supports Georgia's sovereignty and territorial integrity "within its internationally recognized borders," the U.S. State Department said in an e-mailed statement on Oct. 12. The Dominican Republic's Foreign Ministry didn't respond to requests for comment by e-mail and phone.
Georgia has also stepped up its drive to counter Russia, offering money to a fund to preserve Ecuador's rainforest, according to an Ecuadorian government announcement on May 30. On Oct. 10, Georgia's national ballet company performed for Ecuador's President Rafael Correa during a change of guard ceremony in front of the presidential palace in Quito, according to the Ecuadorian presidential gazette.
Australia, which along with New Zealand is a major donor to the South Pacific region, is urging Russia to desist from effectively bribing Pacific nations to align with its interests.
"What this boils down to is Russia taking advantage of very small, pretty vulnerable countries to pursue agendas which have very little to do with the Pacific," said Marles, the Australian parliamentary secretary.
(Corrects attribution of first sentence in second paragraph and adds Abkhaz envoy's statement in same paragraph of story first published on Nov. 11.)
Before it's here, it's on the Bloomberg Terminal.
LEARN MORE