Qantas Lockout May Embolden Australia Firms on Union Strife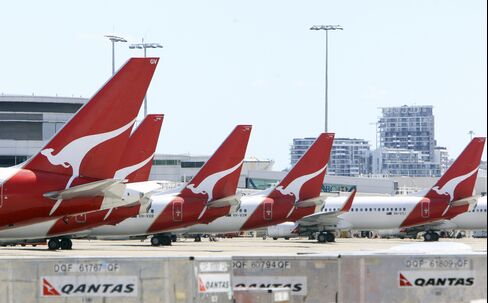 Nov. 11 (Bloomberg) -- Qantas Airways Ltd. Chief Executive Officer Alan Joyce's decision to lock out striking workers and ground his main fleet may herald a tougher approach by Australian employers wrestling with higher wages, falling productivity and increasing labor disputes.
Joyce halted flights on Oct. 29 after workers had staged sporadic stoppages for weeks using a 2009 labor law he said allowed a "slow bake" of the carrier. BHP Billiton Ltd., the nation's biggest miner, and Toyota Motor Corp.'s local unit have also been hit by strikes in recent months, as Australia's biggest business group steps up opposition to labor rules it says makes companies less competitive.
"In the current industrial climate, the country is going backwards," John Mullen, CEO of port operator Asciano Ltd., which has also had strikes this year, said on a conference call yesterday. "We are creating a rod for our own back."
Days lost to industrial disputes tripled in the three months to June 30, according to the most recent government data, as unions sought pay rises and job-security measures amid higher living costs. Disputes may increase as contracts covering more than 130,000 employees at listed companies expire before the end of 2012, according to Deutsche Bank AG. That includes about half the workers at Woolworths Ltd., the nation's biggest retailer, and 13,800 staff at Telstra Corp., the largest telecoms provider.
"Australian industrial relations may be deteriorating," said Mike Smith, chief executive officer of Australia & New Zealand Banking Group Ltd., the nation's fourth-largest lender. "Policy for all sorts of reasons has not necessarily gone the right way."
Gillard's Role
Stoppages have increased since then-Employment Minister Julia Gillard led passage of the Fair Work Act two years ago, fulfilling one Labor's key pledges in the 2007 election. The legislation overturned defeated-Prime Minister John Howard's "Workchoices" policy that favored individual contracts over group agreements. Gillard became prime minister in June 2010.
The 2009 law gave unions more power in negotiating wage deals and widened the issues they could seek to address, including the use of contract labor. That was one of the areas that Qantas baggage handlers staged stoppages over.
"All the beneficial outcomes for workers do come from collective bargaining," Ged Kearney, president of the Australian Council of Trade Unions, an umbrella group, said in an Oct. 18 telephone interview. "We would always agitate for those things and think there are improvements to be made but only improvements that protect workers."
Union Power
The Fair Work Act also re-introduced worker safeguards abolished by Howard and made it more difficult to fire people. The changes mean that 64 percent of companies believe that union power has increased, according to a survey by the Australian Industry Group, which represents more than 60,000 businesses.
"Unions have become more aggressive now because of those changes in the laws," said Terry Burgess, chief executive officer of OZ Minerals Ltd., Australia's third-biggest copper producer by value.
The number of working days lost per 1,000 employees rose to 6.5 in the three months ended June 30, from 2 the preceding quarter, according to Australian Bureau of Statistics data. That was the highest level since the 9.1 lost days for the second quarter of 2008. It trails the 18.4 recorded in April to June 2004 and the 52.2 for the second quarter of 1996.
Under the Fair Work Act, unions can only legally strike when campaigning for a new contract after a previous one expires and after a ballot of members.
Qantas Lockout
Joyce decided to stage a lockout, which is allowed under the legislation, and ground the fleet after unions threatened a year of action. Disputes with baggage handlers and engineers had already cost the carrier A$68 million ($69 million) and caused bookings to plunge, according to carrier. Pilots were also protesting over employment conditions.
The carrier has declined 36 percent in Sydney trading this year compared with a 9.5 percent drop for the benchmark S&P/ASX 200 Index.
The shutdown prompted intervention by the government, which can only act on strikes that threaten life or may cause "significant damage" to the economy, according to the Fair Work Act. The government persuaded industrial regulator Fair Work Australia to ban the strikes and the lockout, before it started. The regulator also set a 21-day deadline for Qantas and the unions to reach agreement or possibly face binding arbitration.
'Crossed the Rubicon'
Lockouts are rare in Australia and the country "may have crossed the Rubicon" following the Qantas dispute, said Allan Drake-Brockman, an industrial-relations lawyer at DLA Piper in Perth. The carrier's win at the hearing may prompt other employers to take similar steps when faced with an "impossible" situation, he said.
The Australian Industry Group wants changes to industrial-relations laws to allow employers to use more contract workers, give more flexibility on rostered hours before paying penalty rates to staff and limits on "speculative" claims by unions on issues such as pay, redundancies and firings.
"What employers want is a system that doesn't have barriers on productivity and flexibility or clauses that prevent outsourcing," said Stephen Smith, the group's national industrial-relations director. "We have counted up more than 60 provisions where union power was increased under the Fair Work Act."
Rising Wages
Workers have gained higher pay as a mining boom spurs employment. The wage price index, which measures hourly pay rates excluding bonuses, advanced 0.9 percent in the second quarter following a 0.8 percent increase in the preceding three months, according to government statistics bureau. Unemployment fell to 5.2 percent last month.
At the same time, productivity has dropped. A government measure declined to 1.7 percent in the five years through 2010, from 3.1 percent a decade earlier, according to Saul Eslake and Marcus Walsh of the Melbourne-based Grattan Institute, a non-partisan state-supported research group.
"Labor has become more expensive and unbalanced," BHP CEO Marius Kloppers told reporters in August. "It has become less efficient."
Kelly Quirke, a spokeswoman for Melbourne-based BHP, declined to comment further. About 3,500 BHP coal miners have held periodic strikes since June as they seek improved conditions.
'Dead, Buried'
Any changes to the labor laws would need to be agreed through parliament, something that neither Gillard nor opposition leader Tony Abbott are backing. Abbott last year declared that Workchoices was "dead, buried and cremated."
With the opposition holding an election-winning lead over Gillard, Abbott would be reluctant to push any debate on industrial relations that brings up voter memories of Workchoices, said Zareh Ghazarian, a lecturer at Monash University in Melbourne.
"There is no reason why Abbott should change policy now," said Ghazarian, a co-author of "Australian Politics for Dummies." "The electorate hated Workchoices so any political debate about industrial relations policy has to be put in that context no matter how many business leaders call for it."
To contact the reporters on this story: Robert Fenner in Melbourne at rfenner@bloomberg.net; Joe Schneider in Sydney at jschneider5@bloomberg.net
To contact the editor responsible for this story: Neil Denslow at ndenslow@bloomberg.net