Perry's 'Oops' Recalls Previous Presidential Debate Gaffes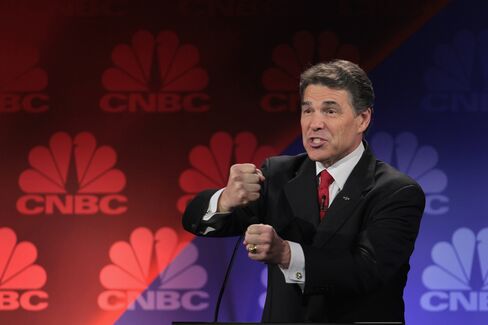 Texas Governor Rick Perry's "oops" moment in Wednesday's Republican presidential debate will secure him a prominent place in the annals of political mishaps.
Perry was stymied after offering to list three federal agencies he would eliminate in a cost-cutting drive as the nation's chief executive. "It is three agencies of government when I get there that are gone," he said, preparing to repeat a line he has uttered on the campaign trail innumerable times. "Commerce, Education and the -- what's the third one there? Let's see."
This wasn't the first such misstep for Perry, and it joins a history of gaffes during the televised debates that have become a central and unforgiving element of modern American presidential campaigns.
Last night, he made fun of his self-described "brain freeze" as he presented the nightly "Top Ten" list on CBS's "Late Show with David Letterman." The "Top Ten Rick Perry Excuses" included "Actually, there were three reasons I messed up last night -- one was the nerves, two was the headache and three was, and three, uh, uh -- oops" and "Hey, I wanted to help take the heat off my buddy Herman Cain."
Campaign Is 'Toast'
Still, for Perry, the mistake may be fatal to his presidential hopes, said Susan Tolchin, a public policy professor at George Mason University in Fairfax, Virginia.
The lapse in remembering the Energy Department for Perry, the governor of a top energy-producing state, "really rendered him toast in this campaign," she said in an interview. "It looked like without a teleprompter, he was lost."
Televised debates have helped shape public perceptions of presidential candidates since the first one was held in 1960. For many listening to that debate on the radio, Vice President Richard Nixon, the Republican candidate, was the winner. Those watching on television saw Nixon appearing unshaven, uncomfortable and sweating. To them, his more telegenic opponent, Massachusetts Senator John F. Kennedy, had the edge, Tolchin said.
In 1976, during a debate with Democratic challenger Jimmy Carter, President Gerald Ford slipped in describing the Soviet Union's influence over Eastern European nations in its bloc.
"There is no Soviet domination of Eastern Europe, and there never will be under a Ford administration," Ford said. "Each of those countries is independent, autonomous."
Unemotional Technocrat
In 1988, Democratic candidate Michael Dukakis, the Massachusetts governor and a longtime opponent of capital punishment, was asked whether he would support the death penalty if his wife were raped and murdered.
"I don't see any evidence it's a deterrent, and I think there are better and more effective ways to deal with violent crime," he replied.
That response confirmed for many voters that Dukakis was a technocrat detached from emotion, said Leonard Steinhorn, a communications professor at American University in Washington who was a volunteer speech-writer for the governor's campaign.
"Dukakis's answer was somewhat cold and bloodless," Steinhorn said in an interview.
Vice presidential candidates also have "stepped in it," as Perry characterized his debate performance yesterday on NBC's "Today" program.
In 1992, retired Admiral James Stockdale, running with businessman Ross Perot on a third-party ticket, said during a debate with his counterparts, "Who am I? Why am I here?"
Voters had the same questions, and Perot and Stockdale were outrun by Democrats Bill Clinton and Al Gore.
'No Jack Kennedy'
In a 1988 debate, Republican vice presidential candidate Dan Quayle, an Indiana senator running with George H.W. Bush, said he had "as much experience as Jack Kennedy" did before Kennedy ran for president.
Quayle's Democratic rival, Lloyd Bentsen, pounced.
"Senator, I served with Jack Kennedy, I knew Jack Kennedy. Jack Kennedy was a friend of mine. Senator, you're no Jack Kennedy," said Bentsen, a longtime Texas senator.
Bloopers haven't always defined candidacies or killed careers. Americans' concerns with Quayle's qualifications didn't prevent the election of the Republican ticket.
Four years earlier, after a halting performance in a debate raised concerns about his age, President Ronald Reagan in a rematch turned the point in his favor against his Democratic challenger, former Vice President Walter Mondale.
"I am not going to exploit for political purposes my opponent's youth and inexperience," he said to laughter from the audience -- and from his opponent.
'Sorry. Oops.'
In Wednesday's debate, after drawing a blank on the Energy Department during his statement about closing agencies, Perry was subsequently pressed to name it.
"The third agency of government I would do away with?" he replied. "Education. Commerce and, let's see. I can't. The third one, I can't. Sorry. Oops."
That stumble was substantial, Tolchin said.
"That's a significant thing to forget," she said. "He could be somebody brand new and he'd be in great trouble."
Steinhorn said the mistake falls into a pattern of Perry's lackluster performances in the Republican debates. "It doesn't necessarily mean he would be a bad chief executive, but it does make people wonder whether he has the intellectual capacity to become president of the United States," he said.
Perry, who rose to a lead in polls after declaring his candidacy on Aug. 13, plummeted after he flubbed discussions of illegal immigration and other issues in earlier debates.
'Brain Freeze'
Yesterday, on CNN's "American Morning," he said his "brain freeze" was a moment all candidates suffer.
"There are going to be people who make mistakes, stumble over words or can't remember an agency as I did," he said. Voters want "substance, not necessarily the slickest debater."
In three swing states -- Florida, Ohio and Pennsylvania -- Perry's support doesn't exceed 5 percent, according to a Quinnipiac University poll of voters conducted Oct. 31-Nov. 7.
In an e-mail sent within hours of the debate's end, the Perry campaign attempted to pivot, encouraging supporters to "let us know what federal agency you would most like to forget."
Perry's campaign treasury will help him survive for now, allowing him time to change voters' impressions, Steinhorn said.
"That really is his only chance," he said.
Perry led Republicans in fundraising in the third quarter, collecting $17.2 million and entering October with more money banked than rivals, Federal Election Commission reports show.
In television appearances yesterday, Perry said he was committed to continuing his bid for the presidency. He will be ready, he said, for the next debate tomorrow in South Carolina.
Before it's here, it's on the Bloomberg Terminal.
LEARN MORE