Green Mountain CEO Says Sales Miss Wasn't Accounting Issue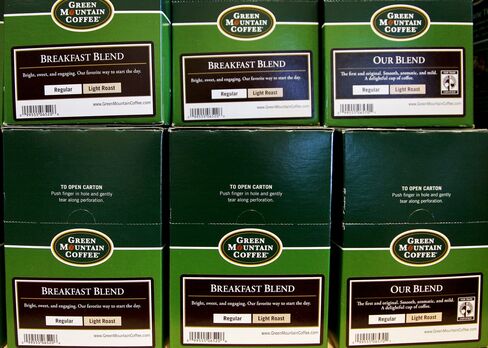 Nov. 10 (Bloomberg) -- Green Mountain Coffee Roasters Inc.'s fourth-quarter sales, which trailed analysts' estimates and sent the shares plunging, were hurt by wholesale orders and don't indicate accounting issues like those hedge fund manager David Einhorn has outlined, its top executive said.
"There are a lot of things that can influence the wholesale shipments through our retailers," Chief Executive Officer Lawrence Blanford said in an interview yesterday. Grocery stores may have slowed buying as consumer sentiment faltered or may have stocked up in the third quarter before the company raised prices in June, he said.
Green Mountain fell 39 percent to $40.89 at the close in New York, wiping out about $4 billion in market value since yesterday's close, after the company reported fourth-quarter sales of $711.9 million, trailing the $757.7 million estimate of 10 analysts surveyed by Bloomberg. The shares have now slid 56 percent since Oct. 14, the trading day before Einhorn, president of Greenlight Capital Inc., said the company's market is limited and that it has a "litany of accounting questions."
Green Mountain restated earnings back to 2007 in November 2010 in part because of incorrect costs for K-Cup coffee pods and changes to the recognition of K-Cup royalties. The adjustment followed an investigation initiated two months earlier by the U.S. Securities and Exchange Commission into how the company recognizes revenue.
'No Wrongdoing'
"On the specific suggestion of financial misconduct, there is no wrongdoing," Blanford said in the interview. "The audit committee has looked at it, and we're confident there's nothing there, period."
Blanford declined to comment on whether the Waterbury, Vermont-based company would restate earnings again or on Einhorn's presentation and views of Green Mountain.
"We don't comment on his or anyone else's models or thoughts about valuation," he said.
Einhorn declined to comment on Green Mountain yesterday, according to a spokesman.
About 21 percent of Green Mountain's shares available to the public have been sold short, according to data compiled by Bloomberg. Short sellers borrow stock and then sell it, betting that they can profit by repurchasing the securities later at a lower price and returning them to the holder.
Ten analysts recommend buying Green Mountain's shares, while two rate the stock "hold" and one says to sell.
Sales of the K-Cup single portion packs were $475.5 million in the fourth quarter, Green Mountain said yesterday in a statement. That's down from $485.4 million in the quarter ended June 25.
Weakening Demand
"The sales miss resulted from weakening end demand for brewers and K-Cups, exacerbated by the company shipping ahead of demand," Mark Astrachan, an analyst at Stifel Nicolaus & Co., wrote in a note dated Nov. 10. "Household penetration of brewers has peaked." Astrachan has had a "sell" rating on the shares since 2009.
The company overestimated K-cup sales, Chief Financial Officer Frances Rathke said on a conference call yesterday. While such sales vary from quarter to quarter, demand for Keurig brewers isn't declining, she said.
Green Mountain, along with other food companies, has raised prices as it faces higher ingredient costs. The company expects coffee price pressure to continue into the first quarter of 2012, Blanford said on the call.
Profit Forecast
Profit excluding some items rose to 47 cents a share, missing analysts' average estimate of 48 cents. Net income rose to $75.4 million from $27 million a year earlier, the company said.
The coffee company reiterated its forecast for fiscal 2012 profit excluding some items of as much as $2.65 a share. The average estimate of analysts was $2.60.
Investors need to focus on consumers' demand for the single-serve K-Cup coffee pods and Keurig brewing machines, Blanford said.
"Our consumer sales of portion packs and our consumer sales of brewers were very strong," he said. He predicted that sales will rise as much as 65 percent in fiscal 2012.
Green Mountain has sought to boost sales by adding to its K-Cup brand portfolio. Starbucks Corp. and Dunkin' Brands Group Inc. partnered with Green Mountain earlier this year to sell branded capsules for the Keurig machine. Starbucks K-Cups started selling in grocery and retail stores earlier this month.
Green Mountain was founded by Robert P. Stiller in 1981 as a small coffee cafe in Vermont. The company went public in 1993, offering 1 million shares for $10 each. Since then, it has acquired coffee companies, including Van Houtte Inc. in 2010 for $915 million.
Stiller is chairman and the largest individual shareholder, with 9.6 percent of the company as of Aug. 4, according to data compiled by Bloomberg.
To contact the reporter on this story: Leslie Patton in Chicago at lpatton5@bloomberg.net
To contact the editor responsible for this story: Robin Ajello at rajello@bloomberg.net