Fight on Clean-Air Rules Threatens to Delay Power Payback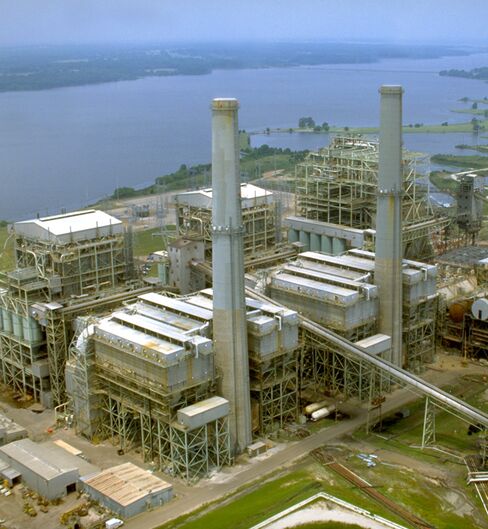 Electricity companies like Exelon Corp. spent billions of dollars on pollution controls and cleaner energy anticipating that new rules would move the U.S. power industry away from coal.
Now, last-ditch legislative and legal opposition to a U.S. Environmental Protection Agency rule that takes effect Jan. 1 may nullify the competitive advantage they stand to gain over rivals slow to clean up coal-fired plants.
The stakes are highest for utilities in 27 states, including Texas and New Jersey, facing new restrictions on pollutants that drift across state lines to cause smog and acid rain.
The U.S. Senate today voted against repealing regulations aimed at limiting pollution from coal-fired power plants. Lawmakers are still weighing legislation that would delay the EPA rules for years.
Reversing course would be a blow to Public Service Enterprise Group Inc., which has spent $1.3 billion since 2007 to clean up two coal-fired New Jersey power plants to meet national air-quality standards set into law two decades ago and upheld by the U.S. Supreme Court.
"The Clean Air Act amendments were passed in 1990," said Ralph Izzo, chairman and chief executive officer of Public Service, which provides electricity to about three-quarters of New Jersey residents, during an interview last month at the company's Newark, New Jersey, headquarters. "It's very difficult for me to understand why people say, 'We didn't see this coming.'"
Delaying the Rules
Izzo's company, Exelon Corp., Calpine Corp., and other companies that have spent billions of dollars on new equipment and cleaner energy sources to cut emissions, oppose an 11th-hour legislative push in the U.S. Senate to delay the rules another five years.
"Across the board, it's our position to support the EPA," John Rowe, chairman and CEO of Chicago-based Exelon, told reporters yesterday.
Efforts to delay the rules are endorsed by some power companies, including Southern Co. and American Electric Power Co., which say they are moving away from dirtier energy but aren't prepared to meet the deadlines for new requirements.
'Burden of Regulation'
Southern, the nation's largest power company by market value, relies on coal to generate about half its electricity, down from 70 percent in 2007, Southern CEO Thomas Fanning said in a telephone interview.
"We're already making the transition without the burden of additional regulation," Fanning said.
Senator Rand Paul, a Kentucky Republican, invoked a seldom-used law that lets Congress override regulations to force the Democrat-controlled U.S. Senate to vote today on repealing the cross-state rule. His measure lost by a 56-41 vote. Speaking on the Senate floor today, Paul warned that shutting coal-fired plants would lead to power losses.
"The cost of these regulations will be passed on to the consumer," Paul said. "There are dangers, significant dangers, of there being periods of time in large cities where there's not enough electricity to go around."
The White House had threatened to veto the Senate measure, as well as a bill approved Sept. 23 by the U.S. House of Representatives that would scrap the rule. A bipartisan group of senators introduced a separate bill yesterday that would postpone pollution curbs until 2017.
Coal Plants Shut
The cross-state rule and other pending EPA regulations are expected to result in at least 85 coal-fired plants shutting down boilers, reducing electricity generating capacity, said Bruce Nilles, deputy conservation director of the Sierra Club, in a telephone interview.
Power producers have announced plans to shutter 36,970 megawatts of coal-fired generation, enough to power 29.6 million homes, since early 2010, when EPA Administrator Lisa Jackson announced she would target major industrial polluters, Nilles said.
Shrinking capacity would push power prices higher, providing an advantage to companies who already spent the money needed to meet the stricter standards, such as Public Service and Exelon, said Howard Learner, executive director of Chicago-based Environmental Law and Policy Center.
That would give cleaned-up generators an advantage over power companies that have been slow to retrofit coal-fueled plants with pollution controls, said Sam Brothwell, senior analyst for Bloomberg Industries.
Falling Prices
Instead, the opposite has happened as backlash has grown to the EPA's agenda. Paul and House Republicans branded the environmental controls "job killers." American Electric, the largest U.S. consumer of coal, criticized the agency for doing too much, too quickly with stricter limits on mercury, sulfur dioxide, nitrous oxide and ozone set to take effect by 2015.
The price of power to be delivered in 2014 in the Midwest and Eastern seaboard Mid-Atlantic has dropped 7.2 percent since Sept. 1, Bloomberg data show, a day before the Obama Administration canceled plans to issue stricter ozone limits, raising doubts the EPA would follow through on other emissions rules.
While falling natural-gas and coal prices also contributed to the price decline, 'this is a negative for generators that have low-emission power plants, including those who have invested in scrubbing their coal plants,'' Angie Storozynski, a New York-based utility analyst for Macquarie Capital USA Inc., said in a telephone interview.
Benefits of Compromise
Companies that want the rules implemented on schedule stand to benefit from a compromise proposed by the EPA on Oct. 6 that would bolster the EPA's defense against lawsuits threatening to tie up the new rules in courts, Izzo said.
The changes would defer penalties two years for dirtier plants and raise allowable levels of the air pollutant sulfur dioxide in 23 states, making it more difficult for critics to argue the rules are damaging business and consumers.
"We thought the technical corrections were smart and helpful," Izzo said in a phone interview.
The EPA's concessions haven't dissuaded opponents from pressing challenges. At least 16 states, cities and power generators dependent on coal-fired plants have petitioned federal courts in Washington, D.C. to block the rule from being implemented Jan. 1.
Lawsuits Continue
Luminant, the power-generation business of Dallas-based Energy Future Holdings Corp., is continuing with a lawsuit filed Sept. 12 that sparked the backlash, and is still evaluating its compliance plan in light of the proposed revisions, said Allan Koenig, a Luminant spokesman, in a telephone interview.
Izzo said he was among a half-dozen power company executives who met with EPA administration Lisa Jackson and EPA staff in Washington in early October, urging her not to relent on tougher pollution controls.
"Let's face the facts that these rules have been long in the making, long in the debate," Izzo said. "Now is the time to take action."
Before it's here, it's on the Bloomberg Terminal.
LEARN MORE