Bini Smaghi's Resignation From ECB Opens Board Seat for France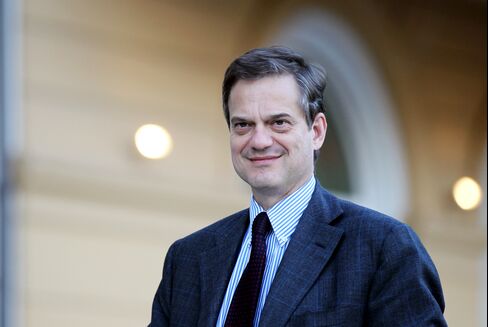 Lorenzo Bini Smaghi resigned from the European Central Bank's Executive Board, clearing the way for France to regain a seat after the retirement last month of President Jean-Claude Trichet.
Bini Smaghi, whose term officially ends in May 2013, will join Harvard University's Center for International Affairs on Jan. 1, 2012, the Frankfurt-based ECB said in an e-mailed statement yesterday. ECB President Mario Draghi thanked Bini Smaghi for his "contributions in the field of European and international monetary and economic affairs over many years."
Italy's Prime Minister Silvio Berlusconi had stepped up pressure on Bini Smaghi to quit in recent weeks in a bid to defuse a row with French President Nicolas Sarkozy over the Italian's seat on the central bank's six-member Executive Board. Sarkozy had backed Mario Draghi's candidacy to head the central bank on the condition that Berlusconi get Bini Smaghi to step aside to make way for a French candidate and avoid leaving the board with two Italians when Trichet, a Frenchman, finished his term at the end of October.
Berlusconi angered France last month when he failed to name Bini Smaghi to replace Draghi as head of the Bank of Italy, which would have resolved the impasse over the ECB board. After saying that Bini Smaghi was a candidate on Oct. 18, Berlusconi appointed Ignazio Visco, the bank's deputy director general, to run the Italian central bank. Bini Smaghi had initially refused to resign before his term ended in 2013.
Departures
"It's not a good time for musical chairs at the ECB," said Thomas Costerg, an economist at Standard Chartered Bank in London. "Politics are already intricate in several euro-area peripheral countries, and the ECB is amongst the last anchors of stability."
Bini Smaghi is the fourth executive board member to leave this year. Austrian Gertrude Tumpel-Gugerell stepped down in May after completing her six-year term, while President Jean-Claude Trichet retired at the end of October. Juergen Stark, from Germany, quit in September in protest at the central bank's government bond purchases.
At a summit of European Union leaders on Oct. 27, Sarkozy called on Italy to honor its commitment to secure Bini Smaghi's departure. Berlusconi said on Oct. 24 that he didn't want the issue to be a "casus belli" with France, but said he was powerless to remove Bini Smaghi. "What can I do, kill him," Berlusconi said in Brussels.
Financial Crisis
Bini Smaghi leaves the post at the Frankfurt-based institute, where he oversees international relations, legal services and the bank's new premises project, as Europe's sovereign debt crisis engulfs Italy, moving to the core of the 17-nation currency bloc and threatening to infect the banking sector.
Bini Smaghi, a Florence native with a doctorate from the University of Chicago, began his career as an economist at the Bank of Italy's research department. Earlier in his career, Bini Smaghi fell under the tutelage of Carlo Azeglio Ciampi, who as Bank of Italy governor between 1979 and 1993 argued in favor of the 1992 Maastricht Treaty that mapped out conditions and timing for European monetary union.
Bini Smaghi, whose family produces its own wine and olive oil on an estate outside Florence, rose through the ranks and between 1988 and 1994 headed the exchange rate and international trade division when Italy risked being kept out of joining the single currency.
ECB Career
Ciampi left in 1994, when he became interim prime minister and later finance minister in Romano Prodi's 1996 government, battling to tame the debt and restore fiscal discipline. That same year Bini Smaghi joined the ECB's monitoring department, where he was responsible for foreign-exchange policy and reserve management.
In 1998, Ciampi recalled his protege to the finance ministry where he named him director general for international affairs. Bini Smaghi joined the ECB's Executive Board in 2005 for an eight-year term. He's also chairman of the Palazzo Strozzi Foundation, which is currently organizing an exhibition in Florence called "Money and Beauty. Bankers, Botticelli and the Bonfire of the Vanities."
Bini Smaghi is married and has two children. He studied economics at the University of Louvain in Belgium before obtaining a masters degree at the University of Southern California and a doctorate at the University of Chicago.
"Throughout his mandate, including in taking his decision, Mr. Bini Smaghi has upheld the independence of the ECB," the central bank said in a statement. "Mr. Draghi expresses his gratitude for Mr. Bini Smaghi's outstanding contribution to the work of the ECB and his dedication as a member of the Executive Board and Governing Council for more than six years."
Before it's here, it's on the Bloomberg Terminal.
LEARN MORE