Credit Agricole Third-Quarter Net Drops 65% on Greek Losses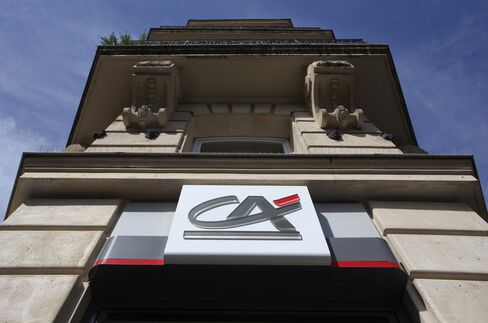 Credit Agricole SA, France's No. 3 bank, said third-quarter profit slid 65 percent on provisions for Greek sovereign debt. The shares fell.
Net income declined to 258 million euros ($350 million) from 742 million euros a year earlier, the bank, based near Paris, said in a statement today. That missed the 552 million-euro average estimate of eight analysts surveyed by Bloomberg. The company booked a 905 million-euro pretax writedown on Greek sovereign debt in the period.
Credit Agricole, while absorbing losses from its Greek consumer-banking unit, faces potential damage from Italy, where austerity measures and spiraling refinancing costs threaten economic growth in the bank's second-largest market after France. The company, along with BNP Paribas SA, is also among the biggest foreign holders of the country's sovereign debt.
"We're preparing for some complicated quarters," Chief Executive Officer Jean-Paul Chifflet said on a conference call. In Italy, the bank hasn't seen any "weak signs" on bad-loan provisions, he said.
Credit Agricole fell 14 cents, or 2.9 percent, to 4.87 euros at 12:30 p.m. in Paris trading. The shares have tumbled 49 percent this year amid concern about French banks' holdings of debt from Greece, Portugal, Ireland, Spain and Italy.
Shares of BNP Paribas, France's largest bank, have dropped 34 percent in 2011, while Societe Generale SA, the second biggest, has slid 55 percent.
Italian Holdings Cut
BNP Paribas was also hurt by Greece, reporting a 72 percent decline in third-quarter profit last week and a 2.26 billion-euro Greek markdown. Societe Generale said Nov. 8 that net income in the period fell 31 percent. It took a 333 million-euro writedown on Greek government bonds.
Chifflet, 62, is counting on a rebound at Credit Agricole's international retail-banking business to attain the bank's 2014 profit goal of 6 billion euros to 7 billion euros in 2014.
Credit Agricole cut its banking-book holdings of Italian sovereign debt to 6.54 billion euros at the end of September from 7.84 billion euros at the end of June, according to its website. Banking-book holdings of Spanish government bonds fell in that period to 1.4 billion euros from 1.77 billion euros.
"If we can continue to cut, we will do it," while not being "infinitely aggressive," Chifflet said when asked about possible further reductions in Italian bond holdings.
Greek Losses
In October, Credit Agricole sold sovereign bonds with "negligible impact" on revenue, Chief Financial Officer Bernard Delpit told journalists, without giving more details.
Losses from Emporiki Bank of Greece SA, Credit Agricole's Athens-based unit, doubled to 397 million euros in the third quarter. The French lender, which spent about 2.2 billion euros in 2006 to amass a controlling stake in the division, said July 28 that it was more difficult to reach Emporiki Bank's goal to break even by the end of 2012.
In Italy, Credit Agricole plans to add 50 branches and 150,000 retail clients by 2014, it said in March. The firm already has about 1.7 million customers and 960 branches there.
Earnings from the Italian consumer-banking division rose about 10 percent in the quarter to 49 million euros, Credit Agricole said today.
Investment Bank, Subprime
Third-quarter corporate- and investment-banking profit fell to 160 million euros from 285 million euros a year earlier, excluding one-time gains on its own debt, on higher losses from subprime-era assets the lender is winding down, according to calculations from bank data.
Credit Agricole has no additional capital needs, according to stress tests last month from the European Banking Authority, unlike its rivals Societe Generale and BNP.
"This is the good thing," said Valerie Cazaban, who helps manage 100 million euros at Stratege Finance in Paris and owns shares in Credit Agricole. "They've got more wiggle room than Societe Generale. Even if Credit Agricole is more exposed to Greece, its balance sheet is more solid, more geared toward retail banking."
Credit Agricole is cutting fewer assets than its two larger French rivals as the lender is also less vulnerable to the dearth of U.S. short-term dollar funding that hit European banks over the summer. The company is trimming less than 2 percent of its balance sheet as an increase in deposits will probably reduce the financing needs at the consumer-banking business, analysts have estimated.
The lender said on Sept. 28 that it plans to reduce financing needs by as much as 52 billion euros, including between 15 billion euros and 18 billion euros at its corporate-and investment-banking unit.
U.S. Mortgage Assets
The asset-reduction plans don't include Credit Agricole's so-called run-off portfolio, Delpit said today on an analysts call, declining to give further details.
Credit Agricole had 205 million euros in provisions and writedowns in the third quarter from assets it's winding down, an increase compared with no markdowns and 92 million euros of provisions a year earlier. Since the start of 2007, Credit Agricole has had close to 12 billion euros in writedowns and provisions from the risky assets, which include unhedged super-senior collaterized debt obligations linked to U.S. residential mortgages, according to the company's website.
Profit from the regional banks' French retail network dropped 5.9 percent to 218 million euros. The asset management, insurance and private banking division had a 24 million-euro third-quarter loss compared with a 392 million-euro year-earlier profit, because of Greek sovereign-debt writedowns on Credit Agricole's insurance books.