Yen Emulating Franc Places Toyota-Led Japan Rebound at Risk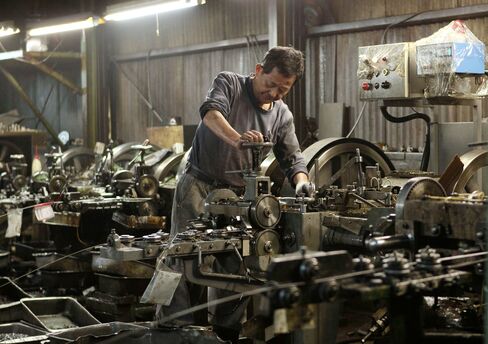 After seeing one in three of its manufacturing jobs disappear in the past two decades and China overtake it as the world's second-largest economy, the worst may be yet to come for Japan.
The impact of the yen's exchange rate, with a 50 percent surge against the dollar in the past five years, is entering "non-linear" territory, where gains have a deeper impact on business decisions, according to Jens Nordvig at Nomura Holdings Inc. The trend is already seen in moves by companies from Toyota Motor Corp., which has boosted foreign output to 58 percent of the total from 49 percent five years ago, to Panasonic Corp., which aims to buy 57 percent of its parts and materials from abroad this year, up from 43 percent in 2009.
"I'm devastated in the morning when I check exchange rates," said Shuuichi Hase, deputy director of manufacturing support at the municipal government of Higashi Osaka, which has more factories than any other urban area in Japan. "It's too strong for businesses to survive."
Japan's dilemma mirrors that of Switzerland, which imposed a ceiling on its exchange rate on Sept. 6 to safeguard the competitiveness of exporters including Nestle SA, the world's biggest food company. With Prime Minister Yoshihiko Noda's administration stopping short of a Swiss-style move, Japanese policy makers are under pressure to alleviate the impact of the currency's advance.
Factories Shut
Higashi Osaka, a part of the greater Osaka region, has seen the number of factories drop to 6,016, down 40 percent from the peak and about the same as 40 years ago. Tax revenue is now 20 percent less than in 1997 after jobs moved elsewhere, paralleling a slide at the national level that's seen public debt reach more than 200 percent of gross domestic product.
With the yen's climb making it more expensive to produce and hire at home, companies are turning their focus abroad. The ratio of capital spending overseas compared with that in Japan will rise to 51.4 percent in the fiscal year through March 2012, from 39.5 percent in the previous year, according to a Development Bank of Japan survey released in August.
In the auto industry, the ratio of planned overseas investment will jump to 128 percent from 87 percent. Toyota, the Toyota City-based company that makes two out of every five vehicles made in Japan, said Aug. 2 that currency gains would cut operating profit by 160 billion yen ($2 billion) in the year through March. The company scrapped its full-year forecasts Nov. 8 after operations were disrupted by floods in Thailand.
'Collapse' Risk
"The Japanese government needs to quickly take action to combat the strong yen -- it'll be impossible to reclaim domestic auto manufacturing jobs once they're shifted overseas," Akio Toyoda, the president of Toyota, told reporters in Tokyo Nov. 7. "Japan's automobile industry may experience not only a 'hollowing out,' but a collapse."
Further damage is seen in orders for machine tools -- items such as drills, metal presses and grinders used to shape parts used in products from cars to electronics. Domestic demand in September was 37 percent below the level of June 2008, while foreign orders have surpassed that point, industry data show.
The shift may deepen as the yen keeps rising; it traded at 77.67 per dollar at 6:34 p.m. in Tokyo, only 3 percent lower than the postwar high of 75.35 reached on Oct. 31. It has appreciated 16 percent in the past two years, the most among Group of 10 currencies, with the Swiss franc second at 11 percent. Against the euro, the yen has advanced 28 percent in that time, also the top G-10 performer.
Bigger Damage
The climb comes on top of long-term appreciation since the 1970s shift to floating exchange rates. The yen has soared about 363 percent from its postwar fixing of 360 per dollar.
"Ten percent appreciation is one thing, 15 percent is another thing but when it starts to get to 25 percent and 30 percent, the damage is likely to be bigger," said Nordvig, a managing director of currency research in New York at Nomura, Japan's largest brokerage. "We've gotten into territory where it's not particularly attractive to produce in Japan."
Japanese neighbor South Korea has seen its competitiveness enhanced as the yen jumped 13 percent versus the won since the start of last year. Samsung Electronics Co., the largest Korean electronics company, had net income of 3.44 trillion won ($3 billion) in the quarter through September, compared with Japanese rival Sony Corp., which had a loss of 27 billion yen and cited the yen's rise as contributing to the blow.
Moving Abroad
Countries from Taiwan to China to Malaysia are benefiting as Japan's manufacturers step up operations abroad in the aftermath of currency losses. Publicly traded companies in Japan lost a total of 301 billion yen in the six months through September because of the yen's rise, a survey by Tokyo Shoko Research Ltd. showed yesterday.
Elpida Memory Inc. plans to move output capacity of about 50,000 chip wafers a month from its plant in Hiroshima, western Japan, to Taiwan, a transfer that would almost halve the Japanese factory's production.
"At the current exchange rate, there's no question we have to do this," Chief Executive officer Yukio Sakamoto told reporters in Tokyo Oct. 27. "We want to make it happen as soon as the preparations are in place."
Panasonic, which last month forecast its biggest annual loss in a decade because of a stronger yen, is moving its $57 billion-a-year procurement operation to Singapore from Osaka. Japan's biggest maker of appliances also aims to start a factory in Suzhou, eastern China, in April to make systems used to fit electronic components in personal computers and mobile phones.
Jobs for China
The Suzhou plant would triple the Osaka-based company's production capacity in the city and almost double the number of employees there to 650 from 360.
"Companies are companies, and they figure out how to make money," said Robert Feldman, head of Japan economic research at Morgan Stanley in Tokyo. Feldman gave a presentation on the global economic outlook last month to a group of Japanese businessmen in Malaysia's capital, one sign of the transformation the yen's climb is contributing to.
"Five years ago I would have only given that lecture in Japan," said Feldman. "Now I'm giving it in Kuala Lumpur, in Japanese. That's hollowing out."
A 10 percent advance in the yen against the dollar over a year lowers Japan's GDP by 0.19 percent, Noda told lawmakers in Tokyo on Nov. 1. Such a hit amounts to about one-fifth of Japan's average inflation-adjusted economic growth rate of the past decade. GDP has increased 0.75 percent on average since 2001, according to the International Monetary Fund.
Economy's Burdens
The exchange rate adds to the burden of a nation that's been struggling to cope with the aftermath of a burst stock and property bubble in the 1990s, a shrinking population and the devastation of the northeast Tohoku region by the March 11 earthquake and tsunami.
The hit to earnings from the yen risks undermining a recovery that's just starting. A government report due Nov. 14 may show GDP rose 5.8 percent in the third quarter on an annualized basis, after three straight declines, the median of 23 estimates in a Bloomberg News survey shows. Japan's machinery orders, an indicator of future capital spending by companies, fell a sharper-than-forecast 8.2 percent in September from August, according to a government report today.
Noda has overseen four rounds of currency intervention as prime minister or finance chief in the past 14 months, with the latest likely to have been a record for a single day. Barclays Bank Plc and Totan Research Co. estimate Japan sold 8 trillion yen on Oct. 31, based on central bank balance sheet data.
Noda's Measures
The prime minister, 54, has also unveiled a 10 trillion yen program to channel loans to Japanese companies to take advantage of yen gains through overseas acquisitions. Noda plans to allocate 2 trillion yen of a 12.1 trillion yen reconstruction package pending in parliament for encouraging investment in domestic plants and hiring.
Meantime, the Bank of Japan has responded to exchange-rate appreciation by expanding its purchases of assets, mainly government bonds, by 15 trillion yen since the March quake, in three steps. Officials also enlarged a program designed to encourage bank lending by 5 trillion yen.
"My concern is that if the yen rapidly surges, and that prompts Japanese companies to move their production facilities abroad, even if the yen's strength is corrected later it's difficult to move those facilities back," BOJ Governor Masaaki Shirakawa told reporters Oct. 7 in Tokyo.
Haven from Crisis
Investors have been drawn to the yen and Swiss franc as havens from the euro-region's debt crisis and the aftermath of a U.S. mortgage-market collapse that's left American unemployment in excess of 9 percent. Both Japan and Switzerland enjoy current-account surpluses that mean they don't depend on foreign capital to finance their borrowing.
For Japan, following the Swiss in capping the currency would be in effect a violation of agreed Group of Seven principles, which dictate "market-determined exchange rates."
"I don't care about diplomacy," said Hase at the Higashi Osaka city office. "The government must do something. They don't seem to share the sense of crisis we have."
Nordvig said the BOJ ought to expand its balance sheet to a degree that dispels expectations of deflation and gives the economy a lift.
Not Too Late
"It still isn't too late for the government to do something -- Japan has retained some of its strength, it's kept a lot of its high-skill jobs," said Yoshiyuki Fukuda, who specializes in industrial economics at Toray Corporate Business Research, in Chiba, east of Tokyo. "What's important is to keep these jobs here," he said, adding that corporate-tax cuts and free-trade agreements would help Japan compete.
Manufacturing jobs have steadily dropped since Japan started coping with the burst asset bubble, with employment peaking in 1992 at 15.7 million. By 2010, the tally slumped to 10.5 million.
In Kadoma city, near Osaka, rusting disused factories show the legacy of what was once home to a myriad of Panasonic suppliers. Last year, services companies in Kadoma and three neighboring areas accounted for 28 percent of the total, surpassing manufacturers for the first time since Hellowork, a state-supported job-placement agency, began compiling the data in March 2005.
Hitoshi Inoue, deputy manager of the Hellowork office in Kadoma, said there are now 0.36 factory jobs per applicant in the area, compared with a 0.52 ratio for all positions. "I'm concerned because the strong yen in the 70s makes it very difficult for businesses," he said, referring to the currency's value against the dollar. "Job offerings at Hellowork will continue to be dire unless the manufacturing industry expands."
Masanori Ogura, secretary general of the Japan Business Association in Vietnam, has broader concerns.
"Once you go abroad, you start to see the real issues in Japan," Ogura said in an interview in Hanoi. "The hollowing out isn't the fundamental problem -- it's Japan being without any idea how the economy will grow in the long term."