U.S. Stocks Fall on Concern About Euro Exit as Italy Yields Soar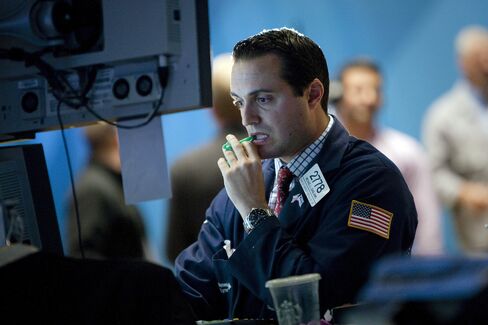 U.S. stocks slumped, driving the Standard & Poor's 500 Index to its biggest decline since August, amid concern that European leaders may be unable to keep the euro zone intact as Italian yields surged to a record.
Morgan Stanley and Goldman Sachs Group Inc. dropped at least 8.2 percent, following losses in European lenders, after LCH Clearnet SA raised the extra charge it levies on clients for trading Italian government bonds and index-linked securities. General Motors Co. tumbled 11 percent after abandoning its target for European results. Adobe Systems Inc. sank 7.7 percent on plans to cut jobs as it lessens its focus on older products.
The S&P 500 slid 3.7 percent to 1,229.10 as of 4 p.m. New York time, after rising 1.8 percent over the previous two days. The Dow Jones Industrial Average lost 389.24 points, or 3.2 percent, to 11,780.94. The Stoxx Europe 600 Index decreased 1.7 percent as the 10-year Italian note yield topped 7 percent.
"It's just like a scary movie as it never ends," Keith Wirtz, who oversees $16.7 billion as chief investment officer at Fifth Third Asset Management in Cincinnati, said in a telephone interview. "The overarching problem is that most of the economies in Europe can't sustain the size of their governments. We're going to have this headache for a long time to come."
Today's equity slump erased the month-to-date gain in the S&P 500. About 11 stocks fell for each that gained on U.S. exchanges. All 10 groups in the S&P 500 retreated as gauges of financial, commodity and industrial companies fell at least 3.8 percent. The Chicago Board Options Exchange Volatility Index, which measures the cost of using options as insurance against declines in the S&P 500, soared 32 percent to 36.16.
Bigger Deposits
Europe's biggest clearinghouse said that customers must put down bigger deposits to trade Italian bonds as concern rises that the government will struggle to reduce the world's third-largest debt burden. Italian yields surged as Prime Minister Silvio Berlusconi said he won't resign until austerity measures are passed, even after he failed to muster an absolute majority on a routine ballot in parliament yesterday.
A senior lawmaker said German Chancellor Angela Merkel's Christian Democratic Union may adopt a motion at an annual party congress next week to allow euro members to exit the currency area. In Greece, Prime Minister George Papandreou's drive to put together a unity government fell into disarray as rival parties squabbled over the next premier.
"The Greek flu is hitting Italy," James McDonald, chief investment strategist at Northern Trust Corp. in Chicago, which manages $643 billion, said in a telephone interview. The market wants to know "who's going to be the new leadership? Until they know the new leadership's willingness to implement reforms, they are going to require higher compensation."
Banks Tumble
The KBW Bank Index sank 5.9 percent as all of its 24 stocks retreated, extending this year's slump to 26 percent. Morgan Stanley fell 9 percent to $15.76. Goldman Sachs erased 8.2 percent to $99.67.
General Motors declined 11 percent, the biggest drop since its post-bankruptcy public offering a year ago, to $22.31. The automaker, which hasn't turned an annual profit in Europe in more than a decade, abandoned its target for break-even results in the region as a quarterly loss there lowered overall profit.
Adobe lost 7.7 percent to $28.08. The company plans to cut 750 jobs as it lessens its focus on older products. The reduction, mostly in North America and Europe, will cost $87 million to $94 million before taxes, the company said. After the costs, net income will be 30 cents to 38 cents a share, compared with a previous forecast of 41 cents to 50 cents.
Thwart Recovery
Concern that Europe's debt crisis may thwart a global economic recovery sent the Morgan Stanley Cyclical Index down 4.6 percent. The Dow Jones Transportation Average of 20 stocks slumped 3.8 percent. FedEx Corp., operator of the biggest cargo airline, slipped 4.4 percent to $79.35. Apple Inc., the biggest technology company, lost 2.7 percent to $395.28.
Energy and raw material producers retreated as the dollar rose, reducing the appeal of commodities. Alcoa Inc., the largest U.S. aluminum producer, slid 5.4 percent to $10.20. Chevron Corp. fell 4.2 percent to $104.28.
One stock in the S&P 500 rose today, the lowest number since June 2010. Best Buy Co. advanced 1.4 percent to $27.22. The world's largest consumer-electronics retailer may post its first monthly comparative sales gains in six quarters, according to Cleveland Research.
Yahoo! Inc. swung between gains and losses, falling 0.3 percent to $15.92. Alibaba Group Holding Ltd. and Softbank Corp. are talking with private-equity funds about making a bid for all of the company without its blessing, people with knowledge of the matter said.
Cisco Beats Estimates
Cisco Systems Inc., which fell 3.8 percent in regular trading, rallied 3.8 percent to $18.28 at 6:07 p.m. New York time. The world's biggest maker of networking equipment reported profit and sales that exceeded analysts' estimates, bolstered by a turnaround effort and demand for data centers.
The S&P 500 may halt its biggest gain in 20 years, according to two indicators studied by technical analysts at UBS AG. October's 11 percent rally, which was the biggest monthly advance since 1991, failed to leave the S&P 500 above its 200-day average, limiting the potential for a rally, the Zurich-based analysts wrote in a report yesterday.
The team also said their model for moving average convergence-divergence, or MACD, is heading into "bear mode."
"We see the risk of more near-term weakness into next week," Marc Muller and Michael Riesner wrote in the report. "Given the high volatility, we would see a pullback into next week still as a trading opportunity for aggressive traders, whereas, on the upside, we wouldn't chase the market."
Before it's here, it's on the Bloomberg Terminal.
LEARN MORE