Too Big to Rescue Italy Pushes EMU to Crossroads: Euro Credit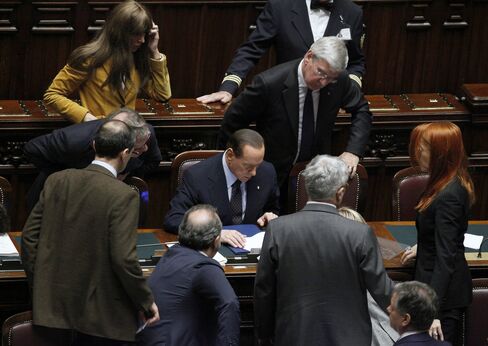 Italy is leading Europe to choose between increased bond buying by the European Central Bank or a possible breakup of the euro.
Italian 10-year yields this week breached the 7 percent level that locked Greece, Portugal and Ireland out of the capital markets and forced them to seek aid. With debt of 1.9 trillion euros ($2.6 trillion), more than those three countries combined, Italy has to refinance about 200 billion euros of maturing bonds next year and more than 100 billion euros of bills.
The future of the European monetary union is at stake after bond vigilantes claimed their fifth political scalp by driving Italy's borrowing costs to records, prompting Prime Minister Silvio Berlusconi to offer his resignation. ECB member Jens Weidmann said Nov. 8 his institution cannot print money to bail out governments.
"There is now a full-scale run on the world's third-largest bond market," said Nicholas Spiro, managing director at Spiro Sovereign Strategy in London. "If Italy fails, the euro zone fails. The worse things get in Italy, the greater the pressure on the ECB to intervene on a massive scale."
Italy today sold 5 billion euros ($6.8 billion) of 1-year Treasury bills at the highest yield in 14 years, paying 6.087 percent, compared with 3.57 percent at the previous auction of similar-maturity securities on Oct. 11. Ten-year borrowing costs topped 7.45 percent yesterday, and declined to about 6.8 percent today after the ECB bought Italian debt, according to three people familiar with the transactions.
'Biggest Concern'
German Finance Minister Wolfgang Schaeuble told lawmakers Italy should request aid from the European Financial Stability Facility if it needs it, said two people present at a private budget meeting yesterday in Berlin. Investors demand a premium of 500 basis points to lend to Italy rather than Germany for 10 years, down from 550 yesterday which was double the average gap in the past year.
"The crisis spreading to Italy really must have been Europe's biggest concern," said Fergal O'Leary, a director at Glas Securities Ltd., a Dublin-based fixed-income firm. "Italy seems too big to fail, and it looks like the ECB needs to get out the printing press at this stage."
The cost of insuring against default on Italian government debt rose to a record after LCH Clearnet SA yesterday increased the extra deposit it demands from clients to trade the country's securities. Credit-default swaps on Italy jumped 38 basis points to 562, surpassing the previous record of 534 set Sept. 22, according to CMA. The Markit iTraxx SovX Western Europe Index of swaps on 15 governments rose 13 basis points to a one-month high of 341, and jumped again today to 349.
Heads Roll
Greece's George Papandreou this month became the fourth euro region prime minister to announce plans to resign from office since the debt crisis broke out two years ago. Irish and Portuguese voters ousted their leaders earlier this year, with Spain and Slovenia likely to follow suit in the next month, opinion polls show. Finland changed its premier after an election in April. Slovakia, which currently has a caretaker government, goes to the polls in March.
On Nov. 8, Berlusconi offered to step down as soon as parliament approves austerity and economic-growth measures promised to the European Union. Italy's Senate is set to vote tomorrow on a package of measures including asset sales and raising the retirement age. The Chamber of Deputies may vote the next day.
"In some ways, the timid nature of ECB bond purchases over recent weeks has accelerated political change in Italy," said Dermot O'Leary, chief economist at Dublin-based Goodbody Stockbrokers. "The only institution with the firepower is the ECB. This change in the political guard must be followed by significant ECB purchases over the coming weeks to stabilize Italian bond yields."
Buying History
Since the start of its government bond purchase program in May 2010, the ECB has spent 183 billion euros. Before a four-month hiatus from April to August, it spent an average of 1.7 billion euros a week. That jumped to 8.5 billion euros a week in August as the crisis threatened to engulf Italy and Spain and the central bank started buying those country's bonds. The most the ECB ever spent in one week is 22 billion euros, which happened during the week ended Aug. 12.
Italy has to repay investors 37 billion euros by the end of this year, and on Feb. 1, a bond worth 26 billion euros that Italy sold 10 years ago comes due.
'Take Fright'
"It's largely the size of the Italian debt, the poor political environment and low growth prospects for Italy that caused the market to take fright," said Jim Leaviss, who helps oversee $300 billion at Prudential Plc's M&G Investments London-based unit, which posts comments under the name "Bond Vigilantes" to Twitter. "Authorities can always oppose the bond market if the market is wrong," he said.
Ed Yardeni, president and chief investment strategist at Yardeni Research Inc. in New York, coined the term bond vigilantes in 1983 to describe investors who protest monetary or fiscal policies by dumping bonds.
At his first press conference as ECB President, Mario Draghi said Nov. 3 that the bond purchase program is "temporary, it's limited in the amount, and it's justified on the basis of restoring the functioning of monetary policy transmission levels."
The euro weakened by 1.7 percent against both the dollar and the yen yesterday, extending its losses against the U.S. currency this month to 1.9 percent. The currency is little changed today.
"I think that it probably is the end game," said Stephen Lewis, chief economist at Monument Securities Ltd. in London. "We know the euro zone doesn't have an unspecified range of resources that it can use to bail out Italy. The ECB could step in and give an open ended commitment to buy any Italian debt that comes on to the market. If the ECB does that, it will be the end of the euro because Germany and the Netherlands don't want it."
Before it's here, it's on the Bloomberg Terminal.
LEARN MORE