Students Protest in London's City Against Fees, Budget Cuts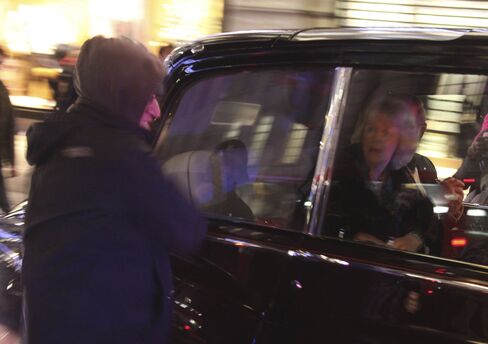 U.K. students will demonstrate in London's financial district today against education budget cuts and increased tuition fees, with police on standby to prevent a repetition of violence that marred similar protests last year.
Protesters will assemble at the University of London in Bloomsbury at noon before marching through Trafalgar Square and past St. Paul's Cathedral before holding a one-hour rally at London Wall at 3:30 p.m., London's Metropolitan Police said on its website. Extra police vans from outside the capital were visible around Parliament in Westminster this morning. Roads along the route have been closed and bridges may be shut if necessary, the force said.
"Officers are deployed to facilitate peaceful protests and that is the aim," the Met said in a statement. "There are a range of tactics available if there is criminality and violence associated with the event. One of these is the authority to deploy baton rounds in extreme circumstances," though such ammunition will not be carried by officers policing the route.
There were violent protests in central London in December after the House of Commons voted to allow universities to triple annual tuition fees to as much as 9,000 pounds ($14,500). After demonstrators and police clashed around Parliament, protesters attempted to break into the Treasury and attacked Prince Charles's car in the West End.
Tented Camps
The campaign organizers say today's protest is being directed toward the City, as the financial district is known, partly to coincide with the anti-capitalism demonstrations that have seen tented camps set up outside St. Paul's and in Finsbury Square, near Moorgate. The protesters gathered outside St. Paul's said in a statement they will join the march.
The campaigners say they're aiming to overturn government proposals published in June to encourage universities to compete for students and to remove quotas that cap a college's intake.
Legal and General Investment Management Holdings Ltd., a financial asset-manager whose office is near Moorgate, said in a press release it had restricted access to the building because of the demonstration.
Before it's here, it's on the Bloomberg Terminal.
LEARN MORE