SingTel Net Falls as Strong Currency Trims Regional Earnings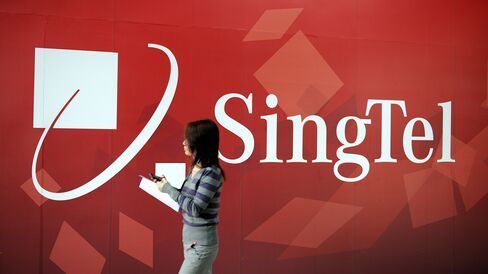 Nov. 10 (Bloomberg) -- Singapore Telecommunications Ltd., Southeast Asia's biggest phone company, reported a drop in second-quarter profit as a stronger currency added to lower contribution from regional units such as Bharti Airtel Ltd.
Net income declined 1.2 percent from a year earlier to S$881.5 million ($683 million), or 5.5 Singapore cents a share, SingTel, as the Singapore-based company is known, said in a statement today. Profit was expected to be S$876 million, according to the median estimate of five analysts surveyed by Bloomberg News.
Sliding earnings at regional associates including India's Bharti and increased competition for its Optus unit in Australia are eroding growth at home where market-share gains boosted mobile phone revenue 9 percent. Full-year earnings in Singapore may be little changed while the Australian division may post gains in the "low single digits," SingTel said.
"Bharti is the main issue but I think there is hope we have seen the worst there already as it looks better than it has in the past few quarters," said Theo Maas, who holds SingTel stock among the $5.4 billion he helps manage at Arnhem Investment Management Pty. in Sydney. "The Singapore result is quite amazing in a market that is pretty much saturated for mobile phones and they are already number one."
SingTel gained 0.6 percent to S$3.18 at the close of trading in Singapore. It earlier dropped as much as 1.3 percent.
Singapore Mobiles
"The regional mobile associates continued to deliver robust customer growth," SingTel said in the statement. "However, the weaker regional currencies led to fair value losses on the associates' foreign currency liabilities and also resulted in lower translated earnings."
Second-quarter earnings before interest, tax, depreciation and amortization from Singapore operations rose 5 percent to S$553 million as the company cut back on spending to gain mobile customers. Revenue rose 1 percent.
Mobile revenue rose to S$477 million as the company added 71,000 customers to gain 46 percent of the market.
Sydney-based Optus, Australia's second-largest phone company, posted a 1 percent increase in earnings to A$559 million ($567 million) amid slowing growth in mobile phones.
Optus mobile revenue rose 1 percent in the period, slowing from the 5 percent pace in the June quarter, as larger Australian rival Telstra Corp. added new phones and discounted plans to win customers.
Bharti, Advanced Info
SingTel's international associates, such as Bharti, PT Telekomunikasi Selular in Indonesia and Advanced Info Service Pcl in Thailand, contributed S$471 million to earnings, down 12 percent from a year earlier. With constant currency, earnings were down 6 percent.
SingTel, which owns minority stakes in six operators, has 424 million mobile phone customers, the company said in the statement.
New Delhi-based Bharti, of which SingTel owns a stake, last week posted a 38 percent decline in profit, missing analyst estimates for a fifth straight quarter, as costs from airwave purchases and debt offset higher sales.
The earnings contribution to SingTel from PT Telekomunikasi in Indonesia rose 1 percent to S$233 million.
SingTel this week agreed to increase its stake in Advanced Info, Thailand's largest mobile-phone operator, to 23.3 percent from 21.3 percent. Earnings from Advanced Info rose 17 percent to S$78 million in the quarter.
To contact the reporter on this story: Robert Fenner in Melbourne at rfenner@bloomberg.net
To contact the editor responsible for this story: Michael Tighe at mtighe4@bloomberg.net