Olympus's Possible Delisting Means 'Japan Way' No Longer Excuse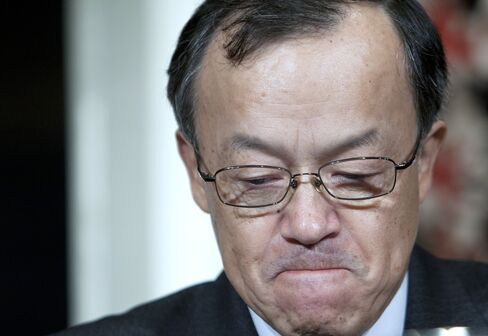 Olympus Corp.'s admission that it hid losses by overpaying advisers may lead to its delisting by the Tokyo Stock Exchange and is sparking criticism of corporate-governance standards in the world's third-largest stock market.
The world's biggest maker of endoscopes said earlier this week it concealed losses by paying $687 million to advisers on a 2008 acquisition. Olympus said today it likely will miss the Nov. 14 deadline for filing first-half earnings, prompting the TSE to place the Tokyo-based company on a watch list for a review for possible delisting.
Olympus has lost more than 500 billion yen ($6.44 billion) of market capitalization since mid-October, when the company ousted President Michael C. Woodford and he went public with accusations of fraud. The scandal may prompt Japan's publicly traded companies to improve self-regulation and responsiveness to investors, according to fund managers and strategists.
"This is a case where Japan's outmoded practice of corporate governance remained and reared its ugly head," said Shuhei Abe, president of Tokyo-based Sparx Group Co. "With Olympus's case, it will no longer be justifiable for Japan Inc. to continue practicing under the excuse of the 'Japan way of doing things.'"
Olympus's troubles compound the woes of Japan's stock market, which reeled in the aftermath of the March 11 earthquake and tsunami that led to the worst nuclear crisis since Chernobyl in 1986. The benchmark Nikkei 225 Stock Average has lost 14 percent this year, and the value of shares listed in Japan now trails the U.S. and China.
'Get Acts Together'
Shares of Olympus plunged by the daily exchange-imposed limit of 100 yen to 484 yen today in Tokyo trading.
Foreign funds, including Olympus investor Southeastern Asset Management Inc., came to Japan to hold corporate directors responsible and seek higher returns. A government panel asked the TSE to bolster corporate-governance rules, and the Asian Corporate Governance Association said in 2008 that failure by Japanese corporate leaders to meet global standards would discourage investment in the country.
"The Japanese market is already looking unattractive to foreign investors," said Hideaki Tsukuda, managing partner at Egon Zehnder International's Tokyo office. "Japanese companies really have to get their acts together, taking this opportunity to strengthen their corporate-governance practices."
Missing Deadline
Olympus today said it's likely to miss Monday's deadline for releasing its first-half earnings and instead will aim to give the figures by Dec. 14 as it waits for a report by an independent committee.
The Tokyo bourse subsequently said it placed Olympus on a watch list to alert investors to the possibility that it may be delisted. Should the company fail to disclose the necessary statements by Dec. 14, it faces the risk of being delisted, the exchange said in the statement.
Under Tokyo exchange rules, a company found to have falsified earnings statements is first placed under the "watch list" post, where it is kept for a month. During that period, the exchange will review the magnitude of the wrongdoings, including whether the falsification was done in an organized manner.
Should the falsification be considered malicious, the exchange may decide to delist the company. Once that decision is made, a monthlong waiting period commences before the stock is formally delisted.
'Disappointed'
"We will be waiting for the findings by the third-party committee, consider the adequacy of information disclosure and potential impact based on exchange's rules," said Kazuhiko Yoshimatsu, the head of corporate communication at the Tokyo Stock Exchange.
The companies previously delisted for fabricating earnings statements include Livedoor Co., Seibu Railway Co. and Kanebo Ltd., according to the bourse's website.
Tadashi Kageyama, the Hong Kong-based head of Asia-Pacific investigations at risk consultant Kroll Inc., said he has investigated more than 150 corporate governance cases in the region during the past decade. Kageyama said he is "not really surprised to see a case like this."
"Many times I have been disappointed when working with Japanese companies by them not giving full access," he said. "The government needs tougher penalties on white-collar crime."
U.S. Investigation
Olympus President Shuichi Takayama this week reversed earlier denials of wrongdoing and said the company was looking into the role played by special-purpose funds in hiding the losses, which date to the 1990s. At least eight Cayman Islands entities have been linked to Olympus acquisitions that are suspected of playing a role in the accounting scandal.
Five of those no longer exist, according to a search of the Caymans registry, which doesn't give details on the individuals behind the companies.
The mechanism for hiding the losses is still under investigation, Takayama said. Japanese and U.S. regulators are probing allegations by Woodford that more than $1.5 billion was siphoned through offshore funds.
Olympus shareholder Baillie Gifford & Co., a U.K. asset manager, yesterday joined Southeastern Asset in calling for Woodford's return, saying he is "the best man for the job."
Selling Holdings
Olympus is included both in the Nikkei 225 and the broader Topix index. Company shares have lost more than 80 percent of their value this year.
A possible delisting may prompt investors to sell their holdings to cut losses, while those managing index-tracking funds may have to sell once the delisting is decided to avoid tracking errors.
Meiji Yasuda Asset Management Co. said this week that eight funds it manages sold all their shares in Olympus. The investment arm of Japan's third-largest life insurer sold the shares due to uncertainties over Olympus's future profitability, the company said in a statement.
Terumo Corp., the biggest corporate shareholder in Olympus, said it did not rule out an option to sell stakes in the company. Terumo, Asia's largest medical devices company, owned 6.81 million Olympus shares, or 2.51 percent of the total shares outstanding, as of March 31, making the company the 10th-largest shareholder, according to data compiled by Bloomberg.
"I had been saying Japan has great value and corporate governance is strong," said Nicholas Smith, a Japan strategist at CLSA Asia-Pacific Markets Ltd. "Then Olympus blew and clients are asking if Japanese corporate governance is really OK."
Before it's here, it's on the Bloomberg Terminal.
LEARN MORE