Ohio Repeals Union Law as U.S. Voters Reject Leaders' Policies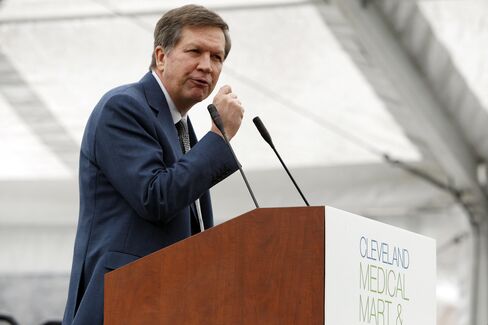 Ohio voters repealed a law limiting collective bargaining for public employees enacted by first-term Governor John Kasich and Republican lawmakers, heartening Democrats heading into the 2012 national elections.
At the same time, the state yesterday approved a Tea Party-backed constitutional amendment aimed at blocking President Barack Obama's health-care overhaul. U.S. voters also defeated a Mississippi initiative that would have made it the first state to ban abortion by declaring that life begins at conception, scuttled a Maine measure passed by Republicans that would have ended same-day voter registration and recalled the author of Arizona's hard-line immigration laws.
Citizens weary after the longest recession since the 1930s and distrustful of politicians rejected their leaders' policy prescriptions, said John C. Green, director of the Bliss Institute of Applied Politics at the University of Akron.
"A lot of voters are saying, 'Whatever is going to happen, I don't need any more change in my life right now,'" Green said in a telephone interview.
Andrei Cherny, Arizona Democratic Party chairman, said voters rejected radicalism when they threw out Republican Russell Pearce, the state Senate president. Pearce gained prominence nationally after lawmakers passed an immigration law in 2010 that sparked national boycotts and was emulated by Georgia, Alabama and other states.
"Whether it is in Arizona or Ohio or elsewhere, people actually want things that make sense in terms of governing and not just things that will rile up a partisan base," Cherny said in a telephone interview.
Ohio is Heard
The Ohio measure, which affected about 360,000 teachers, police officers, firefighters and others, lost 61 percent to 39 percent, with 99 percent of precincts reporting, according to unofficial results tabulated by the Associated Press.
The vote has national implications, emboldening Democrats for Obama's re-election bid next year after defeats in 2010 and discouraging Republicans in other states from trying to curb public-sector unions, said Paul Beck, a political-science professor at Ohio State University in Columbus.
"They're going to be much more careful in picking their spots," Beck said in a telephone interview before the vote.
The measure would have restricted bargaining to wages, hours and working conditions, barred strikes and allowed government entities to impose contracts. It also required workers to cover at least 15 percent of health-care insurance premiums and contribute 10 percent of their pay to pensions.
Tougher Than Wisconsin
"This is a victory for all Ohioans who want to solve the challenges facing our state without attacking the middle class," Tamar Gray, a Cleveland teacher, said in a statement provided by We are Ohio, the coalition that opposed the law.
A similar bill pushed by Wisconsin Governor Scott Walker, also a Republican, triggered weeks of protests at the Capitol in Madison and spurred recall elections in nine Senate districts.
Unlike the Wisconsin law, which exempted police and firefighters, the Ohio bill included them. We Are Ohio featured safety forces in their ads.
Kasich, 59, said before the election that the law was needed to help local governments control costs. Now, he'll "take a deep breath" and reflect on the outcome, the governor told reporters at a statehouse news conference.
"It's clear that the people have spoken," Kasich said. "They might have said it was too much, too soon."
Get On Board
The law provided "fair reforms" to help communities and schools control taxes and spending, Kevin DeWine, chairman of the Ohio Republican Party, said in a statement. Now, it's time for Democrats to "stop standing in the way of meaningful reform for our state" and join Kasich and Republicans in making changes, DeWine said.
Portions of the law struck down yesterday may be re-introduced next year, House Speaker William G. Batchelder told reporters Nov. 3. Even so, Republican lawmakers, many of whom will be up for re-election then, must not thwart the will of the voters, said AFL-CIO President Richard Trumka.
"Politicians who fight battles for the richest 1 percent will find their radical efforts stopped by the voices of working people," Trumka said in a statement, a reference to the Occupy Wall Street protests.
Limited Significance
The repeal may weaken Kasich and is good news for Obama, said William C. Binning, chairman emeritus of the political-science department at Youngstown State University and a former Mahoning County Republican Party chairman. He cautioned, though, against reading too much into the vote.
"Had 'Yes' prevailed, I think Ohio would have been out of the picture for Obama, and now it's in," Binning said in a telephone interview. "That's not to say he's going to win; I just think he's going to be competitive."
Ohio voters backed the constitutional amendment that would block any mandate that individuals buy health insurance by a margin of 66 percent to 34 percent, according to the AP. Ohio joins four states that considered similar measures last year and four slated to vote next year, according to the National Conference of State Legislatures.
Opponents said the vote is symbolic because the U.S. Supreme Court is expected to have the final ruling on the law. Supporters said the measures send a message about public sentiment and that it's important to put restrictions in place so states don't go further than the federal law.
"Through the course of our campaign, we have heard from Ohioans who are fed up with more and more government in their everyday lives," Jeff Longstreth, a spokesman for Ohioans for Healthcare Freedom, said in a statement.
Before it's here, it's on the Bloomberg Terminal.
LEARN MORE