Nomura Debt Rating May Be Cut by Moody's as Daiwa Downgraded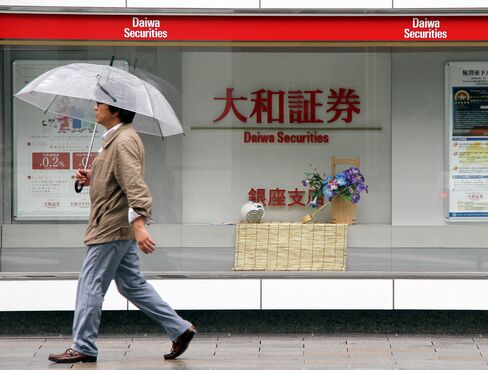 Moody's Investors Service downgraded Daiwa Securities Group Inc.'s credit rating and said it may cut Nomura Holdings Inc. as global expansions by Japan's two biggest securities firms unravel.
Nomura's rating was put on review for possible downgrade from the current Baa2, the second-lowest investment grade, Moody's said in a statement yesterday. Daiwa had its rating lowered one step to Baa3, with a negative outlook.
The moves may increase borrowing costs at a time when earnings are deteriorating as Europe's debt crisis deepens. Stocks worldwide plunged overnight on concern that the region's leaders may be unable to keep the euro zone intact. Nomura, Japan's biggest brokerage, has lost money overseas in each of the past six quarters, burdened by staffing costs after buying Lehman Brothers Holdings Inc.'s Asian and European units in 2008.
"The review may give Nomura a disadvantage for financing," said Shiro Yoshioka, an analyst at Japaninvest Group Plc. in Tokyo. "It's a blow because companies are really relying on their credit ratings as markets are unpredictable and volatile right now."
Nomura shares dropped 5.5 percent to 241 yen at 10 a.m. in Tokyo trading, heading for the lowest close in at least 37 years. Daiwa slid 5.4 percent to 247 yen, set for the lowest close since April 1980. Japan's benchmark Topix index lost 2.4 percent, following a 3.7 percent slump in the Standard & Poor's 500 Index that was the biggest since August.
Cutting Jobs
Both Tokyo-based companies posted losses last quarter as trading and investment banking income declined and overseas operations slumped. The banks unveiled plans to broaden cost cuts, with Daiwa saying it will eliminate more than 300 jobs overseas and Nomura indicating that it may trim payrolls at home as well as abroad.
"Daiwa's earnings may remain under pressure and it may take longer than what the company anticipates to restore its earnings and stabilize its bottom-line profitability," Moody's said. Costs associated with the company's overseas expansion "substantially outweigh the revenues," it said.
Moody's said the review of Nomura will consider its cost-reduction plans as well as its "failure to generate synergies and returns from the Lehman acquisition."
Target Japan
Nomura's loss last quarter, the first in more than two years, last week prompted the company to triple a target for cost cuts to $1.2 billion. While most of the expense reductions will be in Europe, "we'll also target Japan, focusing on the wholesale business," Chief Financial Officer Junko Nakagawa said on Nov. 1.
Moody's "will examine the potential impact of these losses on the strategic direction of the firm and the extent to which this could have negative implications for creditors," it said.
Nomura issued a statement saying it is "disappointed" by Moody's decision. Daiwa said the rating change was "regrettable."
Shares of securities firms have declined the most on the Tokyo Stock Exchange since Nov. 8, when camera maker Olympus Corp. disclosed hidden losses, roiling investor confidence in corporate governance in the country. The Topix Securities and Commodity Index has dropped about 12 percent in the past three days, more than any other group in the broader gauge.
No Olympus Factor
Olympus's troubles "have not been a factor" in the decision to review Nomura, Moody's said. "There is no public evidence of involvement by any rated brokerage firms," it added.
Tokyo-based Olympus said on Nov. 8 that three executives helped hide decades of losses by paying inflated fees to takeover advisers. Nomura wasn't involved in the concealment, said Hajime Ikeda, a spokesman for the securities firm.
Nomura posted a 46.1 billion yen ($593 million) loss for the three months ended Sept. 30. Pretax losses from overseas operations swelled to 52.4 billion yen, the biggest in at least six quarters. Daiwa posted a 19.4 billion yen loss for the period, its third in a row.
Moody's noted that while Nomura's rivals also faced challenges in capital markets last quarter, Nomura "has suffered from low underlying profitability in these businesses for some time."
Factors in favor of Nomura include the company's "strong domestic franchise, strengthened capital and liquidity, and the possible availability of systemic support in times of stress from the Bank of Japan," Moody's said.
The Japanese company's balance sheet has improved as leverage declines, Moody's said. Nomura's $3.6 billion of exposure to Greece, Ireland, Italy, Portugal and Spain "appears manageable," it added.
Daiwa maintains a "relatively solid capital base and adequate liquidity," the rating company said.
Before it's here, it's on the Bloomberg Terminal.
LEARN MORE