Batali Apologizes for Comparing Bankers to Hitler, Stalin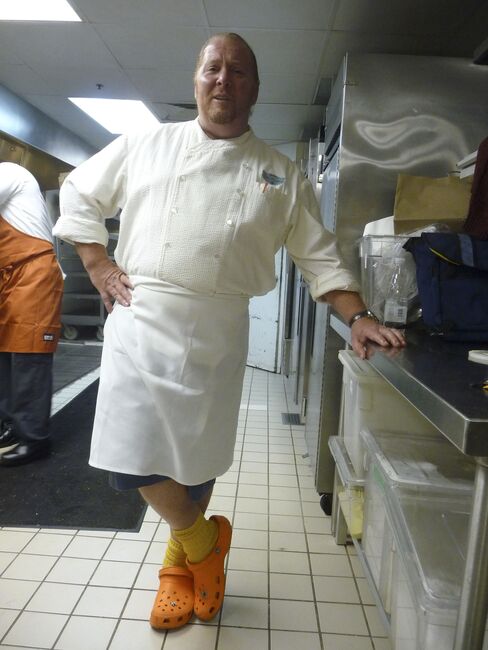 Celebrity chef and restaurant owner Mario Batali apologized for comparing bankers to Hitler and Stalin, while finance executives reacted with angry comments and calls for a boycott.
"To remove any ambiguity about my appearance at yesterday's Time Person of the Year panel, I want to apologize for my remarks," Batali said this afternoon through his spokeswoman, Pamela Lewy. "It was never my intention to equate our banking industry with Hitler and Stalin, two of the most evil, brutal dictators in modern history."
Batali made the original comment yesterday at a panel sponsored by Time magazine and was quoted in a story posted on Forbes.com:
"So the ways the bankers have kind of toppled the way money is distributed and taken most of it into their hands is as good as Stalin or Hitler and the evil guys," Batali said. "They're not heroes, but they are people that had a really huge effect on the way the world is operating."
The Forbes website said it had taken the comment directly from a transcript provided by Time.
Hundreds of users of the Bloomberg terminal's interactive DINE function, where they can rate and comment on restaurants, posted sharply worded denunciations. Many called for a boycott of Batali's approximately 20 establishments, which include the Manhattan power restaurants Babbo, Del Posto, Otto and Lupa.
"I love his restaurants, but I'm done with Mario Batali, I will never eat at another of his places," Blant Hurt, an Arkansas businessman who frequently dined at Batali's restaurants in New York and Las Vegas, wrote in an e-mail to Bloomberg News. "He's insulted a considerable number of his customers at the very time Wall Street is shrinking organically. It'll be interesting to see where his businesses are in five years. Very, very dumb move on his part."
Before it's here, it's on the Bloomberg Terminal.
LEARN MORE