Kinky 'Venus' Sizzles on Broadway; Sam Waterston's Lear: Review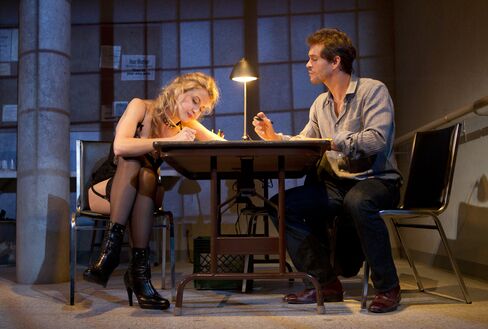 Kinky sex play, shocking role-reversals and lacy black lingerie aren't all you're likely to remember about "Venus in Fur," which opened last night on Broadway.
They're probably not even the top three.
No, the big take-away from playwright David Ives's latest comic free-for-all is the thrill of watching an actress named Nina Arianda -- a brand new, old-fashioned star -- light up the sky.
She arrives rain drenched and spouting expletives on John Lee Beatty's initially grim-looking set, a grimy, fluorescent-lit rehearsal studio. Vanda's late for an audition and encounters the writer Thomas (the extremely engaging Hugh Dancy) getting ready to leave. He's adapted Leopold von Sacher-Masoch's 1870 novella about pain, sex and subservience, and in all New York he can't find an actress right for the leading role of a dominatrix.
Over the next 100 minutes, Vanda and Tom play out their parts, Arianda shifting from brassy modern New York girl to the essence of nineteenth-century sophistication in a very alluring, very funny time-tripping game of cat-and-mouse.
Arianda created the role of Vanda off-Broadway, and was wonderful last season in the Broadway revival of "Born Yesterday."
But the effortless changes of temperament, accent and gesture here, and the giddy-making timing, reveal virtuosity of higher dimension altogether. She's dazzling.
Through Dec. 18 at the Samuel J. Friedman Theatre, 261 W. 47th St. Information: +1-212-239-6200; http://www.telecharge.com. Rating: ****
'King Lear'
The Everest that is Shakespeare's "King Lear" has been seen more often than usual in New York recently. Some productions have been better cast across the board than the one presently on view at the Public Theater. But no addled king has been more moving, nor as thoughtfully conceived, as Sam Waterston's Lear, in a production staged by James MacDonald.
Waterston, whose career is ineffably linked to the Public, begins the play so vituperatively beyond the pale that you wonder where he can possibly go. Instead of launching further into madness, he sinks deeper into depression.
No Lear has ever wrenched me so much as when this king, now a vision of human wreckage, tenderly tells his eyeless loyal friend, "I know thee well enough; thy name is Gloucester," or when he enters carrying the lifeless Cordelia, not crying out but whispering, "Howl, howl, howl." How resounding that stage whisper is.
Through Nov. 20 at 425 Lafayette St. Information: +1-212-967-7555; http://publictheater.org. Rating: ***
What the Stars Mean:
****        Do Not Miss
***         Excellent
**          Good
*           So-So
(No stars)  Avoid
(Jeremy Gerard is chief drama critic for Muse, the arts and leisure section of Bloomberg News. The opinions expressed are his own.)
Before it's here, it's on the Bloomberg Terminal.
LEARN MORE