Schaeuble Said to Say Italy Should Seek EFSF Aid If Needed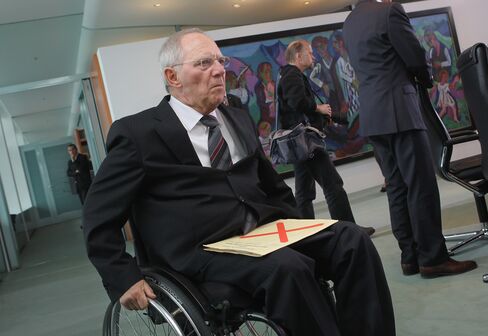 German Finance Minister Wolfgang Schaeuble told lawmakers that Italy should request aid if it needs it from the European Financial Stability Facility, two people present at the meeting in Berlin today said.
Schaeuble said that he is not worried by Italy's bond spreads right now because they are similar to those in the days before the introduction of the euro, the people said on condition of anonymity because the committee meeting was held in private. The spreads will narrow once uncertainty over the political leadership in Italy is resolved, Schaeuble said.
Schaeuble's remarks echo language used by policy makers over the past year when they pushed Ireland and Portugal into seeking bailouts. Ireland was urged by European officials to take aid in a conference call on Nov. 12 last year, two weeks before assistance was officially requested. Earlier this year, officials "encouraged" Portugal to seek aid, former European Central Bank President Jean-Claude Trichet said.
"If Italy has to ask for help, as it may do very shortly, the first line of defense would likely be support by the beefed-up EFSF, possibly with a flexible IMF credit line added on top," Holger Schmieding, chief economist at Joh. Berenberg Gossler & Co. in London, said in a note. "This may happen soon. Unfortunately, we have grave doubts that EFSF/IMF support could be sizeable enough to really impress hyper-nervous investors for long."
Political Gridlock
Stocks and the euro dropped and Italian bond yields surged to euro-era records today as political confusion in Rome and gridlock in Athens dominated Europe's sovereign debt crisis now in its third year. Silvio Berlusconi's offer to resign as leader of the currency region's third-biggest economy failed to stop Italian borrowing costs from soaring with no government yet in place to enact planned austerity measures.
The yield on Italy's 10-year bond rose 49 basis points to 7.23 percent, and the two-year yield surged 81 basis points to 7.11 percent. The extra yield investors demand to hold 10-year Italian debt instead of German bunds reached 5.75 percentage points, a euro-lifetime high.
The Stoxx Europe 600 Index slid 1.7 percent and the 17-nation euro fell 1.7 percent to $1.3598 after touching $1.3553, the lowest in four weeks.
Pushed by his international counterparts, Berlusconi asked the International Monetary Fund on Nov. 4 to monitor Italy's debt-cutting efforts. He told reporters at the Group of 20 summit in France that the surveillance had been "requested, not imposed" and that he turned down an offer of IMF money.
'Alarming Levels'
With Italy's borrowing costs now surging to "alarming levels," there's no risk of "prolonged political instability," Italian President Giorgio Napolitano said in a statement today. Parliament will approve austerity legislation "within a few days" and a new government will be formed quickly or Italy will proceed rapidly to elections, he said.
The German government is following developments in Italy "with great interest" and respects Berlusconi's decision not to run again for office, Chancellor Angela Merkel's chief spokesman, Steffen Seibert, told reporters in Berlin today.
In Athens, Prime Minister George Papandreou said he will step down after announcing an agreement with the main opposition party on an interim Greek government. He didn't disclose the name of the new prime minister.
'Tactical Games'
Papandreou met with Antonis Samaras, leader of the opposition New Democracy party, and opposition LAOS party leader George Karatzaferis, as lawmakers seek to form a unity government charged with securing the next tranche of aid need to avert the economy's collapse. Karatzaferis left the talks saying he was "very sad" that "tactical games" were being played.
Merkel said that while the debt crisis is "unpleasant," it presents an opportunity for "a breakthrough" to a future Europe of lower debt and deficits that ensures the region remains globally relevant.
The crisis "is in its essence a decisive moment, a turning point, a moment to change course," Merkel said in a speech in Berlin. "Pledges are always well and good, but the actual security for democracies is established structures, established rules that need to be verifiably followed -- and require consequences for not following them."