Israel May Lack Capability for Effective Strike Against Iran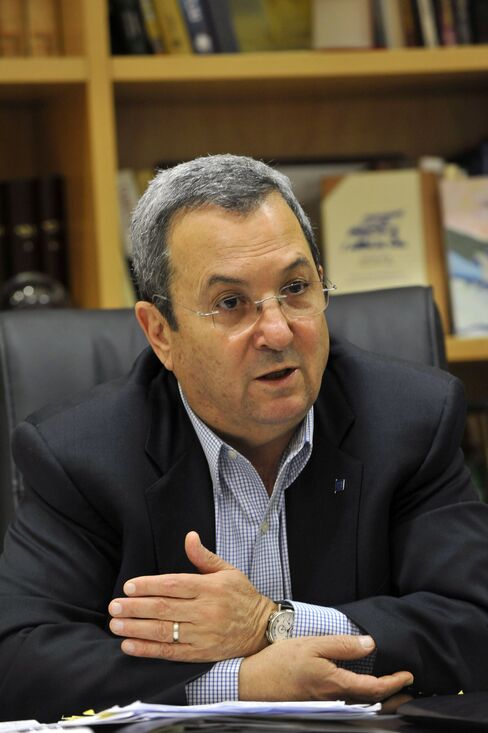 Concern that a new report on Iran's nuclear program might spur an Israeli military strike ignores a central factor: Experts say the odds such an assault could succeed are slim.
"The Israelis actually have limited means of attacking Iran's nuclear program," said Richard Russell, a professor at the U.S. National Defense University's Near East South Asia Center for Strategic Studies in Washington and a consultant to the U.S. command for the region. "This is a very, very difficult problem for the Israelis, and it's getting more and more acute."
The United Nations' International Atomic Energy Agency yesterday reported on Iran's efforts to develop a bomb small enough to put on a missile with enough range to hit Israel. Iran's nuclear weapons facilities, outlined anew in the report, are dispersed over a broad area 1,000 miles (1,609 kilometers) and multiple countries to the east of Tel Aviv. Some are underground.
Iran has repeatedly asserted that its nuclear program is for peaceful civilian goals, such as power generation.
"The Israeli Air Force is capable of launching an attack on Iran and causing damage," said Yiftah Shapir, director of the Military Balance Project at Tel Aviv University's Institute for National Security Studies. "It is far from capable of disabling the Iran nuclear program. That would take at least a month of sustained bombing. That's not something Israel can carry out alone."
Iran Won't Withdraw
President Mahmoud Ahmadinejad said Iran won't withdraw "an iota" from its atomic program and dismissed the report as "baseless" in a speech on Iranian state television today.
France and its allies are ready to impose "unprecedented sanctions" on Iran if it doesn't fully cooperate with the IAEA, French Foreign Minister Alain Juppe said today in a statement.
Retired U.S. Air Force General Charles "Chuck" Wald, former deputy commander of the U.S. combatant command for Europe, calculates an operation against Iran would require in excess of 1,000 sorties.
Defense Minister Ehud Barak said yesterday that Israel "has not yet decided to embark on any operation" against Iran.
"War is not a picnic," Barak said in an interview with Israel Radio. "We want a picnic. We don't want a war."
Bunker-Busting Bombs
The U.S., Israel's closest ally, has a huge arsenal, ultimately including bunker-busting bombs for destroying buried targets.
President Barack Obama's administration, while stating that it reserves all options, is emphasizing tighter economic sanctions with European allies in the wake of the IAEA report.
U.S. Defense Secretary Leon Panetta, who maintains contact with Barak, publicly cautioned Israel against a military strike as recently as last month during a visit to Israel.
"The most effective way to deal with Iran is not on a unilateral basis," Panetta told reporters traveling with him to Tel Aviv.
The U.S. and Israel will "work together to do whatever is necessary to make sure that they do not represent a threat to this region," he said the next day, standing alongside Barak. "But I think it ought to be done on the basis of countries working together in this region."
Former chief of the Israeli Defense Forces Gabi Ashkenazi and ex-intelligence chief Meir Dagan have spoken often against a premature unilateral strike.
Attack on Syria
"Israel should not think of going alone against Iran," Uzi Eilam, a retired general and senior research fellow at Tel Aviv University's Institute for National Security Studies, said in a phone interview. "It's a serious issue and a lot of people are saying very irresponsible things about what we should do."
A strike against Iran can't be compared to Israel's 2007 bombing of an alleged nuclear facility under construction in Syria, a single site right next door, or the 1981 bombardment of Iraq's Osirak reactor, Russell said.
Even the most powerful conventional "bunker buster" bombs won't succeed if Iran has clandestine facilities that haven't been found, Russell said.
Authorities in Tehran announced recently that they're moving some uranium enrichment from a more vulnerable site at Natanz to a location at Qom that is 90 meters (295 feet) under rock, said David Albright, a former weapons inspector working alongside the UN in Iraq who is founder and president of the Institute for Science and International Security in Washington.
Iranian Proxies
An attack by Israel may unleash Iran's proxies in the region to retaliate with guerrilla tactics and might escalate into an exchange of ballistic missiles, Russell said.
Iran may also assume the U.S. was complicit and retaliate against American bases, embassies or other targets in the region. That might pull the U.S. into a fight it didn't start.
The Pentagon maintains a Navy presence and had close ties with other armed forces in the Persian Gulf region, such as Kuwait, Qatar and Saudi Arabia.
Iranian leaders also might use any military strike as a pretext to proceed with the final stages toward a working atomic weapon, said Peter Crail, an analyst at the Arms Control Association in Washington who studies Iran's nuclear program.
The very public debate in recent days might itself be an indication that military action isn't imminent, to the extent the Israelis want to maintain the advantage of surprise, Crail said.
"The calculus doesn't really work in favor of a military strike," Crail said.