Thorpe Fails to Reach Finals in Beijing Leg of Swimming Comeback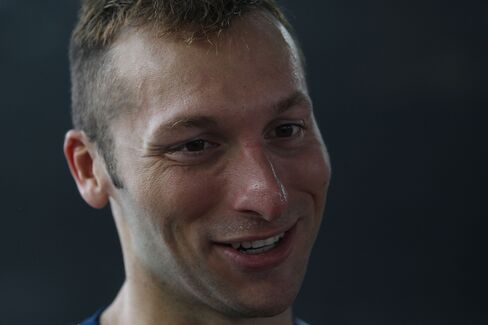 Ian Thorpe failed to reach his fourth final in five races since the five-time Olympic champion made his competitive swimming comeback last week.
The Australian swam the 100-meter butterfly in 54.35 seconds today at the short-course World Cup event in Beijing, placing him 13th of 27 swimmers overall. He failed yesterday to qualify for the finals in the 100-meter freestyle and the 100-meter individual medley.
Thorpe, who announced in February that he was returning to the sport he quit five years ago, is also scheduled to compete in Tokyo this weekend. His comeback began in Singapore five days ago, where he was seventh in the 100-meter individual medley final before missing the 100-meter butterfly final the following day by finishing 11th in the heats.
Thorpe, 29, is working toward Australia's London Olympics selection trials, which will take place in March. He last raced at a major meet at the 2004 Games in Athens, where he won two golds, one silver and one bronze to lift his Olympic medal tally to nine, an Australian record.
He retired in November 2006 at the age of 24, saying he had lost the desire to compete. He changed his mind after recognizing his need to race and has been working in Switzerland with Gennadi Touretski, the Russian coach who guided Alex Popov to the 50-meter and 100-meter freestyle gold medals at the 1992 and 1996 Olympics.