Home Prices Decline in Almost Three-Fourths of U.S. Metro Areas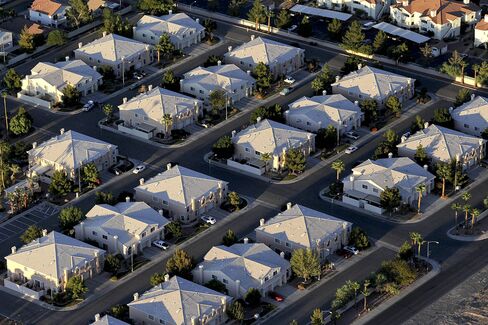 Home values fell in almost three-fourths of U.S. cities in the third quarter as a slowing economy deterred buyers.
The median price of a single-family home decreased from a year earlier in 111 metropolitan areas out of the 150 measured, the National Association of Realtors said in a report today. The biggest declines were in Allentown, Pennsylvania; Mobile, Alabama; and Phoenix, where the median price tumbled 18 percent. Prices in Salt Lake City dropped 15 percent.
Americans are becoming more pessimistic about property values after economic growth weakened in the first half of 2011 to the slowest since the end of the recession. The share of people who in October said they plan to purchase a home in the next six months tumbled to 3.9 percent from 4.7 percent a month earlier, the lowest reading in almost a year, according to a survey by the Conference Board in New York.
"People aren't buying homes because they're not sure where the economy is heading and they're not sure about the outlook for their jobs," said Patrick Newport, an economist at IHS Global Insight in Lexington, Massachusetts. "Confidence in real estate is pretty low."
The median price of a single-family home in the New York metropolitan area fell 3.6 percent to $389,600 in the third quarter. The Washington region had a 0.7 percent gain to $340,900, and prices in the Boston metropolitan area increased 0.3 percent to $367,700.
'Depressed' Market
Federal Reserve policy makers described the U.S. real estate market as "depressed" in a Nov. 2 statement following a two-day meeting in Washington. The central bankers said declining home values continue to hinder the consumer spending that accounts for about three-quarters of the world's largest economy.
Existing-home sales probably will be flat this year compared with 2010, at 4.9 million, according to a forecast on the website of the Mortgage Bankers Association in Washington. The median price of a previously owned house probably will fall to $164,400, the trade group said. Last year, the median was $172,900, according to the Realtors.
In September, purchases of existing homes dropped 3 percent from the previous month to a 4.91 million annual rate. That was 32 percent below the peak pace in mid-2005, according to figures from the National Association of Realtors. The median price declined 3.5 percent from a year earlier to $165,400. That was 28 percent below a July 2006 peak, the group said.