Green Mountain Plunges After Sales Trail Analysts' Estimates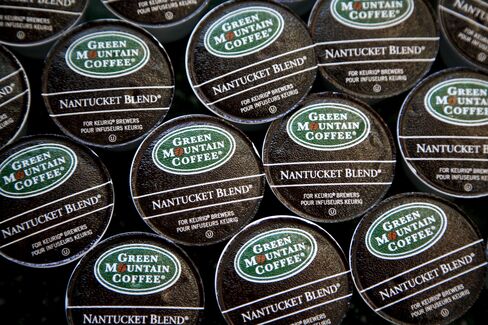 Green Mountain Coffee Roasters Inc., maker of the Keurig single-cup brewing system, plunged in New York trading after fourth-quarter sales trailed analysts' estimates amid changes in wholesale customers' buying habits.
The shares dropped 34 percent to $46.20 at 6:04 p.m. in late trading, erasing $3.1 billion in market value, after closing down 4.7 percent to $67.02. The Waterbury, Vermont-based company's stock had more than doubled this year before today.
Green Mountain said today in a statement that fourth-quarter sales rose 91 percent to $711.9 million compared with the year-ago period, trailing analysts' average projection of $757.7 million.
"Our fourth-quarter revenue was off our estimates," Chief Executive Officer Lawrence Blanford said during an analyst call. "We believe this resulted from a number of factors, including changes in wholesale ordering patterns in our grocery and club channels." These customers boosted orders during the third quarter, only to cut back in the next period, he said.
The company also overestimated K-cup sales for the fourth quarter, Chief Financial Officer Frances Rathke said on the call. While such sales vary from quarter to quarter, demand for Keurig brewers isn't declining, she said.
Green Mountain has now slid by about half since Oct. 14, the trading day before hedge fund manager David Einhorn said the company's market is limited and that it has a "litany of accounting questions" related to its revenue recognition.
'No Misconduct'
"Though disappointing, we take the recent allegations of misconduct seriously," Blanford said. "Our audit committee has reviewed the allegation and we are confident there is no misconduct, there is no wrongdoing. We understand that with success comes scrutiny and at times skepticism."
Profit excluding some items rose to 47 cents a share, missing analysts' average estimate of 48 cents. Net income rose to $75.4 million, or 47 cents a share, from $27 million, or 20 cents, a year earlier, the company said.
Green Mountain reiterated its forecast for fiscal 2012 profit excluding some items of as much as $2.65 a share. The average estimate of analysts was $2.60.
Green Mountain has sought to boost sales by adding to its K-Cups single-serve brand portfolio. Starbucks Corp. and Dunkin' Brands Group Inc. partnered with Green Mountain earlier this year to sell branded capsules for the Keurig machine. Starbucks K-Cups started selling in grocery and retail stores earlier this month.
The company also sells K-Cup capsules for tea, cocoa, apple cider and iced drinks.