Papandreou Greek Government Wrangling Drags Into Third Day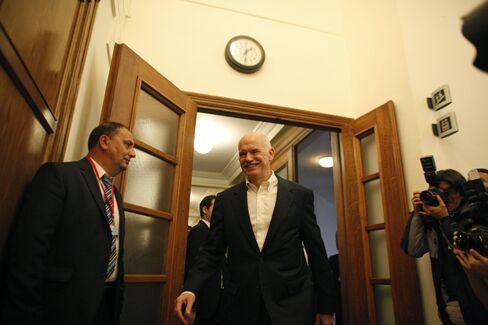 Prime Minister George Papandreou's talks on forming a Greek interim government to avert the economy's collapse dragged into a third day as a near-accord with the opposition stalled on European Union demands for written commitments.
The Greek interim government is to be announced today, NET TV reported, without saying how it got the information. Former central banker Lucas Papademos seemed poised to lead the new government as of late yesterday, according to reports from state-run NET TV and To Vima newspaper. To Vima said today, without citing anyone, that Vassilios Skouris, president of the European Court of Justice, may be given the prime ministerial post in place of Papademos.
Antonis Samaras, leader of the opposition New Democracy party, reacted angrily to a demand from EU officials that he sign up to budget measures required to receive a second Greek financing package of 130 billion euros ($179 billion) that was decided on Oct. 26.
"The bottom line is that the clock is ticking for Greece as it will soon run out of cash without European help," said Thomas Costerg, an economist at Standard Chartered Bank in London. "Greek leaders seem still not to have appreciated the urgency of the situation."
Papandreou promised to step down and raced to put together a new government to bridge differences with EU leaders and officials after his proposal of a referendum on the Oct. 26 loan package roiled markets. The new government's mission will be to implement budget measures and decisions related to the package, including a debt swap, before holding elections.
At Stake
Immediately at stake is the fate of an 8 billion-euro loan installment under a 110 billion-euro May 2010 EU-led bailout which must be paid before the middle of December to prevent a collapse of the country's financial system.
Opposition LAOS party leader George Karatzaferis late yesterday offered to mediate to break the deadlock with Papandreou and Samaras after they failed to announce a new government amid reports of squabbling over how to staff posts.
"Europe is mocking us," Karatzaferis said in statements broadcast live on NET TV. "Greeks feel insecure. These types of situations need clarity. If they are willing let's try and find a solution."
'Party Politics'
Spyros Economides, senior lecturer at the London School of Economics, said that Greek politicians "are still so caught up in party politics that they can't see beyond next month."
"Greek politicians don't seem to be willing to give the new premier enough power to choose his Cabinet or enough time in office to solve the problems," Economides said in a telephone interview.
The euro fell 1.1 percent to $1.3678, while the MSCI Asia Pacific Index added 0.8 percent. Standard & Poor's 500 Index closed 1.2 percent higher yesterday, gaining for a second day.
The yield on the 10-year Greek bond dropped 2 basis points to 27.73 percent, after seven straight days of increases.
European stocks fell with the benchmark Stoxx Europe 600 Index dropping 1.6 percent. Greece's benchmark general index fell 2.8 percent to 757.86 at 12:35 p.m. in Athens, after two days of advances.
Rescue Fund
European finance ministers pledged yesterday in Brussels to roll out a bulked-up rescue fund next month. The group expects a written commitment from any national unity government after Papandreou's proposal to hold a referendum on the measures, since withdrawn, created a "breach of confidence" with the EU, the bloc's Economic and Monetary Affairs Commissioner Olli Rehn said yesterday.
"Now this confidence needs to be mended," he said.
The letter to the EU will need to be signed by Papandreou, Samaras, the new prime minister and finance minister as well as the head of the Greek central bank, George Provopoulos, said a Greek government official, who declined to be named.
"There is an issue of national dignity," Samaras said in an e-mailed statement. "I have repeatedly explained that, in order to protect the Greek economy and the euro, implementing the Oct. 26 decisions has become unavoidable. I don't allow anyone to doubt my statements on this."
Lost All Credibility
New Democracy party spokesman Yannis Michelakis said the fact that Papandreou's government had lost all credibility in Europe didn't mean that the country's dignity can be insulted, according to an e-mailed statement.
The stand-off extends the uncertainty over Greece's banks and economy.
Greek bank deposits in September fell 2.9 percent from the previous month to 183.2 billion euros, according to Bank of Greece data released yesterday. The 5.4 billion-euro drop is the biggest one-month decline since data started being recorded after the country's entrance to the euro region in January 2001.
Greece plans to pay lenders 50 cents for each euro the government borrowed under the terms of the bailout plan agreed to at the Oct. 26 summit of European leaders and bankers. Its 4 percent notes due in August 2013 now trade at about 35 cents. Fitch Ratings says the agreement with creditors would amount to a "default event" if implemented, while the International Swaps and Derivatives Association says it won't trigger credit-default swaps.
Greece has been in turmoil since shortly after Papandreou secured the second bailout from the EU. He roiled markets by unilaterally deciding to put the terms of the rescue to the Greek people in a vote, a plan he dropped after the EU froze all payments. Bowing to pressure from his party and the opposition, Papandreou pledged to stand aside for a government with wider support to win resumption of international aid.
Yesterday, Italian Prime Minister Silvio Berlusconi succumbed to mounting pressure to step down as 10-year borrowing costs for the region's third-biggest economy approach the 7 percent level that forced Greece, Ireland and Portugal to seek bailouts. He will resign as soon as Parliament approves austerity measures in a vote next week.