Goldman Said to Sell Stake in China's ICBC for $1.1 Billion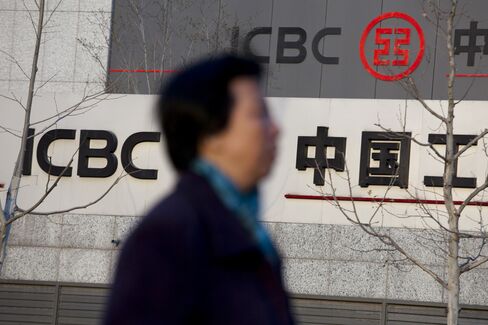 Goldman Sachs Group Inc. raised $1.1 billion selling shares of Industrial & Commercial Bank of China Ltd., trimming an investment first made in 2006 after the stock posted its biggest monthly rally in 2 1/2 years.
Goldman Sachs sold 1.75 billion ICBC shares at HK$4.88 (63 cents), two people with knowledge of the matter said, asking not to be identified because the details are private. ICBC fell 7.1 percent to HK$4.82 at 10:06 a.m. in Hong Kong trading
ICBC, the world's largest bank by market value, jumped 28 percent in the month through yesterday's close after the Chinese government started buying shares in state-owned lenders that had been pummeled by concern that bad loans may increase. Goldman Sachs, which last month posted its second quarterly loss in 12 years, has made $2.65 billion on its ICBC stake since the fourth quarter of 2006.
"Goldman and most banks globally had a terrible third quarter, so anything they can do to sort of salvage the year-end" will help, John Wadle, head of research on banking at Mirae Asset Securities (HK) Ltd., said in an interview with Bloomberg Television today.
Goldman Sachs, which relied on trading for 62 percent of revenue so far this year, recorded losses from that business on 21 days in the third quarter, the most since the fourth quarter of 2008, according to a quarterly filing.
The amount of ICBC stock sold is smaller than the 2.4 billion shares Goldman Sachs offered, and the sale was priced at the low end of the HK$4.88 to HK$5 offering range, according to a term sheet obtained by Bloomberg News. The KBW Bank Index dropped 5.9 percent yesterday to 38.43, its steepest decline in two months.
Third Sale
The deal was Goldman Sachs's third sale of ICBC stock, an investment it originally made in 2006 before the Chinese bank's initial public offering. Around that time, China allowed foreign lenders to purchase pre-IPO stakes in state-owned banks after about a decade spent bailing them out from bad debts.
Goldman Sachs, based in New York, sold 3.04 billion ICBC shares at HK$5.74 each in September last year, raising about $2.25 billion. The Wall Street firm sold an almost $2 billion stake in ICBC in June 2009, the maximum number of shares it was free to divest at the time.
ICBC President Yang Kaisheng said his bank understands and respects Goldman Sachs's decision to sell its shares. The sale was to raise funds for internal "adjustments" Goldman Sachs is undertaking, and isn't a reflection of the New York-based bank's valuation of ICBC's stock, Yang told reporters in Beijing yesterday.
'Modestly' Reducing
"The value of our holding has appreciated considerably and we have modestly reduced the size of our investment over time, but we intend to remain a very significant long-term shareholder in ICBC," said Lucas van Praag, a spokesman for Goldman Sachs in New York. Van Praag declined to comment on the size of the sale.
Goldman Sachs initially bought 4.9 percent of ICBC for about $2.59 billion, according to a regulatory filing. The bank booked a third-quarter loss of $1.05 billion on its investment in ICBC, according to its Oct. 18 earnings report.