GM Falls on Abandoned Europe Break-Even Goal; Profit Drops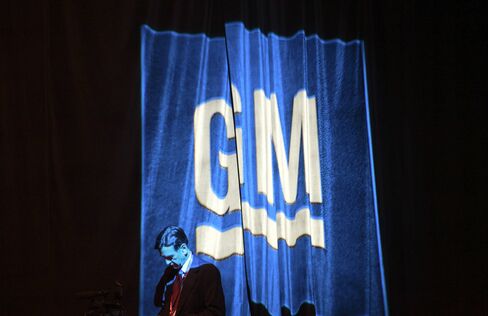 General Motors Co., which hasn't turned an annual profit in Europe in more than a decade, fell after rescinding its target for break-even results in the region as a quarterly loss there lowered overall profit.
GM plunged 11 percent to $22.31 at the close in New York, the biggest drop since its initial public offering almost a year ago. Europe operations lost $292 million before interest and taxes from June through September, the Detroit-based automaker said today in a statement, as it reported a 2.5 percent drop in third-quarter net income.
GM no longer expects to achieve its goal to break even on an EBIT basis before restructuring costs in Europe as economic conditions there deteriorate and the debt crisis spreads to Italy from Greece. The results for the region are "not sustainable and not acceptable," Dan Akerson, GM's Chief Executive Officer, said today on a conference call.
"We obviously have significant macroeconomic challenges to address there," Dan Ammann, chief financial officer, said of Europe operations in a briefing today with reporters in Detroit. "We've got good product and are well positioned in the marketplace. It's about getting paid for that product."
Profit including adjustments for preferred shares decreased 12 percent to $1.73 billion, or $1.03 a share, from $1.96 billion, or $1.20, a year earlier, the company said in a statement. Profit on that basis beat the 94-cent a share average estimate of 14 analysts surveyed by Bloomberg. Net income declined to $2.11 billion from $2.16 billion.
Lower Guidance
GM said fourth-quarter results will be similar to a year earlier, citing seasonal factors in North America and weakness in Europe. Profit was 31 cents a share in the period last year. Analysts were predicting 86 cents a share for the three months ending Dec. 30, the average of 14 estimates compiled by Bloomberg.
"Where will the earnings growth come from?" Peter Nesvold, a New York-based analyst for Jefferies & Co., said today in a phone interview. "For the next several quarters, year-ago comparisons will be tough," he said, noting GM's forecast for reduced truck production next year. "The market has been brutal on companies that can't grow their earnings."
One year after its initial public offering that followed its 2009 bankruptcy, GM is poised to regain the global auto sales lead this year. Worldwide sales climbed to 6.79 million this year through Sept. 30, exceeding Volkswagen AG's 6.16 million and Toyota Motor Corp.'s 5.77 million, according to data compiled by Bloomberg.
Sales rose 7.8 percent from a year earlier to $36.7 billion, according to GM's statement.
North America
GM increased production in North America as U.S. deliveries climbed 15 percent from a year earlier in the three months ended Sept. 30, according to Autodata Corp. Akerson, 63, has boosted vehicle prices to offset higher costs for commodities, engineering and marketing as demand in GM's most profitable market recovers from a 27-year low.
GM earned $2.19 billion in North America before interest and taxes, up 3.3 percent from a year earlier. A shift to more sales of cars such as the Chevrolet Cruze, which are less profitable than trucks, reduced earnings in the region by $400 million, less than the $500 million predicted by analysts such as RBC Capital's Seth Weber.
Karl-Friedrich Stracke, CEO of GM's German brand Adam Opel GmbH, becomes president of GM Europe on Jan. 1, the company said in a Nov. 7 statement. Nick Reilly will retire in March after a 37-year career with GM.
'Spooked Investors'
"The results out of Europe and the outlook for the fourth quarter spooked investors," Channing Smith, a money manager at Capital Advisors in Tulsa, Oklahoma, which manages about $900 million and holds GM shares, said in a phone interview. "Investors want to be in GM for an eventual turn, but the turn everyone is looking for has been pushed off to the future."
GM had $900 million in restructuring and early retirement costs in Europe and cut 5,800 jobs there through Sept. 30, GM said in a regulatory filing today.
The company said it expects an additional $300 million in costs this year and in 2012 to complete the programs, which will affect 1,600 more employees. GM won't rule out cutting more jobs or closing additional plants, Amman told reporters.
"Our assumption is that the market is not going to improve materially from where we are," he said today on the conference call with analysts. "That implies that we need to further reduce the break-even point."
International operations, which includes China, earned $365 million before interest and taxes while the South American business lost $44 million, GM said in the statement.
South America
GM is introducing nine new models in South America during the next year to regain profitability in the region, which made $163 million in the same period last year. The company cut 4 percent of employees in South America and will see lower costs going forward, CFO Ammann said.
"We need to do a better job in Europe and South America," Akerson said today on the conference call. "The results there are not sustainable and not acceptable. We will continue to work on reducing the break-even levels in those regions."
GM's U.S. auto sales rose 15 percent through October this year, outpacing the industry's 10 percent gain, according to Woodcliff Lake, New Jersey-based Autodata. The automaker's market share improved to 19.8 percent from 19 percent a year earlier.
Pension Focus
GM has plunged 39 percent this year. The shortfall for its pensions have become a "primary area of focus for the investment community," Jefferies's Nesvold said yesterday.
Global pension plans for GM employees were underfunded by $22.2 billion at the end of 2010, including a $12.4 billion shortfall in the U.S., according the company's annual 10-K regulatory filing.
The U.S. pensions were underfunded by $8.7 billion through Sept. 30, reflecting for the first time a $2 billion stock contribution made in January. The measure uses GM's valuation as of Dec. 30, said Jim Cain, a company spokesman. GM declined to provide further details on the pension status until year-end.
GM's worldwide pensions may by underfunded by about $27 billion at the end of the year, Chris Ceraso, an analyst for Credit Suisse, wrote in a Nov. 7 research note. Ceraso, who is based in New York, lowered his estimate for the shortfall from $30.7 billion given in an Aug. 18 note.
Automotive cash fell to $33 billion as of Sept. 30 from $34.5 billion a year earlier. GM has reduced debt by more than half to $4.2 billion, from $8.6 billion last year.