Ecclestone Says He Had No Alternative to Gribkowsky Payments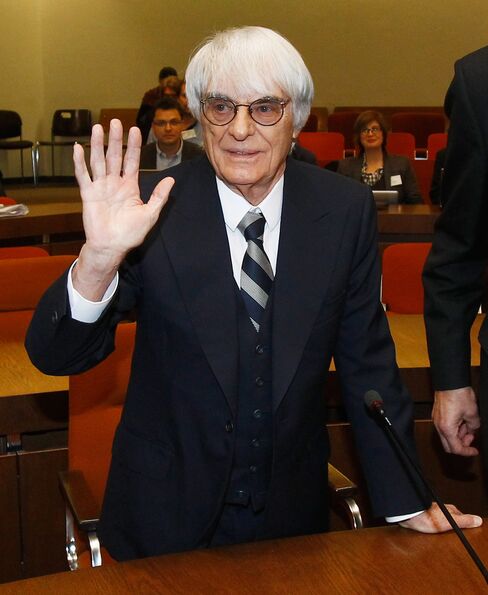 Nov. 9 (Bloomberg) -- Formula One Chief Executive Officer Bernie Ecclestone told a court that he believed he had no "alternative" to making payments to Gerhard Gribkowsky as part of the sale Bayerische Landesbank's stake in the racing series.
Ecclestone, 81, testified he feared that Gribkowsky might disclose information to U.K. tax authorities about a trust controlled by his then wife that might be "very expensive" for him. Gribkowsky, a former chief risk officer at BayernLB, is being tried in Munich on charges he received $44 million in bribes to facilitate the 2005 sale to CVC Capital Partners Ltd.
Prosecutors have said that Ecclestone is under investigation in the case. Munich-based BayernLB sold its 47 percent stake in the world's most watched racing series to CVC for 840 million euros ($1.15 billion).
"I gave money to Mr. Gribkowsky because I really at the time didn't have any alternative," Ecclestone told the court through an interpreter. "The alternative was that I was under the impression that he may give some information to the internal revenue authority of the U.K., and if he would do so it could be very expensive for me."
Ecclestone had wanted BayernLB to sell the interest in the racing series it acquired from the 2002 bankruptcy of Leo Kirch's media group and saw a chance when CVC showed interest, prosecutors said in the indictment. Ecclestone and Gribkowsky agreed on a plan that funneled $44 million to Gribkowsky through sham contracts and off-shore companies, according to prosecutors.
Bambino Trust
As Ecclestone didn't want to pick up the tab for the bribes, Gribkowsky set up a plan to funnel money from BayernLB to the Formula One chief, according to the indictment. The bank manager signed a contract under which BayernLB had to pay Ecclestone a kickback of $41.4 million and another $25 million to the Bambino trust held by his then-wife Slavica Ecclestone, prosecutors claimed.
The Bambino trust was behind Ecclestone's decision to make the payments to Gribkowsky. Ecclestone testified that he feared Gribkowsky might tell U.K. authorities that he controlled the trust, rather than his wife.
The trust involved a sum of as much as 2 billion pounds ($3.2 billion) and the dissolution of the trust could have meant it being taxed at 40 percent, Ecclestone said.
"The problem would have been if it could be proved that I was in control of the trust. I haven't controlled the trust," Ecclestone said. "If Gribkowsky would have told authorities that I was in control of the trust, they would have investigated it and I would have had to prove that I wasn't."
'Had the Feeling'
Ecclestone said that "at no time" did Gribkowsky specifically say "if you don't do what I want you to do, I would do something." Instead, Ecclestone said he "always had the feeling" that he couldn't risk alienating Gribkowsky.
"He suggested that I invest in a company that he had set up to invest in property," Ecclestone said. "I think he'd fallen into the same trap as many people that have to do with Formula One and its position in the spotlight. I think he wanted to be in Formula One, be a partner of me and continue to work with me."
Ecclestone said that Gribkowsky had done some work with the trust in the past and he wanted "to keep him peaceful and friendly and not do silly things."
"I didn't want consulting from him, he couldn't help me in what I've been doing in F1," Ecclestone testified. "He had in the past tried to help and I use the word 'tried.'"
Slavica Ecclestone was never interviewed by prosecutors, Gribkowsky's lawyer Rainer Bruessow has said. The Bambino trust last month told the court the $25 million transactions -- payments to four racing teams -- went to compensate valid claims and were legitimate, Bruessow said, adding that the allegations will collapse. CVC had no knowledge of any payment to Gribkowsky, the company has said in an e-mailed statement. Ecclestone has also denied any wrongdoing.
To contact the reporter on this story: Oliver Suess in Munich at osuess@bloomberg.net
To contact the editors responsible for this story: Frank Connelly at fconnelly@bloomberg.net Edward Evans at eevans3@bloomberg.net