Euro Drops Most Since August 2010 on Italy Turmoil; Yen Climbs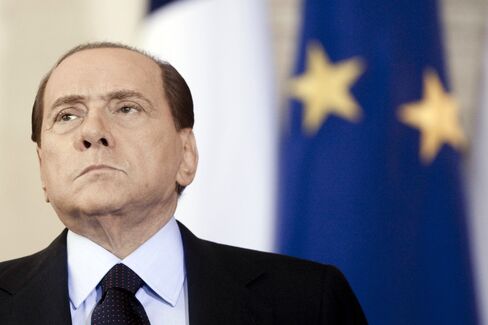 The euro slid the most in more than a year versus the dollar as Italian bond yields climbed above 7 percent, the level at which Greece, Ireland and Portugal sought international bailouts.
The 17-nation currency fell to a two-week low versus the yen on concern Italy will struggle to form a new regime strong enough to implement austerity measures it promised the European Union. The dollar rose as U.S. 10-year note yields dropped the most in a week on a surge in refuge demand and stocks plunged. South Africa's rand tumbled after Moody's Investors Service lowered its outlook on the nation's sovereign debt rating.
"The market is asking itself right now what yield is a breaking point for Italian debt markets, and that has the equity market and the euro riled up," said Greg Salvaggio, senior vice president of capital markets at the currency-trading firm Tempus Consulting Inc. in Washington. "People are very, very anxious that point is approaching, and what effect that will have on the European banking system."
The shared currency slumped 2.1 percent to $1.3542 at 5 p.m. New York time, its biggest drop on a closing basis since August 2010. It reached $1.3523, the lowest level since Oct. 10. The 17-nation euro weakened 2 percent to 105.38 yen and touched 105.25, the weakest since Oct. 26.
The yen slipped 0.1 percent 77.82 per dollar after earlier touching 77.54, its strongest level since Oct. 31, when it set a post-World War II record of 75.35. The pound climbed to the strongest level in eight months against the euro, gaining as much as 1.1 percent to 85.01 pence.
LCH Clearnet SA, a clearing house that guarantees investors' trades are completed, increased the extra deposit it demands from clients to trade Italy's government bonds.
Austerity Bill
Italian Prime Minister Silvio Berlusconi said yesterday he'll resign once parliament passes an austerity bill. The legislation stems from a 45.5 billion-euro ($63 billion) austerity package that helped convince the European Central Bank to buy Italian bonds to try to stem borrowing costs.
Italy's Treasury said in an e-mailed statement it will go ahead with a sale of one-year bills tomorrow. It plans to sell as much as 5 billion euros of the securities.
The yield on two-year Italian government notes reached to above the rate on 10-year bonds. Yields on two-, five- and 10-year securities increased to euro-era records above 7 percent.
Greek Disarray
The Dollar Index, which IntercontinentalExchange Inc. uses to track the greenback against the currencies of six major U.S. trading partners, climbed 1.6 percent to 77.911 as Greek Prime Minister George Papandreou's drive to put together a unity government floundered. The gauge touched 77.987, the highest since Oct. 10. Rival Greek parties squabbled over the next premier, undermining their bid to secure bailout funds needed to prevent a financial collapse.
The euro is poised to fall to as low as $1.2950, according to Citigroup Inc., citing technical analysis. The shared currency formed a so-called double-top within a bear flag, a pattern indicating it's set to plunge, analysts led by Tom Fitzpatrick, chief technical analyst in New York, wrote in a client note today. A breach of the $1.3580 level would suggest a move to below $1.30, they wrote.
The yen strengthened against most of its major peers as traders sought a haven. The Japanese currency and yen-denominated bonds were the most-sought assets today, according to Bank of New York Mellon Corp.
Risk-Aversion 'Spike'
"Our iFlow FX indicators confirm the Japanese yen is the strongest net-bought currency across the board amidst yet another spike in risk aversion," said Samarjit Shankar, a managing director for the foreign-exchange group in Boston at the firm, the world's largest custodial bank. "Our iFlow bond indicators show Japanese government bonds are the strongest net-bought across the board, while net buying of U.S. Treasuries has also accelerated as portfolio managers unwind riskier exposure and reduce leverage."
The yen tends to gain because Japan's export-reliant economy doesn't need foreign capital to balance current accounts -- the broadest measure of trade -- while the greenback tends to strengthen during periods of financial stress due to its status as the world's reserve currency.
The dollar appreciated 5 percent over the past three months, the best performer among the 10 developed-nation currencies tracked by Bloomberg Correlation-Weighted Currency Indexes. The yen strengthened 1.9 percent and the euro advanced 0.2 percent.
Yields on U.S. 10-year notes dropped as much as 15 basis points, the biggest intraday decline since Nov. 1, to touch 1.93 percent, according to Bloomberg Bond Trader prices. A basis point is 0.01 percentage point.
The Standard & Poor's 500 Index retreated 3.7 percent.
South Africa's rand dropped 2.8 percent to 8.0552 per dollar after Moody's reduced the outlook on the nation's A3 rating on long-term foreign-currency and local-currency debt, the fourth-lowest investment grade. It cited deficit and economic growth concern.
Before it's here, it's on the Bloomberg Terminal.
LEARN MORE