DiCaprio Dons Dress as FBI's Hoover; Keira's Lonely Star: Film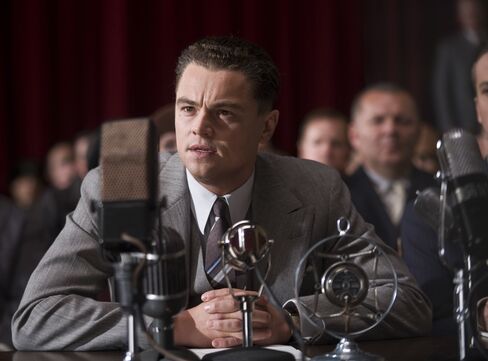 J. Edgar Hoover blackmailed presidents, pioneered modern law enforcement and led the Federal Bureau of Investigation when it killed notorious criminals John Dillinger and "Baby Face" Nelson.
But the scene showing him modeling ladies apparel is the one that will probably linger in your mind after enduring Clint Eastwood's soggy biopic "J. Edgar."
After his beloved mother dies, Hoover (played over a 50-year span by Leonardo DiCaprio) walks into her bedroom and dons a necklace and dress that belonged to her. The FBI director, rumored to be a closeted homosexual who enjoyed wearing women's clothing, then collapses in grief and sobs.
That's not the popular image of Hoover, who railed against communists, the Kennedys, Martin Luther King Jr. and anyone else who challenged his authority or, in his mind, endangered U.S. national security. Hoover always projected strength, which largely stemmed from voluminous files he kept on the private lives of politicians and other prominent people.
"J. Edgar" doesn't ignore that shameful aspect of Hoover's long career -- he ran the FBI from its inception in 1935 to his death in 1972 -- but the film does soften many of his hard edges.
Eastwood, working from a script by Dustin Lance Black ("Milk"), focuses on Hoover's relationships with three people: his domineering mother (Judi Dench), his faithful secretary (Naomi Watts) and his protege, constant companion and reputed lover Clyde Tolson (Armie Hammer).
Sex Life
While there's nothing wrong with humanizing a divisive public official like Hoover, Eastwood and Black go too far by turning him into a sympathetic figure.
They sidestep the issue of Hoover's sex life by depicting his relationship with Tolson as a platonic love story. And the film's structure is a hoary cliche: The elderly Hoover recounts his life to a couple of FBI agents doubling as stenographers for his memoir.
The film, which skips around in time, glorifies Hoover's role in hunting down Bruno Hauptmann, who was executed for kidnapping and killing Charles Lindbergh's infant son in 1932. Far less attention is paid to Hoover's flagrant attempts to manipulate presidents Franklin Roosevelt and John F. Kennedy by threatening to reveal embarrassing personal information.
DiCaprio wears heavy makeup and prosthetics to portray Hoover from his 20s to his 70s. He expertly mimics Hoover's distinctive speech -- the FBI director over-enunciated and used a lot of flowery language -- and skillfully conveys his fussiness over his appearance.
But Hoover's tormented inner life remains as elusive as his private files, which mysteriously vanished after his death.
"J. Edgar," from Warner Bros. Pictures, opens today in New York and Los Angeles, and Friday across the U.S. Rating: **
'London Boulevard'
Though the characters in "London Boulevard" speak English, I felt like I was watching a foreign-language film.
The working-class British accents are so thick that the movie should have subtitles. Even then, I'm not sure I would understand much of the street-smart lingo.
William Monahan, the Oscar-winning screenwriter of "The Departed," makes his directorial debut with this stylish, inscrutable gangster flick starring Colin Farrell as Mitchel, an ex-con who becomes the guard and lover of a reclusive movie star played by Keira Knightley.
The couple decides to leave London for a new start in Los Angeles, but Mitchel is enmeshed with a heartless mob boss (Ray Winstone) who's determined to keep him where he is.
While it teems with crime-genre ambiance and features solid performances from its co-stars, the film is dizzyingly hard to follow. This boulevard of broken dreams needs a few more road signs.
"London Boulevard," from IFC Films, opens Friday in New York and Los Angeles. Rating: **1/2
What the Stars Mean:


****          Excellent
***           Good
**            Average
*             Poor
(No stars)    Worthless
(Rick Warner is the movie critic for Muse, the arts and leisure section of Bloomberg News. Opinions expressed are his own.)