China Telecom, Unicom Cooperate With Anti-Monopoly Probe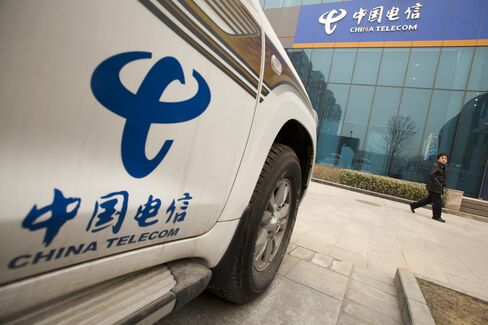 China Telecom Corp. and China Unicom (Hong Kong) Ltd. said they will cooperate with an anti-monopoly probe of their broadband Internet services by the nation's top economic planning agency.
China Telecom's services are "strictly in accordance with the relevant laws and regulations," it said in a filing to the Hong Kong stock exchange today. China Unicom's wholly owned broadband unit, China United Network Communications Corp., is giving the National Development and Reform Commission details on pricing, volume and sales for its bandwidth-leasing business last year, the company said in a statement yesterday.
China's investigation of the two companies may result in fines of "billions of yuan," state-run China Central Television reported yesterday. The network cited Li Qing, deputy director-general of the NDRC's department of pricing supervision.
"This is the first time the NDRC, or any other competition regulator in China, has publicly taken such action against large, state-controlled companies," Frank Schoneveld, a Shanghai-based partner at law firm McDermott Will & Emery, said in an interview today. "It means the NDRC is willing to investigate and sanction big, state-owned enterprises when most commentators were saying they would not do so."
The commission's action is a "game-changing" application of China's anti-monopoly law that took effect in 2008, he said.
China Telecom, based in Beijing, is the nation's largest broadband Internet supplier with 73.7 million subscribers as of Sept. 30, compared with 779,000 users at China Unicom, according to data the companies released last month.
'Fully Cooperate'
"The company will fully cooperate with the relevant regulatory authorities on the investigation," China Telecom said in its statement today.
China Unicom, the nation's second-largest mobile-phone company, said it provides Internet access through its license with the Ministry of Industry and Information Technology.
China Telecom, the nation's largest fixed-line operator, fell 3.5 percent to HK$4.65 at 3:20 p.m. in Hong Kong trading, compared with a 5 percent decline in the benchmark Hang Seng Index. China Unicom fell 1.9 percent to HK$16.24.
While fines of the amount discussed by the NDRC haven't been seen before, the financial impact on China Telecom and Unicom will be negligible, Jim Tang, an analyst at Shenyin Wanguo Securities Co. in Shanghai, said in an e-mail today.
'One-Time Fines'
"The two companies may be subject to one-time fines amounting to several billion yuan," Tang said. "The amount is very small compared to their market caps," which exceed HK$300 billion each, Tang said.
Not all analysts are convinced the companies will end up paying the fines discussed by the commission.
The probe is related to Internet interconnection fees, which telecom operators charge each other for the difference between the data traffic to and from their networks. This is a "standard telecom industry practice" and is applied to both voice traffic and data traffic, Michael Meng, a Hong Kong-based analyst with BOCI Research Ltd., wrote in a report today.
"We deem it very unlikely that China Telecom or China Unicom will be found liable for their interconnection-related practices," Meng wrote.