Canada Banks Seen Closing TMX as Exchange Mergers Flop: Real M&A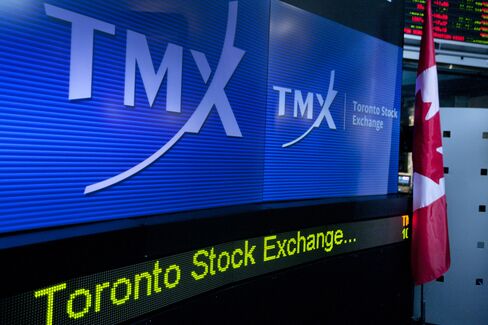 Canada's banks are closer than ever in their attempt to buy TMX Group Inc., even after almost every deal in the biggest wave of exchange takeovers failed.
TMX, owner of the Toronto Stock Exchange, rose to C$44.70 this month, shrinking the gap to Maple Group Acquisition Corp.'s C$50-a-share offer to the narrowest since it became the sole bidder in June, according to data compiled by Bloomberg. TMX had fallen to a five-month low on concern Maple, a group of banks and pensions formed to keep TMX in Canadian hands, would pull its hostile takeover after the London Stock Exchange Group Plc dropped a competing agreement, or have it blocked by regulators.
While more than $30 billion in acquisitions for exchanges have been announced in the past 13 months, only one deal -- Deutsche Boerse AG's takeover of NYSE Euronext -- has been approved by shareholders. With TMX's board now recommending the Maple bid after rejecting its original proposal, Macquarie Group Ltd. says investors are more confident the two entities will work together to win antitrust approval for a combination that would control almost 90 percent of stock trading in Canada.
"The deal will get done and the regulators will probably do a little tinkering around the edges," Thomas Caldwell, Toronto-based chief executive officer of Caldwell Securities Ltd., which oversees about $1 billion including TMX shares, said in a telephone interview. "At the end of the day, Maple Group's offering C$50 a share. Price is going to decide this."
'More Responsive'
Carolyn Quick, a spokeswoman at Toronto-based TMX, declined to comment on the status of the regulatory approval process or the gap between the company's shares and the Maple offer.
"Maple and TMX are confident that the deal will receive regulatory approval," Jennifer Lee, a spokeswoman for Maple, said via e-mail. "The market has been more responsive since the announcement of the support agreement. Maple and TMX remain committed to working with the regulatory bodies to ensure that this deal reaches completion."
Lee said she couldn't comment on the timing of the process.
Maple, which aims to buy 70 percent to 80 percent of TMX at C$50 a share in cash and the rest with Maple stock, started its unsolicited bid in May, challenging the agreement that TMX and the London-based bourse announced in February.
After a bidding contest with Maple lifted TMX's stock to a three-year high, LSE didn't get enough TMX shareholder support and dropped its all-stock offer on June 29.
At the time, the collapse of LSE's bid marked the third time in two months one of the world's biggest exchanges failed to close a deal as they turn to mergers to cut costs and boost sales from trading in stocks, options and futures.
Failed Bids
Nasdaq OMX Group Inc. of New York and Atlanta-based IntercontinentalExchange Inc. dropped their hostile offer for NYSE Euronext in New York on May 16 after regulators signaled they would block it. Singapore Exchange Ltd.'s A$8.35 billion ($8.3 billion) bid to buy Sydney-based ASX Ltd. was scuttled by Australia's government in April. The Tokyo Stock Exchange Group Inc. and Osaka Securities Exchange Co. have been in talks about a merger since at least March.
While TMX fell further below the C$50-a-share deal offer in September than at any time since Maple began its bid on concern the Toronto bourse would also be left without a buyer, the stock has since rebounded to close at C$44.65 yesterday. Shares of slipped 0.2 percent to C$44.57 at 9:58 a.m. today in Toronto.
TMX, which had called LSE's offer "superior," agreed on Oct. 30 to support the takeover by Maple, whose 13 members include Toronto-Dominion Bank, Ontario Teachers' Pension Plan and Manulife Financial Corp.
'Best Interests'
"The board has unanimously determined that the Maple offer is in the best interests of the company, our shareholders and stakeholders, and advises our shareholders to accept the Maple proposal," TMX Chairman Wayne Fox said in the statement.
Maple needs to acquire 70 percent of TMX shares from holders by Jan. 31 for the transaction to succeed.
The Maple consortium also plans to buy Alpha Group, an alternative trading platform that competes with TMX, and Canadian securities clearinghouse CDS Inc. to integrate into TMX. Maple would then control 86 percent of Canadian equity trading, according to monthly statistics for September from the Investment Industry Regulatory Organization of Canada.
The Competition Bureau is reviewing the C$3.73 billion ($3.64 billion) TMX transaction. Quebec's Autorite des Marches Financiers scheduled hearings on Nov. 24 and Nov. 25 and the Ontario Securities Commission has hearings Dec. 1 and Dec. 2.
50 Percent
"Regulatory approval is more likely with the board and management supporting the transaction," Edward Ditmire, an analyst at Macquarie in New York, said in a telephone interview. He says there's a better than 50 percent chance the deal closes.
The ability of investors to buy and sell shares of many Canadian companies in the U.S. and other alternative venues may keep Maple from using its dominant position to increase trading costs, which should allay some antitrust concern for regulators, according to Caldwell Securities' Caldwell.
The 12 percent difference between the cash portion of Maple's offer and TMX's closing price yesterday is still the biggest of any pending Canadian takeover worth more than $500 million, data compiled by Bloomberg show. The gap indicates many investors are concerned regulators could block the deal, according to Yemi Oshodi, managing director of M&A and special situations trading at New York-based WallachBeth Capital LLC.
"There's two competitors merging and those are the only two," he said in a telephone interview. "That's going to give any regulators nightmares. I don't know if I'd be holding this thing here. The downside to me seems to be getting worse."
'Bounced a Lot'
The skepticism means there's still an opportunity to make money, according to Roy Behren, who co-manages the $5 billion Merger Fund for Westchester Capital Management Inc. in Valhalla, New York. Arbitragers who bought TMX yesterday can make a 53 percent annualized profit if the deal closes by the end of January, according to data compiled by Bloomberg.
"The stock hasn't just bounced a little, it's bounced a lot," he said in a telephone interview. "But if you measure it versus where the deal is, it's still a very wide spread."