Australia Risks 20-Year Olympics Medal Low in London, AOC Says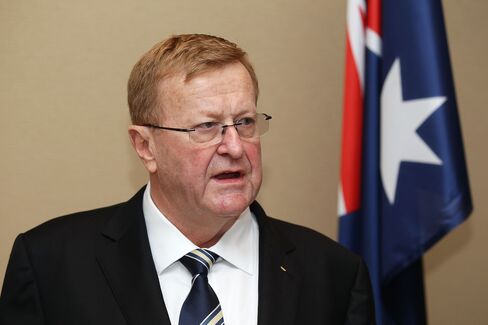 Australia may finish as low as eighth in the medal standings at the 2012 London Games, its worst finish in 20 years, according to projections from the Australian Olympic Committee.
The AOC's benchmark study, which tracks world championship, world cup and other major international results, shows that Australian athletes have won 30 medals so far this year in only seven disciplines, AOC President John Coates said.
"It is a worrying trend," Coates said today in speech comments distributed by the AOC. "There is a ray of hope for London. We had 37 fourth and fifth places this year and we need to convert them into medals."
Not since 1992 in Barcelona, when its Olympic team was 10th with 27 medals, has Australia finished outside the top seven on the overall medals table at a Summer Games.
Australia finished fifth at the 2008 Beijing Olympics with 46 medals following fourth-place finishes at the Sydney and Athens Games with 58 and 49 medals, respectively.
Coates urged the Australian Sports Commission, a government agency, to seek more funding for Olympic sports. Australia's government in May committed to spending A$171 million ($177 million) on high-performance sport in its 2011-12 budget.
"I would hope the ASC will take the fight up to the government for more funding and not leave it to the AOC to put its head up again," Coates said.
Before it's here, it's on the Bloomberg Terminal.
LEARN MORE