Acurio's $5.5 Million La Mar Serves Bland Ceviche: Ryan Sutton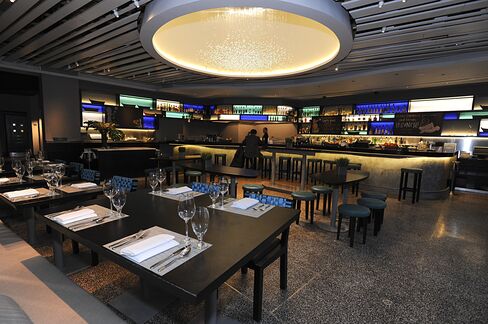 La Mar Cebicheria more or less bills itself as Peru's $5.5 million culinary embassy in New York and its chef, Gaston Acurio, the epicurean ambassador.
At home, Acurio is a big deal, part Thomas Keller chef-entrepreneur, part Emeril Lagasse celebrity chef. He has outposts in San Francisco, Sao Paolo, Santiago and Bogota. Waiters at La Mar speak of him in reverent tones.
Not so fast.
I'd say that La Mar is a fair, forgettable restaurant serving family-friendly, generic versions of Peruvian cuisine. The food will neither offend nor inspire. It's the Andean equivalent of TGI Friday's.
The signature ceviche ($19 hamachi) tastes as though it had been marinated not in lime juice but Hawaiian Punch.
You ask for tiraditos, Peru's sashimi. The nikei is an everyman riff on Japanese-style toro, with perfectly balanced tamarind and sesame water masking sinewy, too-cold tuna belly ($17).
Causas blend whipped potatoes with octopus, raw tartar or escabeche. They're perfectly acceptable late night refrigerator snacks that won't distract you from thoughts of Eli Manning's latest ranking, the Pakistani cricket scandal, your kid's dentist bill.
Familiar Address
The address is familiar: 11 Madison Ave., the Credit Suisse Building where Danny Meyer's Tabla hawked good Indian food for over a decade. It was busy until it wasn't and then it closed.
The bi-level space doesn't look a whole lot different from Tabla. The bar remains downstairs, the more formal dining room is upstairs. Insist on the lower level, where waiters don't have to be flagged down and where drinks arrive reasonably soon after they're ordered.
A good pisco sour has a thick, foamy head of egg white, the gentle tang of grape brandy and the heady aroma of bitters. That's exactly how La Mar's tasted on my last visit, but not always. When they're made in mass quantities, La Mar's piscos can have just a hint of froth, too much juice and too few bitters.
Champagne-Free
Sommelier Emmanuel Kemiji's wine list salutes the New World and Spain; there's not a single Italian or French bottle to be had. Instead of Champagne, knock back Miolo Brut (Vale dos Vinhedos), a bright, balanced $39 sparkler from Brazil. The heft of wok-fried hanger steak goes perfectly with a manly bottle of Tannat ($63), Uruguay's big-fruit answer to Zinfandel.
The menu is a mess of foreign phrases that your waiter is happy to translate. Or you can consult La Mar's website, which boasts a glossary (bring your smartphone; the paper version isn't yet available).
Let me simplify things: Skip the fluke and shrimp ceviches, heavy on acid, light on flavor. The standout is a version with scallop and uni, a good rendition of sweet shellfish and musky sea urchin. Follow up with fried fish belly, and slow cooked hamachi, with soft farro for mopping up the good sauce.
Avoid aji de gallina, a traditional Peruvian stew that's basically an overpriced, $21 version of chicken a la king. The better call is "barely grilled" lobster ($39) and arroz con marisco ($26), an aromatic pile of seafood-infused rice.
Finish with tangy frozen yogurt and strawberries, or with chocolate-filled donuts, which, incidentally, are available at virtually any non-Peruvian restaurant, anywhere in New York.
Rating: *
The Bloomberg Questions
Price: Most dishes under $30.
Sound Level: Shouty, sometimes 80 decibels when empty.
Date Place: Too brightly lit.
Inside Tip: Make sure your pisco sour isn't batch made.
Special feature: Good Apocalipto cocktail (100-proof rye).
Will I be back? Maybe for anticuchos (skewered beef heart or fish).
Lar Mar Cebicheria Peruana is at 11 Madison Avenue. Information: +1-212-612-3388 or http://www.lamarcebicheria.com.
What the Stars Mean:
****    Incomparable food, service, ambience.
***     First-class of its kind.
**      Good, reliable.
*       Fair.
Sound-Level Chart (in decibels): 51 to 55: Quiet enough to converse sotto voce. 56 to 60: Speak up, please. 61 to 65: Lean in if you want to hear your date. 66 to 70: You're reading one in if you want to hear your date. 66 to 70: You're reading one another's lips. 71 to 75: Heads turn because you're yelling. 76 to 85: Ear-splitting din. 76 to 85: Ear-splitting din.
(Ryan Sutton writes about New York City restaurants for Muse, the arts and leisure section of Bloomberg News. The opinions expressed are his own.)
Before it's here, it's on the Bloomberg Terminal.
LEARN MORE