WebMD Ripe for Deal on Record Cash After Luring Icahn: Real M&A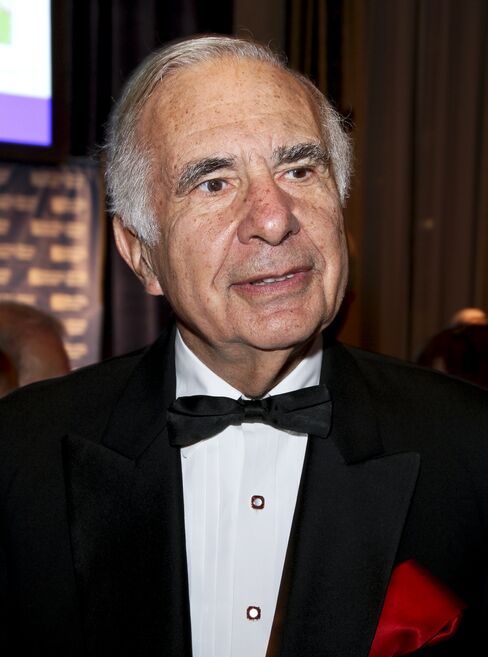 WebMD Health Corp., which lured Carl Icahn and George Soros after plunging as much as 54 percent this year, may now draw private equity bidders with its record cash and the lowest valuation among Internet content companies.
After losing $1.9 billion in market capitalization in 2011, the medical-information company traded yesterday at 3.1 times revenue, the cheapest price-to-sales ratio of any Internet content provider greater than $1 billion, according to data compiled by Bloomberg. WebMD's cash has topped $1 billion the last three quarters, the highest level since it went public in 2005 and the biggest holding in the industry.
While New York-based WebMD reduced its profit forecast this year as online advertisements from drugmakers were delayed by extended legal reviews, the company's websites are still well positioned as marketing spending moves to the Internet, according to William Blair & Co. With investments from Icahn and Soros last month suggesting WebMD is undervalued, private equity firms may be drawn to its cash flow and willing to pay as much as a 40 percent premium, said Tullett Prebon Plc.
"On the private equity side, it looks pretty interesting," Sachin Shah, a Jersey City, New Jersey-based merger arbitrage strategist at Tullett Prebon, said in a phone interview. "The stock keeps moving lower while they continue to generate cash flow. The market doesn't see the real value of the company because it's so focused on expectations. All of these things are the recipe for financial sponsors to look at this because in the longer term they're still doing well."
Today's Trading
WebMD climbed 5.1 percent at $32.64 today in New York. The Standard & Poor's 500 Index advanced 1.2 percent.
Kate Hahn, a spokeswoman for WebMD, didn't respond to a phone call or e-mail seeking comment. Icahn, the chairman of Icahn Enterprises LP, also didn't return a phone call.
Michael Vachon, a spokesman for Soros Fund Management LLC, for which George Soros is chairman and founder, declined to comment on the investment in WebMD.
WebMD, which publishes medical websites such as WebMD.com, RxList.com and Medscape, plunged 30 percent on July 18 for the steepest drop since its September 2005 initial public offering after slashing its full-year revenue and income forecasts. The company warned that ad revenue would be hit by unexpected delays or cancellations from consumer-product companies and delays for previously sold drug promotions that were held up by legal and regulatory reviews.
'Interesting Opportunity'
From its three-year peak of $58.17 in May, WebMD tumbled 54 percent to a low of $27.04 on Oct. 5, wiping out $1.9 billion in market value. The shares closed at $31.07 yesterday, giving the company a market capitalization of $1.7 billion.
"They're facing near-term issues, which has depressed the stock and is probably creating an interesting opportunity," Ryan Daniels, an analyst at William Blair in Chicago, said in a phone interview. "Private equity would probably look at this name."
Icahn said in a regulatory filing made public Oct. 21 that he bought 4.55 million WebMD shares, including those underlying call options, to become the biggest stockholder at the time with a 7.9 percent stake because it's "undervalued from a long-term perspective." Icahn, 75, also said he may seek conversations with management and last week reported that he increased the stake to 9.5 percent.
Poison Pill
Three days after Icahn's original investment was disclosed, Soros Fund Management said it owned shares and convertible bonds with the right to buy shares totaling 5.6 percent of WebMD's equity and doesn't intend on "changing or influencing control of" the company.
On Nov. 2 the company forecast fourth-quarter revenue that missed the average estimate of analysts, prompting another stock decline that wiped out gains from Icahn's and Soros's investment disclosures.
WebMD also adopted a so-called poison pill, designed to prevent "inadequate or coercive" takeover attempts. It capped investors at 12 percent. Kensico Capital Management Corp., a Greenwich, Connecticut-based hedge fund, yesterday reported an increase in its passive stake to 11.6 percent, topping Icahn to become WebMD's largest shareholder. Michael Lowenstein, co-founder of Kensico, didn't respond to e-mail and voicemail messages outside of normal business hours seeking comment.
"Private equity would look at the stock's decline and try to determine if something has fundamentally deteriorated," said Shah of Tullett Prebon. "Icahn and Soros don't think it necessarily has. They believe it's undervalued."
Record Cash
At 3.1 times revenue of $577 million in the last 12 months, WebMD was cheaper yesterday than all other Internet content and information providers with market values greater than $1 billion, according to data compiled by Bloomberg. LinkedIn Corp., which first sold shares to the public in May, was the most expensive at 11.1 times sales.
WebMD also had an enterprise value that was the lowest relative to profit in the industry at 9.1 times its earnings before interest, taxes, depreciation and amortization, the data show. The industry median was 16.6.
WebMD's cash generation would entice private equity buyers, said Shah. The company had $1.1 billion of cash and near-cash items as of Sept. 30, the most in the industry, and only $800 million in debt, data compiled by Bloomberg show. Its cash pile reached a record $1.15 billion at the end of the second quarter.
Icahn's involvement could help WebMD fetch a premium of as much as 40 percent from private equity, according to Shah. That would mean an acquisition price of $43.50 a share based on WebMD's closing price yesterday, valuing the company's equity at about $2.43 billion, data compiled by Bloomberg show.
Online Drug Ads
WebMD could be an attractive target for a financial buyer "especially if you think the issues they're facing are temporary," William Blair's Daniels said. "They're a great brand and they have a great competitive position. Longer term I think everyone believes that more of pharma's marketing will go digital, and they're well-positioned to capture that."
About 84 percent of WebMD's $535 million in revenue last year came from online ads and sponsorships. WebMD Chairman Martin Wygod said on a Nov. 2 conference call there's "significant growth opportunity ahead," since only 5 percent of marketing spending in the pharmaceuticals industry is digital.
Instead of a takeover, Icahn may push for WebMD to use its "significant amount of cash" on increased share buybacks to help lift the "inexpensive" stock, Timothy Ghriskey, who oversees $2 billion as chief investment officer of Solaris Group LLC in Bedford Hills, New York, said in a phone interview.
'The Radar Screen'
The intentions of Icahn, who made millions in the 1980s pressuring companies from USX Corp. to Texaco Inc. to split up or increase dividends and buybacks, are "impossible" to discern, said Ghriskey. While Motorola Mobility Holdings Inc. agreed to be purchased this year by Google Inc. after Icahn urged the company to explore alternatives for its patent portfolio, he failed in advocating for a takeover of Clorox Co., even after proposing he would buy the company as a backstop to an auction.
"Do his actions put the company on the radar screen for some potential acquirers? It's certainly possible," Ghriskey said. "The fact that Soros and Icahn have invested in it shows that they don't see the company's model as being broken. It has a weak near-term story and a very viable longer-term story, which is something that private equity looks at."
Before it's here, it's on the Bloomberg Terminal.
LEARN MORE