Vodafone Raises Full-Year Forecast as Profit Beats Estimates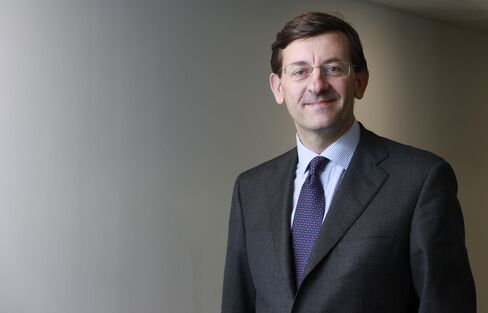 Vodafone Group Plc, the world's largest mobile-phone operator, raised its full-year forecast after profit beat analyst estimates on higher sales in India and new tariff plans that charge based on Internet use.
The company predicts full-year adjusted operating profit of 11.4 billion pounds ($18.3 billion) to 11.8 billion pounds, the upper half of the range it gave in May, it said today. Earnings before interest, taxes, depreciation and amortization rose 2.3 percent to 7.53 billion pounds ($12.1 billion) in the six months through September, beating analysts' estimates for 7.42 billion pounds.
"With every set of results, we see more aggressive tiered data pricing which is exactly what needs to happen for this space," said Morten Singleton, an analyst at Investec Securities in London. "It's a good set of numbers."
Vodafone, based in Newbury, England, has sought to drive data sales from smartphones including Apple Inc.'s iPhone and handsets running Google Inc.'s Android software to counter declining European service revenue. Chief Executive Officer Vittorio Colao this year shifted data billing towards tiered pricing with more consumption-based tariffs.
"We are gaining share in most of our major markets," Colao said in the statement. "We are achieving sustained growth in the key areas of data, emerging markets and enterprise."
Vodafone increased as much as 3 percent to 178.05 pence in London trading and was up 2.4 percent at 11:06 a.m. Before today, the stock had risen 4.3 percent this year.
Data Push
Vodafone's first-half sales rose 4.1 percent to 23.5 billion pounds. Analysts had estimated 23.4 billion pounds.
Second-quarter service revenue growth slowed to 1.3 percent, from 1.5 percent in the previous quarter, weighed down by southern European markets as the region's sovereign-debt crisis led households from Italy to France and Spain to cut spending. Analysts had estimated growth of 1.1 percent.
In Turkey and India, service revenue surged 28 percent and 18 percent respectively. In Germany, Vodafone's biggest market, service revenue was little changed, while it dropped 9.3 percent in Spain and 3 percent in Italy.
Spanish Price Cuts
Vodafone cut prices in Spain this year to be more competitive in a country where it is struggling amid the highest unemployment rate in Europe. The company today said it may cut prices even further.
"It's still kind of higher than the rest of Europe," Colao said in an interview with Bloomberg TV today. "There's a little bit more to come."
The company booked an impairment loss of 450 million pounds for its business in Greece, citing lower cash flow and an increase in discount rates. In the year-earlier period, Vodafone already wrote down the value of its Greek operations by 800 million pounds.
Vodafone said in August that it had begun talks about a potential combination of its Greek unit with Wind Hellas Telecommunications SA to cut costs and compete with market leader Cosmote Mobile Telecommunications SA controlled by Deutsche Telekom AG.
Vodafone today raised its interim dividend by 7 percent to 3.05 pence a share and said it would pay a special dividend of 4 pence a share as the company is set to receive a 2.8 billion-pound dividend from Verizon Wireless, the U.S. venture in which it owns a 45 percent stake.
Sales Growth
"These are reassuring results," Goldman Sachs analysts including Tim Boddy said in a note to clients. "Revenue growth can improve further in the second half unless we see large macro impacts."
The company today reiterated its forecast for full-year free cash flow to be in the range of 6 billion pounds to 6.5 billion pounds.
Under Colao, annual sales from mobile data have climbed to more than 5 billion pounds since he took control of the company in 2008. First-half data revenue climbed to 3.1 billion pounds, the company said today.
Colao in July completed his plan to unwind some of his predecessors' takeovers with the sale of Vodafone's 24 percent holding in Poland's Polkomtel SA for about 920 million euros ($1.3 billion). Arun Sarin pushed Vodafone into markets such as Ghana and Turkey. Christopher Gent led Vodafone through a six-year $300 billion acquisition spree.
Under Colao, Vodafone has sold a minority stake in China Mobile Ltd., reduced its interests in Japan's Softbank Corp. and sold its 44 percent holding in French wireless operator SFR.