Vitro Defaulted Bonds Signal Sell to JPMorgan: Mexico Credit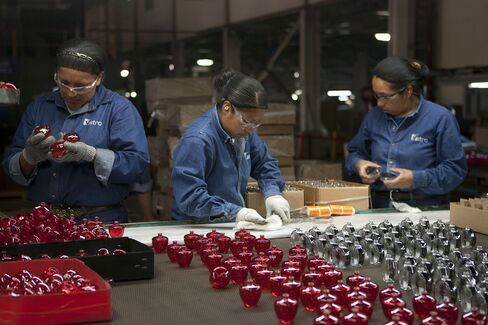 Vitro SAB's defaulted bonds are rallying to a two-month high, a sign to JPMorgan Chase & Co. and BCP Securities LLC to sell the securities because the price overvalues the Mexican glassmaker's latest debt-restructuring offer by almost 50 percent.
The company's dollar bonds due in 2017 are trading at 74 cents on the dollar, the highest level since Sept. 2, according to data compiled by Bloomberg. Jim Harper, director of corporate research at Greenwich, Connecticut-based BCP, said the restructuring proposal Vitro unveiled on Oct. 31 is worth "much closer to 50" cents on the dollar.
A Mexican judge ruled Aug. 12 that $1.9 billion of intercompany debt can be included in the restructuring, making Vitro its own biggest creditor and improving the chances the deal will win approval. Investors will demand higher yields on Mexican corporate debt on concern Vitro's move will set a precedent followed by other issuers, said Robert Rauch, who manages $2.2 billion of emerging-market assets at Gramercy Advisors LLC.
"We haven't seen any justification for these prices in months," Harper said in a telephone interview. "People are hopeful that the company will be forced through the courts, or through diplomatic pressure or through reputational-image pressure, to improve the deal."
The average yield on Mexican corporate dollar bonds has increased six basis points, or 0.06 percentage point, this year to 6.1 percent, according to JPMorgan Chase & Co. Yields on emerging-market corporate debt rose 20 basis points during the same period to 6.05 percent.
'Unorthodox'
U.S. Representatives Patrick Meehan of Pennsylvania and Jared Polis of Colorado sent a letter to Mexico's ambassador to the U.S. on Oct. 20 criticizing Vitro's "unorthodox" use of $1.9 billion of intercompany debt to outweigh the votes of external creditors in Mexican bankruptcy proceedings.
Vitro halted debt payments in February 2009 after posting derivative losses of as much as $360 million and as demand for auto and construction glass plummeted during the U.S. recession.
Some creditors may be buying Vitro's bonds to increase their voting stake in the restructuring, driving up the price of the securities, said Alvaro Gonzalez, a credit analyst at Miller Tabak Roberts in New York.
The company's bond prices "are a reflection that the market sees a higher value on the bonds versus what the analysts estimate," Vice President of Finance and Treasury Adrian Meouchi said in an e-mail yesterday. The market "probably doesn't share" analysts' negative views of the restructuring plan, he said.
'Best Effort'
Vitro said Oct. 31 that the court-appointed arbitrator in its Mexican bankruptcy proceedings presented a proposal to external creditors that included $815 million of new bonds maturing 2019, $95.8 million of mandatory convertible debt and a consent fee of $32.7 million. The group of Vitro noteholders, which owns more than 60 percent of the company's $1.2 billion of outstanding senior notes, opposes the proposal and plans to appeal.
"The company has made its best effort to try to reach a consensus through negotiations according to the company's real capacities," Claudio del Valle, Vitro's chief restructuring officer, said in a telephone interview from San Pedro Garza Garcia, Mexico. The bondholders' strategy "is to litigate to obtain additional benefits, and the company isn't in a position to accede to these petitions," he said.
'Bit Irrelevant'
Del Valle said Vitro had the support of about 36 percent of external creditors for its restructuring plan last year and he expects more bondholders to approve the latest plan. He declined to comment on the letter sent by U.S. lawmakers and possible repercussions for other Mexican companies.
Vitro's intercompany debt, which was created 10 months after it defaulted, assures the proposal will be approved, Meouchi said in the same interview.
"We already have the majority when you count intercompany debt, which is an accepted part of the arbitrator's list," Meouchi said. "So what we get or don't get from outside parties is going to be a bit irrelevant because we're going to have a majority."
The group of dissenting creditors presented a proposal to the arbitrator on Oct. 19, spokesman Donald Cutler said in a telephone interview from New York. It proposed the issuance of $1.1 billion of new bonds, a cash payment of 10 percent of the outstanding principal of existing notes and a 61 percent stake in Vitro's common shares.
Vitro shares fell 0.7 percent to 11.12 pesos in Mexico City trading today. The stock has fallen 30 percent this year, compared with 3.1 percent decline for Mexico's benchmark IPC index.
'Really Disappointed'
"The noteholders were really disappointed in this plan because it didn't give any appropriate consideration to the terms that they proposed," Cutler said. Vitro and the arbitrator "didn't engage in any sort of negotiation with the noteholders," he said.
Vitro's Del Valle said he hadn't received any counterproposals from external creditors.
The extra yield investors demand to hold Mexican government dollar bonds instead of U.S. Treasuries narrowed 14 basis points to 200 at 5:05 p.m. in New York, according to JPMorgan's EMBI Global index.
The peso gained 0.6 percent to 13.3337 per dollar.
Yields on futures contracts for the 28-day TIIE interbank rate due in December were unchanged today at 4.66 percent.
Default Swaps
The cost to protect Mexican debt against non-payment for five years fell two basis points yesterday to 141, according to data provider CMA, which is owned by CME Group Inc. and compiles prices quoted by dealers in the privately negotiated market. Credit-default swaps pay the buyer face value in exchange for the underlying securities or the cash equivalent if a government or company fails to adhere to its debt agreements.
In the Oct. 31 statement, Vitro said creditors have 10 working days to approve the restructuring plan. If approved by creditors, the arbitrator then has seven more working days to present the plan to the Mexican judge overseeing the case, Vitro said.
Under Vitro's proposal, consenting creditors would likely get securities and cash with a recovery on current face value of between 47.6 percent and 60 percent, depending on how many holders agree, Jacob Steinfeld, an analyst at JPMorgan, said in a research note on Nov. 7. Non-consenting creditors would recover less if the company's plan is approved, he wrote.
'Worse'
The proposal is "actually worse than the company's previous offer," Steinfeld said in a note published Nov. 1. He declined to comment further.
Vitro previously offered creditors $850 million of new bonds maturing 2019 and $100 million of debt that would convert to a 15 percent equity stake if unpaid by maturity. The new proposal offers a 20 percent equity stake if the convertible debt isn't paid.
The settlement would represent a recovery value of about 63 cents on the dollar, Miller Tabak Roberts's Gonzalez said.
Vitro's Meouchi said the company may seek to tap debt markets after it exits bankruptcy.
"Turning the page on this chapter, we don't see why we couldn't have access to debt markets, since we're a company that generates cash," he said.
Vitro has reported net income of 750 million pesos over the first three quarters of 2011, compared with a loss of 671 million pesos over the same period last year.
Gramercy's Rauch said Vitro's use of intercompany debt may cause other Mexican companies to pay a "Vitro premium."
'Very Mad'
"If I'm a CEO of a legitimate Mexican company, I'd be very mad right now at Vitro," Rauch said.
Speculation Vitro would grant more concessions to bondholders may have helped spur the notes' rally, BCP's Harper said.
"Their bonds have been suspended well above any reasonable level based on the previous terms," Harper said. "They were priced there in the expectation that there was going to be a better deal reached, substantially better -- not what was announced."
Before it's here, it's on the Bloomberg Terminal.
LEARN MORE