UniCredit Stock Sale Threatened as Sovereign Crisis Worsens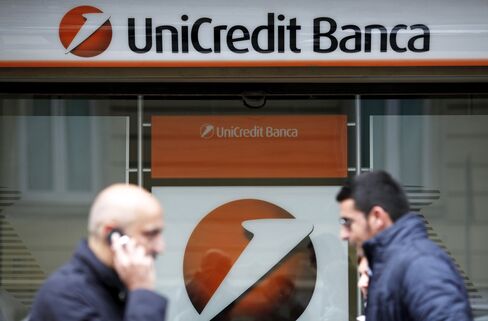 UniCredit SpA, Italy's biggest bank, will decide this week whether to proceed with a 7 billion-euro ($10 billion) stock sale as Prime Minister Silvio Berlusconi fights to remain in power and the country's debt crisis worsens.
Chief Executive Officer Federico Ghizzoni is considering announcing the share sale as soon as Nov. 14, when the Milan-based lender reports third-quarter earnings, four people with knowledge of the talks said. The bank is preparing to hire six to eight underwriters to manage the sale, which may raise 5 billion euros to 7 billion euros, the people said.
UniCredit is preparing to embark on the biggest Italian stock sale in more than two years to comply with regulators' deadline to bolster capital by June. Failure could force the lender to seek government aid. Berlusconi faces pressure to step aside amid growing investor concern that the country will fail to cut the national debt. Allies are defecting before today's vote on the 2010 budget. Italian 10-year government bond yields hit a euro-era record yesterday.
"With all the political uncertainties in Italy, it's probably the worst time for UniCredit to do the deal," said Matthias Fankhauser, a fund manager at Zurich-based Clariden Leu AG, which oversees about 90 billion Swiss francs ($100 billion). "Seven billion euros isn't a lot in normal days, but time is different at the moment."
Stock Tumbles
UniCredit, which has lost about half of its value this year, rose 3.3 percent to 81.75 cents at 10:30 a.m. in Milan. The bank has a market value of about 15.8 billion euros and trades at 60 percent less than its tangible book value, about half the average valuation of the 46 firms tracked by the Bloomberg Europe Banks and Financial Services Index.
The bank said today it will present a strategic plan on Nov. 14, according to an invitation posted on its website. If UniCredit proceeds with the rights offering, it will ask shareholders to vote on the plan, and then offer stock, a process that can take weeks.
The bank is "working to identify capital management actions to be put in place" to meet the capital targets, UniCredit said in a statement on Oct. 27. A spokesman for the lender declined to comment further today.
"This is the worst time in a long time to be raising capital," said Paul Vrouwes, who helps oversee 12 billion euros at ING Investment Management in The Hague. "UniCredit will have to sell stock at a low price in a very difficult market."
Biggest Offering
Options traders are paying the most in two years for contracts to protect against further declines by UniCredit. Implied volatility, the key gauge of option prices, for at-the-money options expiring in 30 days rose to 99.53 yesterday and on Nov. 2 reached 99.95, the highest since March 2009. That's more than twice the 43.66 average over the past five years, though below the record 223.53 reached in October 2008.
The offering may be Italy's biggest since Enel SpA, the country's largest power company, raised 8 billion euros in a 2009 rights offering. European companies have raised $1.9 billion selling stock in the fourth quarter, the slowest start to the period in at least a decade, according to data compiled by Bloomberg.
European regulators last month ordered the region's banks to increase the ratio of the highest quality capital they hold in a bit to stem concern that the sovereign debt crisis could trigger bank failures. Banks have until June 30 to reach a core capital target of 9 percent or more after writing down their sovereign debt holdings. They have until Dec. 25 to submit their money-raising plans to national supervisors.
Libyan Stake
UniCredit has the biggest capital shortfall among Italy's lenders, a gap of 7.4 billion euros, the European Banking Authority said last month. Lenders that fail to raise capital from private investors by the June deadline will be forced to tap national government for money.
UniCredit said last month it may be able to reduce the shortfall if allowed to count 3 billion euros of convertible and subordinated hybrid equity-linked securities, known as CASHES, as core capital. The lender is expecting a ruling from the Bank of Italy this week, Finanza.com reported yesterday.
Complicating the sale is the 7.6 percent stake in the bank owned by Libya's central bank and sovereign wealth fund, frozen by the European Union, U.K. and U.S. as part of their effort to cut off former Libyan leader Muammar Qaddafi's access to funding. The holding is adding to pressure on the stock because UniCredit may have to find new buyers for the shares in the rights offering, the people with knowledge of the offering said.
The lender's foundation owners including Fondazione Cariverona will back the bank's fundraising, Il Sole 24 Ore reported today, without saying where it got the information.
Unity Government
Italy may follow Greece in forming a national unity government if Berlusconi's majority fails today. Greece's political turmoil, which raised the prospect of one or more countries exiting the euro, may undermine the creditworthiness of all but the strongest European economies, Moody's Investors Service wrote in its weekly credit outlook yesterday.
For Italian banks, the jump in sovereign risk has already shut them out of some funding markets and raised borrowing costs. UniCredit was the last Italian bank to sell senior unsecured bonds in the public markets in July. UniCredit has about 38 billion euros of debt maturing next year, according to data compiled by Bloomberg.
Italian banks may struggle to offset the increased cost of funding, dampening profitability, Barclays Plc analysts led by Antonio Rizzo wrote in a note to clients yesterday.
"Sovereign risks overshadow operating fundamentals for Italian banks," and are also adding pressure to funding costs, the analysts wrote. It "may force balance sheet reshaping if funding becomes scarce."
Italian lenders' profitability is unlikely to attract investors for "a long period of time," analysts at BNP Exane led by Andrea Vercellone wrote in a report to clients. They recommend investors wait for UniCredit to address its "large capital deficit" before deciding to buy the stock.