U.K. Factory Output Increases for First Time in Four Months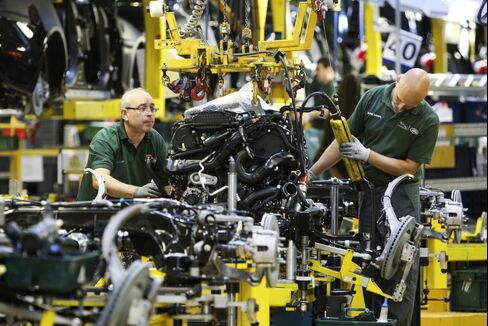 Nov. 8 (Bloomberg) -- U.K. manufacturing production rose for the first time in four months in September, led by transport equipment and metals.
Factory output increased 0.2 percent from the previous month, when it fell 0.3 percent, the Office for National Statistics said today in London. The median forecast of 30 economists in a Bloomberg News survey was for manufacturing production to grow 0.1 percent. Overall industrial output, which includes mining and oil and gas, was unchanged on the month. The statistics office said the data will have a "negligible" impact on its gross-domestic-product estimate.
The Bank of England will maintain the target for its asset purchases at 275 billion pounds ($442 billion) this week after expanding it last month as Europe's debt crisis escalated, according to a Bloomberg survey. Markets Director Paul Fisher said the economy may stall in the current quarter, while the National Institute for Economic and Social Research said there is a 50 percent chance of Britain falling back into recession.
"September's modest rise in output does little to dispel the view that the manufacturing sector is now struggling markedly in the face of very challenging domestic and international conditions," Howard Archer, chief U.K. economist at IHS Global Insight in London, said in a research note. "Concern persists that the economy is in serious danger of stagnating or even worse in the fourth quarter."
The pound was little changed against the dollar after the report. It traded at $1.6072 as of 10:09 a.m. in London, up 0.1 percent on the day.
Metals
Out of 13 manufacturing categories, six rose, five fell and two were unchanged, the statistics office said. The gain on the month was led by transport equipment, basic metals, and machinery and equipment. On the year, manufacturing rose 2 percent, while overall industrial output was down 0.7 percent.
In the three months through September, industrial production rose 0.4 percent compared with the previous quarter. Manufacturing rose 0.2 percent in the period.
Britain's economy grew 0.5 percent in the third quarter, more than economists forecast. Still, reports last week showed manufacturing contracted in October and services growth slowed. Wolfson Microelectronics Plc Chief Executive Officer Mike Hickey said last week the environment is one of "deteriorating macro-economic conditions and low consumer confidence."
All 38 economists in a Bloomberg survey forecast the Bank of England will keep its bond-purchase plan unchanged on Nov. 10. The central bank will also keep its key rate at a record-low 0.5 percent, said all 52 economists in another survey.
Euro Crisis Plan
In the euro area, where leaders are trying to prevent the debt crisis spreading to Italy, both manufacturing and services industries shrank last month. European finance ministers pledged late yesterday to roll out a bulked-up rescue fund for the region next month, while Greece was ordered to provide written acceptance of bailout terms in order to win the next installment of an aid loan.
U.K. Prime Minister David Cameron said last week that his government was preparing "contingency plans" for the prospect of Greece leaving the euro. He warned that in this event "there will be bad economic effects that will be felt across Europe, including the U.K."
To contact the reporter on this story: Svenja O'Donnell in London at sodonnell@bloomberg.net
To contact the editor responsible for this story: Craig Stirling at cstirling1@bloomberg.net