Toyota Follows Honda in Scrapping Forecasts After Thai Floods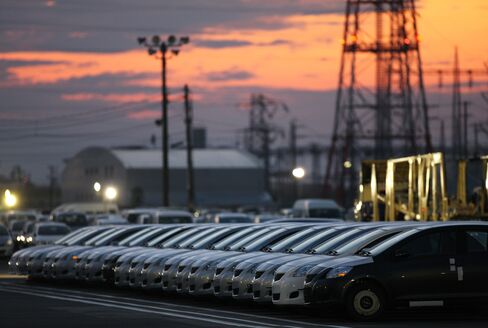 Toyota Motor Corp. became the second Japanese carmaker to scrap its profit forecast after Thailand's worst floods in almost 70 years hampered the company's efforts to recover from the record earthquake in March.
Asia's largest carmaker needs more time to assess the financial toll from the Thai floods, the Toyota city, Japan-based company said in a statement today. Profit fell 19 percent to 80.4 billion yen ($1 billion) in the second quarter ended Sept. 30, missing the 103.5 billion yen average of seven analyst estimates compiled by Bloomberg.
Toyota followed Honda Motor Co. in withdrawing financial projections after the floods halted production at its Southeast Asian manufacturing base and disrupted output as far away as North America. That's allowed General Motors Co., Volkswagen AG and Hyundai Motor Corp. to gain market share in the U.S., while the yen's gains erode the value of Toyota's exports.
Carmakers "may try to shift away from Thailand, because we don't really know what's going to happen to Thailand in the rainy season next year," said Yuuki Sakurai, president at Fukoku Capital Management in Tokyo. "By the time the problem is over, who knows, we may have another rainy season again."
The maker of the Camry sedan fell 1.7 percent to 2,503 yen at the close of trading on the Tokyo Stock Exchange, before results were disclosed. The stock has fallen 22 percent this year, underperforming Nissan Motor Co. and outperforming Honda.
Thai Floods
Globally, Toyota's vehicle sales -- including those of Daihatsu and Hino -- fell 5 percent to 2.06 million in the latest quarter, according to the company. The Japanese carmaker, which delivered the industry's highest number of vehicles in 2010, has been outsold by GM throughout 2011, according to the companies' latest reported volume sales.
In October, Toyota and Honda delivered fewer vehicles in the U.S. than a year earlier, while GM, Ford Motor Co. and Chrysler LLC helped lead a nationwide rebound in sales. Nissan and Hyundai led gains among Asian carmakers as the number of cars sold in the U.S. last month increased at the fastest pace since February, according to estimates at Autodata Corp.
Toyota's market share in the U.S., traditionally the automaker's most profitable market, fell to 13.1 percent from 15.3 percent a year earlier for the month, according to Woodcliff Lake, New Jersey-based Autodata. In China, GM continued to outsell Toyota in October, according to data from the two companies.
'More Time'
The Thai disaster has cost Toyota about 150,000 units of lost production from Oct. 10 to Nov. 12, according to the company.
"There is only so much they can do to make up for the losses from the Thai floods" as Toyota was producing at full capacity to make up for output lost to the Japan earthquake, said Koji Endo, an auto analyst at Advanced Research Japan who estimates that a three-month disruption may cut the automaker's operating profit by 200 billion yen.
The inundation has caused a shortage of components, leading output levels to drop to about 80 percent of capacity in Japan and 90 percent in North America, Takahiko Ijichi, a Toyota senior managing officer, said today in Nagoya.
Still, Ijichi said the floods probably won't delay the launch of new models and Toyota may be able to resume production as early as this month.
Toyota had previously forecast full-year revenue of 19 trillion yen and net income of 390 billion yen. By contrast, Nissan Motor Co., Japan's second-biggest carmaker, last week raised its financial forecasts after it recovered faster than Toyota and Honda.
Resuming Production
For Japanese carmakers, the disruptions from the March earthquake led to a combined 18.5 percent drop in output in the fiscal first half, according to Japan Automobile Manufacturers Association. The Thai floods struck too soon for Toyota to apply the lessons learned from the disaster at home, according to the company.
"After learning our lesson from the March earthquake, we actually had plans to build up on parts inventory," Satoshi Ozawa, executive vice president of Toyota, said in Tokyo today. "The floods in Thailand came before we could do anything, and we are facing another round of production disruptions."
The floods in Thailand will probably push back expansion plans at Toyota and Honda until the first quarter of 2012, according to Tracy Handler, a Troy, Michigan-based analyst with IHS Automotive.
Yen Gain
The company blamed the yen, which appreciated against all major currencies from July to September, for eroding 80 billion yen from operating profit last quarter.
The yen climbed to a postwar high of 75.35 to the dollar on Oct. 31, leading the government to intervene in the foreign-exchange markets. The currency recently traded at 78.03.
The stronger yen, which erodes profit gains by reducing the repatriated value of overseas sales, has prompted Japanese companies to turn to the government for further measures to product domestic exporters.
"The Japanese government needs to quickly take action to combat the strong yen," President Akio Toyoda said yesterday. "Japan's automobile industry may experience not only a 'hollowing out,' but a collapse."