Societe Generale Third-Quarter Profit Declines 31% on Greece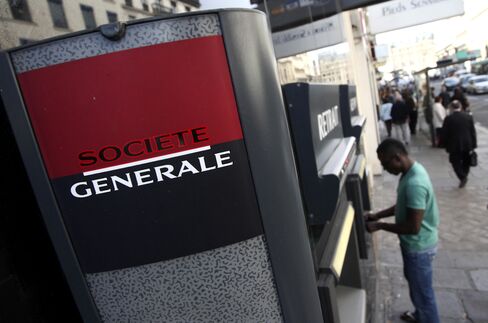 Societe Generale SA, France's second-largest bank, said third-quarter profit fell 31 percent, hurt by a writedown on Greek sovereign debt and lower trading revenue. The company won't pay a dividend for 2011.
Net income dropped to 622 million euros ($855 million) from 896 million euros a year earlier, the Paris-based lender said in a statement today. The shares rose after the company accelerated the reduction of its balance sheet and decreased U.S. dollar financing needs.
"The results are a mixed bag," Carlo Mareels, a credit analyst at RBC Capital Markets, said in a note to investors today. "There was good progress on the balance-sheet targets" while the corporate- and investment-banking business was "quite disappointing," he said.
Societe Generale took a 333 million-euro pretax writedown in the quarter on its Greek sovereign bond holdings, following larger rival BNP Paribas SA in increasing its markdown on the country's government debt to 60 percent. The two banks are trimming assets to comply with new capital rules after their stock plunged and U.S. money-market funds became reluctant to lend to them in dollars.
Societe Generale rose 1.34 euros, or 7.7 percent, to 18.84 euros at 11:07 a.m. in Paris trading. That pares the decline to 53 percent this year and gives the company a market value of 14.6 billion euros. BNP Paribas has fallen 34 percent.
'Positive' Report
BNP Paribas said last week that third-quarter profit dropped 72 percent because of a 2.26 billion-euro writedown on Greek debt and losses from selling European government bonds.
Shares of Lloyds Banking Group Plc, the U.K.'s largest mortgage provider, surged today after the bank reported smaller-than-expected provisions for bad loans in the third quarter even as profit declined 21 percent.
"Both Lloyds and SocGen's shares have been severely depressed recently so it's not strange that they're both rebounding today after two relatively good reports," said Andrew Lim, a London-based analyst at Espirito Santo Investment Bank.
Lloyds soared 8.2 percent to 29.95 pounds at 10:07 a.m in London trading.
While Societe Generale's Greek sovereign holdings are less than those of BNP Paribas, French banks as a whole held more of Greece's public and private debt than lenders from any other country at the end of June, according to Bank for International Settlements data.
Asset Cuts
The two companies announced in September steps leading to trim a combined 300 billion euros of assets by 2013. Societe Generale reduced the liquidity needs of its corporate- and investment-banking unit by 40 billion euros at the end of September.
The bank said today it accelerated the disposal of subprime-era so-called legacy assets since July and that the firm achieved most of its target of reducing U.S. dollar refinancing needs by $50 billion by 2013.
"The priority in these times of uncertainty is to enter 2012 with the maximum of force and muscles," Chief Executive Officer Frederic Oudea, 48, told reporters on a conference call.
Societe Generale's capital-markets revenue fell 51 percent to 631 million euros in the quarter. The company follows BNP Paribas, Deutsche Bank AG and Barclays Plc in recording lower investment-banking revenue as concern that Greece may default crimps income from trading and underwriting stocks and bonds in Europe.
Provisions Rise
Earnings at Societe Generale's corporate- and investment-banking business dropped 84 percent to 77 million euros in the quarter as results at its fixed income, currencies and commodities business were "sharply" lower, the lender said.
Societe Generale's total provisions rose to 1.19 billion euros in the third quarter from 918 million euros a year earlier, hurt by the Greek sovereign-debt writedown, the bank said.
After Greece, the euro-area sovereign-debt crisis is threatening to spread to larger euro-zone countries. European finance ministers returned to Brussels yesterday in a mission to convince global leaders that they can shield countries such as Italy and Spain. In Rome, Italian Prime Minister Silvio Berlusconi's majority is unraveling ahead of a key parliamentary vote today. Greek premier George Papandreou agreed to step down to make way for a unity government.
Societe Generale held about 1.6 billion euros in Italian debt as of October, while the amount of Greek sovereign bonds on its banking book fell to 575 million euros, the company said.
Capital Needs
French banks need to reinforce their capital by 8.8 billion euros, according to European Banking Authority tests released last month. Societe Generale will have to bolster finances by 3.3 billion euros, while BNP Paribas needs 2.1 billion euros, according to the EBA figures. Both companies have said they won't tap shareholders for new capital.
Societe Generale's decision to not pay a dividend will help reduce its additional EBA capital requirements to 2.1 billion euros, the bank said today.
"With SocGen showing it won't need to increase capital and can achieve the EBA target without issuing new equity, the stock is simply rerating," said Gonzague Legoff, investment manager at London-based H20 AM LLP, which oversees 2 billion euros. ''SocGen is undervalued and is a good stock to own.''
French Prime Minister Francois Fillon said Nov. 2 he ordered the country's banks to present detailed plans of how they intend to meet new capital targets by Dec. 15. Finance Minister Francois Baroin said Nov. 6 in a RTL radio interview that France's four largest banks won't need state aid as the capital goal is ''accessible" through retained earnings and asset reductions.
Capital Surcharge
Societe Generale, BNP Paribas, Groupe Credit Agricole and Groupe BPCE, France's four largest banks, face European Union requirements to hold 9 percent in core reserves by mid-2012, after sovereign debt writedowns, under plans adopted last month by EU regulators. They are also among 29 lenders that may have to meet additional capital requirements for so-called systemically important financial institutions under plans approved last week by the Group of 20 nations.
Societe Generale said Nov. 4 any possible capital surcharge for systemic banks is "already integrated" in its core Tier 1 ratio goal under Basel III rules. The lender is aiming to reach a ratio "well above" 9 percent in 2013.
"Despite this exceptional environment and the non-recurring items that affected" the third-quarter results, "the group has continued to strengthen its capital and improve its core Tier 1 ratio since the beginning of the year thanks to a very rigorous capital, asset- and risk-management policy," the company said in the statement.
Geniki Provisions
Before the European sovereign crisis deepened, Oudea sought to balance earnings from corporate- and investment-banking with higher revenue from consumer lending in countries such as Russia. He became CEO in May 2008, four months after Societe Generale announced a 4.9 billion-euro record trading loss it blamed on Jerome Kerviel.
The lender's profit from the French consumer-banking networks rose 15 percent to 390 million euros in the third quarter, compared with analysts' estimates of 403 million euros. Earnings from branch networks outside of France fell 40 percent to 90 million euros, missing analysts' estimates for profit of 112 million euros. Overall profit at the bank was cushioned by a prextax gain of 822 million euros the company booked on its own debt in the period.
Societe Generale set aside 181 million euros in provisions at its unprofitable Greek unit Geniki Bank SA in the quarter. The French firm has never earned a penny from Athens-based Geniki since buying a majority stake in 2004.
Societe Generale has had about 11 billion euros of losses since 2007 on its subprime-era risky holdings. The bank had 37 million euros of revenue writedowns and 118 million euros of provisions from those type of holdings in the third quarter.