Nordic Banks Beat European Rivals as Corporate Lending Grows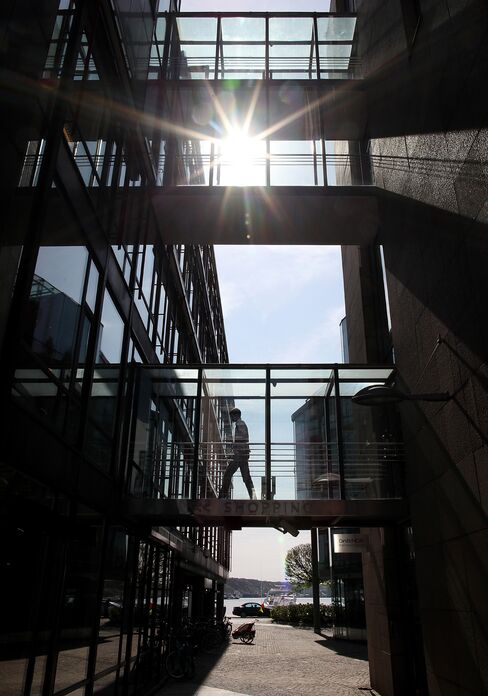 Nordic banks, which steered clear of the subprime meltdown and the worst of Europe's debt crisis, are proving that it pays to keep business local as they outperform bigger rivals and increase their corporate lending.
"They've avoided all the big black holes so far and are largely supported by the robust Norwegian and Swedish economies," Espen Furnes, an Oslo-based fund manager at Storebrand Asset Management, which oversees $74 billion, said in an interview. "Investors have come to view them as a relative haven during the sovereign-debt crisis."
Banks in the Nordics, where the 1990s financial crisis prompted an overhaul that left the Swedish government an owner in Nordea Bank AB, now boast some of the highest capital buffers and lowest default risks in Europe. While many banks in the U.S. and other parts of Europe spent the last decade trying to boost profit through esoteric products such as collateralized debt obligations on subprime loans, Nordic lenders largely stuck to their own home turf, where lending is now growing faster than in the rest of Europe.
"Nordic banks are definitely benefiting from a general flight to quality that we see in today's markets," Anders Laegreid, head of Nordic corporate lending at Oslo-based DnB NOR ASA, Norway's biggest bank, said in an interview. "Companies and investors seem to trust the Nordic banks more."
'Closed for Business'
That's helped attract more corporate clients, a trend that's showing signs of boosting the banks' market shares as many of their rivals cut back to shrink their balance sheets and meet stricter capital standards.
Fairstar Heavy Transport NV, which this week announced a $167 million five-year loan from a group including DnB NOR, said it searched for financially sound lenders. Other banks in the syndicate include ING Groep NV and HSH Nordbank AG.
"Most European banks are closed for business," Fairstar Chief Executive Officer Philip Adkins said in a phone interview. "The banks that are open for business are banks that have demonstrated a consistency to operate prudently, professionally."
Scandinavia's six biggest banks have this year raised their share of European lending to 6.4 percent from 4.2 percent in the year-earlier period, data compiled by Bloomberg show. Demand has also increased in the region, with loans to Nordic companies jumping 82 percent so far in 2011 to 52.4 billion euros, beating growth of 13 percent in Europe.
Shares Gain
Nordea shares rose 1.3 percent to 56.95 kronor as of 10:56 a.m. in Stockholm. SEB AB surged 2.6 percent to 40.29 kronor. DnB NOR rose 1.6 percent to 65.7 Norwegian kroner. Swedish bank stocks rose 1.4 percent overall. Financials in Norway gained 1.6 percent.
Sweden and Norway are home to four of the six European banks with the highest price-to-tangible-book value, which strips out goodwill and other intangibles and is a measure used by investors to examine the value of a stock. Nordea's value by that measure is 1.15, while DnB NOR is at 0.99. The median for Europe's lenders is 0.79, according to Bloomberg Industry data. Germany's biggest lender Deutsche Bank AG has a value of 0.68 while New York-based Citigroup Inc. is at 0.61.
"Nordic banks, like DnB NOR, have maneuvered well in a rocky sea," Furnes said.
Senior Funding
Swedish and Norwegian banks are among the few in Europe still able to tap wholesale funding markets. SEB and Svenska Handelsbanken AB, both based in Stockholm, sold senior unsecured notes in October totaling about $2.7 billion. Handelsbanken last month completed the first 10-year senior benchmark issue in Europe since February. The sale was "heavily oversubscribed" with orders of 3 billion euros, the bank said on Oct. 26.
At the same time, Scandinavia's lenders are backed by some of Europe's strongest public finances. While much of the rest of the region grapples with a fiscal crisis, Sweden's government expects to balance its budget this year. Norway enjoys the widest surplus of any AAA rated nation. The two countries' banks have negligible holdings of peripheral European debt, according their regulators.
Credit default swaps on Nordic banks show investors see a lower risk of losing their money than on European financials on average. The Markit iTraxx Financial Index of CDS on the senior debt of 25 banks and insurers rose to about 246.5 basis points this week. DnB's CDS were at 155 and Nordea's at 152.
'An Advantage'
"Nordic banks should have an advantage compared to many other foreign lenders because they have strong credit ratings and good access to capital," said Kari Due-Andresen, an Oslo-based analyst at Handelsbanken.
Moody's Investors Service rates Nordea and Handelsbanken Aa2, and Swedbank A2. All enjoy stable outlooks. Still, Sweden's banking system as a whole has had a negative outlook since last year because of a "challenging operating environment."
Moody's said yesterday it has a negative outlook on Norway's banking system as a whole, while assigning stable outlooks to most of the individual lenders in the country, including DnB NOR.
"These stable outlooks reflect most banks' solid fundamentals throughout the relatively mild 2009 recession and subsequent recovery," Moody's Senior Vice President Janne Thomsen said in the report. "The negative system outlook captures the worsening global economic conditions."
Before it's here, it's on the Bloomberg Terminal.
LEARN MORE