Rajaratnam Ordered in SEC Case to Pay Record $92.8 Million Fine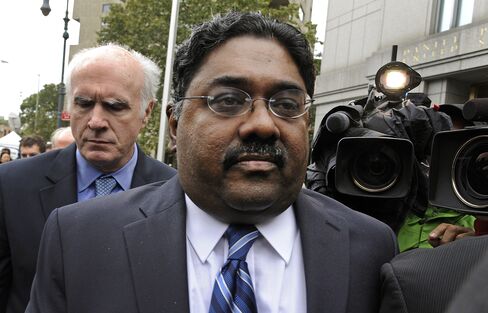 Raj Rajaratnam, whose 11-year prison sentence is the longest in U.S. history for insider trading, must pay a record $92.8 million penalty in a case brought by the U.S. Securities and Exchange Commission, a judge said.
The Galleon Group LLC co-founder, 54, had argued he shouldn't have to pay any additional civil penalties in the SEC case. He said he had already suffered enough after being ordered by U.S. District Judge Richard Holwell to pay a $10 million fine and forfeit $53.8 million, in addition to the prison term, at his Oct. 13 sentencing. His prison surrender date is Dec. 5.
U.S. District Judge Jed Rakoff in New York issued the order yesterday, siding with the SEC on its request for a judgment without a trial. Rakoff said that at the request of Rajaratnam's lawyers, he reviewed the pre-sentencing report prepared by court officials in the criminal case. He said Rajaratnam's net worth "considerably exceeds the financial penalties imposed in the criminal case."
"When to this is added the huge and brazen nature of Rajaratnam's insider trading scheme, which, even by his own estimate, netted tens of millions of dollars and continued for years, this case cries out for the kind of civil penalty that will deprive this defendant of a material part of his fortune," Rakoff said in his order.
Also yesterday, an SEC lawyer said the agency wants to question under oath "one or both" of Rajaratnam's brothers for its lawsuit against Rajat Gupta, the former Goldman Sachs Group Inc. director accused of feeding tips to Rajaratnam. The Galleon Group co-founder is a co-defendant in that case.
2009 Arrest
Robert Khuzami, the SEC's director of enforcement, said in a statement yesterday that the sanction against Rajaratnam "marks the largest penalty ever assessed against an individual in an SEC insider trading case."
"The penalty imposed today reflects the historic proportions of Raj Rajaratnam's illegal conduct and its impact on the integrity of our markets," Khuzami said.
The SEC's action against Rajaratnam, who was convicted in May in a New York jury trial, was part of a larger insider-trading probe that has resulted in civil charges being filed by the agency against 29 people and entities, the agency said. Secret tips were passed involving securities of more than 15 companies and illicit profits made or losses avoided were more than $90 million, the SEC said.
The judge's ruling also prohibits the fund manager from future violations of U.S. securities law, the agency said.
Samidh Guha, a lawyer for Rajaratnam, didn't immediately return a voice-mail message left at his office yesterday seeking comment about Rakoff's ruling.
$156.6 Million
Rakoff's ruling brings the total to $156.6 million in monetary sanctions against Rajaratnam for the civil and criminal cases. His 11-year sentence is the longest term ever imposed for insider trading, though less than half of the maximum sought by the U.S.
Regulators, who sued Rajaratnam after his 2009 arrest, argued that his charitable works shouldn't be considered in calculating a civil penalty. While his philanthropic activities were taken into consideration for reducing his prison sentence, they are "unpersuasive" in the civil action, the SEC said in court papers.
Rakoff yesterday agreed with the SEC that Rajaratnam's crimes deserve triple civil damages, ruling, "This case meets every factor favoring trebling," the judge wrote.
SEC penalties were designed to "make such unlawful trading 'a money-losing proposition not just for this defendant, but for all who would consider it, by showing, if you get caught ... you are going to pay severely in monetary terms,'" Rakoff said in yesterday's ruling, quoting himself from an Oct. 28 hearing.
'Improbable Interpretation'
The SEC argued that Rajaratnam's penalty in the lawsuit should be tripled to more than $94 million, an amount based on his gains and losses avoided through trades in five stocks after receiving inside information.
Rajaratnam's lawyers disputed the government's calculation of how much money he earned as a result of the securities fraud and insider tips he received from friends. His lawyers argue that Galleon investors reaped the "majority of the ill-gotten gains" and that he personally only profited by $4.7 million.
Rakoff disagreed, saying nothing that Rajaratnam provided supports his argument and that the "defendant cites no case law supporting this improbable interpretation" of securities law.
The SEC filed its case against Gupta on Oct. 26, the same day that Manhattan U.S. Attorney Preet Bharara charged Gupta with five counts of securities fraud and one count of conspiracy to commit securities fraud.
Berkshire Hathaway
Rakoff has set an Oct. 1, 2012, trial date for the SEC's suit against Gupta, which alleged he engaged in an "extensive insider-trading scheme" with Rajaratnam, allegedly passing tips about Berkshire Hathaway Inc.'s $5 billion investment in Goldman Sachs before it was publicly announced on Sept. 23, 2008, and about Procter & Gamble Co.'s earnings while he was a board member.
SEC attorney Kevin McGrath told Rakoff yesterday at a hearing that in addition to questioning Rajaratnam's brothers, the agency will probably seek to call as witnesses and question under oath Goldman Sachs and Procter & Gamble board members and "current and former employees" of both companies.
Gary Naftalis, a lawyer for Gupta, said a review of evidence turned over by prosecutors in the criminal case against Gupta shows the SEC worked with FBI agents to interview some witnesses. That evidence included memos by the Federal Bureau of Investigation agents, known as "302s," Naftalis said. The lawyer said the SEC hasn't turned over any evidence to him from the earlier administrative proceeding, as part of the so-called discovery process.
'Great Discovery'
"The FBI 302 reports are of joint interviews conducted by the SEC and the FBI, which they take the position that they were theoretically not in their custody and control," Naftalis said of the SEC. "So the notion that we've gotten great discovery from the SEC is a bit of a shibboleth."
Rakoff asked Gupta's lawyers and SEC attorneys to provide him with a list of their "top 10" witnesses they would like to question under oath as well as rank their list of preferences. The judge said he would likely decide by the end of the year whether to allow the interviews to occur before Gupta's criminal trial. Rakoff is also presiding over Gupta's criminal case.
Gupta has pleaded not guilty to the charges.
Rajaratnam and his brother, Rengan, who operated his own fund, Sedna Capital Management LLC, were heard talking on wiretaps that were recorded by the FBI and played at the Galleon Group co-founder's trial. Prosecutors also identified Rengan Rajaratnam as an unindicted "co-conspirator" with Raj Rajaratnam.
Rajaratnam's other brother has been identified in published reports as Ragakanthan Rajaratnam. Neither of the brothers has been charged with criminal wrongdoing.
Guha, Rajaratnam's lawyer, declined to comment about the case after court, as did Naftalis and the SEC's lawyers.
The case is SEC v. Rajaratnam, 09-cv-8811, U.S. District Court, Southern District of New York (Manhattan).
Before it's here, it's on the Bloomberg Terminal.
LEARN MORE