PPR to Buy Italian Suitmaker Brioni to Bolster Menswear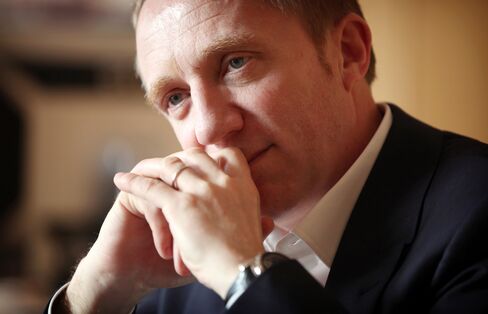 PPR SA, the French owner of Gucci, agreed to buy Italian suitmaker Brioni Roman Style SpA to further tap growing demand for luxury menswear.
PPR Chief Executive Officer Francois-Henri Pinault declined to give the purchase price at a press conference in Paris today, saying only that the company paid "significantly less" than 350 million euros ($482 million) for the maker of $5,000 suits. The multiple paid is consistent with others in PPR's emerging-brands portfolio, he said.
"Brioni is complementary to PPR's existing brands as it is one of the few high-end men's brands," Cheuvreux analysts wrote in a note to investors today.
Global sales of luxury menswear will rise 9 percent this year, outperforming the overall apparel market, driven mainly by "new formal" clothing in mature markets and "upper casual" in China, Bain & Co. estimated last month. Third-quarter revenue rose 25 percent at PPR's luxury division on a comparable basis.
Acquiring Brioni is another step in PPR's strategy to focus on its luxury-goods and sports and lifestyle units, while exiting retail, though Pinault today ruled out making "large acquisitions." PPR this year sold furniture retailer Conforama and bought surf and skateboarding brand Volcom Inc.
PPR is holding talks with some candidates that may make offers for its online retailer Redcats in the coming weeks, even though the formal sale process for the unit has been postponed, Pinault said today. The candidates have their own financing resources, he said. Before the process was postponed, 18 candidates were looking at the business, he said.
PPR Shares
PPR shares rose 2.4 percent to 112.05 euros. The company has a market value of 14.2 billion euros after the stock dropped about 5.8 percent so far this year.
Brioni, based in the Italian town of Penne, posted sales of 170 million euros in 2010 and is profitable. The closely held tailor, whose suits have been worn by Barack Obama, "completes" PPR's portfolio of luxury brands in men's fashion and will benefit from the French company's expertise in supply-chain management and distribution, PPR said.
"We have great ambitions for this fashion house," Pinault said. PPR can help Brioni expand its product ranges and accelerate its international expansion, notably in strong growth countries, the company said.
The transaction is subject to the approval of competition authorities and should be finalized at the beginning of 2012, PPR said today.
PPR competed against industry rivals and private equity firms for Brioni, Pinault said in September. The suitmaker has 74 boutiques around the world and employs 1,800 people.
Before it's here, it's on the Bloomberg Terminal.
LEARN MORE