Pimco Taps Demand for Yields Double U.S. Rates: Australia Credit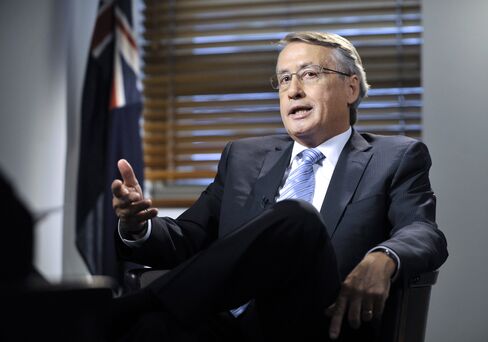 Nov. 9 (Bloomberg) -- U.S. investor demand for higher returns spurred Pacific Investment Management Co. to start its first exchange-traded fund for Australian bonds, which offer average yields more than twice those in America.
"Australian yields are attractive relative to what's available in the U.S.," Robert Mead, head of money management in Sydney for Pimco, which runs the world's biggest bond fund, said in an e-mailed response to questions. "Investors maintain an Australian dollar position and thereby access the positive real returns currently offered by Australian bond investments."
The Pimco ETF tracks a Bank of America Merrill Lynch index of Australian bonds, which has returned 12.6 percent in U.S. dollar terms in the past year, compared with 5.9 percent for U.S. corporate and government debt. The yield to maturity on the Australian bond index was 4.64 percent, compared with 2.03 percent for the U.S. measure.
Europe's debt crisis and concern that U.S. growth will slow have increased the attraction of fixed-income securities from Australia, which has the second-lowest debt burden and second-highest benchmark borrowing costs in the developed world. Treasurer Wayne Swan reiterated this week a pledge to return the government's budget to surplus by 2013. The central bank said Nov. 4 growth will be at least 3 percent next year.
Exchange-Traded Funds
Pimco, which announced the start of its Australia Bond Index Fund on Nov. 1, has also formed bond ETFs for Canada and Germany from its base in Newport Beach, California.
Deutsche Bank AG's Australia SSA Bonds Total Return Index ETF is the only other bond specific ETF among 79 that focus on the country's assets, according to data compiled by Bloomberg. The bank's fund has returned 9.7 percent this year, the third-best among the ETFs.
WisdomTree Investments Inc., the New York-based firm founded by former hedge-fund manager Michael Steinhardt that manages about $11.8 billion in ETF assets, added Australian holdings last month to a New Zealand ETF, setting up the WisdomTree Australia & New Zealand Local Debt Fund.
Australian government bonds returned 13 percent over the past 12 months in U.S. dollars, including reinvested interest, the most across 26 markets covered by Bloomberg/EFFAS indexes. Treasuries gained 5.9 percent.
Falling Yields
Benchmark 10-year Australian bond yields rose one basis point as of 5 p.m. in Sydney today, or 0.01 percentage point, to 4.22 percent. While the yield has tumbled 98 basis points since June 30, it remains 216 basis points higher than similar U.S. notes.
The Reserve Bank of Australia cut interest rates last week for the first time in 2 1/2 years as the outlook for inflation and global growth cooled. Australia's key rate of 4.5 percent is at least two percentage points higher than its Group of 10 counterparts. Iceland raised its benchmark to 4.75 percent on Nov. 2, making it the highest of the 12 developed-nation central banks tracked by Bloomberg.
"It's obvious to anyone that global instability will have an impact on the budget," Swan wrote Nov. 6 in a weekly economic note. "While the turbulence in the global economy makes our task harder, we're determined to bring the budget back to surplus in 2012-13 as planned."
Gross government borrowings were 20.5 percent of the economy in 2010, the second-smallest burden among developed nations after Estonia's 6.6 percent, according to International Monetary Fund data from a September report. U.S. obligations were 94.4 percent of gross domestic product and Germany's were 84 percent, the IMF data show.
Higher Benchmark
Investors are increasing holdings of Australian debt, drawn by the nation's links to Asia's economic expansion and demand for commodities. Foreign investors held 75 percent of Australian government securities as of June 30, government data show.
China is Australia's largest trading partner, followed by Japan, the U.S., Korea, Singapore and India, Australian government data for the 12 months to September shows. Business investment jumped 14 percent in the third quarter, led by liquefied natural gas projects, a Deloitte Access Economics report showed last month.
"Australia's secular, or long-term story is what we at Pimco feel is most attractive, including that country's status as a large commodity exporter and key trading partner with Asia and emerging-market nations," Mead said. "We expect the U.S. economy to move sideways with low growth for some time, whereas Australia is poised to see further growth in coming years."
Growth Forecasts
Pimco, which has more than $1.3 trillion under management, has been favoring bonds of the U.S., U.K., Germany, Australia and Canada amid slow growth in developed economies, Co-Chief Investment Officer Bill Gross, who runs the $244 billion Total Return Fund, said last month.
Australia's economy will grow 3 percent to 3.5 percent in 2012, the RBA forecast Nov. 4, compared with economist projections for a 2.1 percent expansion in the U.S. and 0.7 in the euro area, Bloomberg data show. Among G-10 nations, only New Zealand is predicted to grow faster at 3.9 percent.
Australia's dollar, the world's fifth most-traded currency has climbed 3.5 percent versus the dollar over the past year and traded at $1.0364 at 5 p.m. in Sydney. It touched $1.1081 on July 27, the highest level since exchange controls were lifted in 1983.
Corporate Spreads
Exports slipped to A$27.3 billion ($28.4 billion) in September, the Bureau of Statistics said yesterday, after a record A$28 billion the previous month.
Corporate bonds have returned 9.7 percent over the past year, while a gauge of U.S. company securities has gained 5.9 percent, according to Bank of America Merrill Lynch indexes.
The Markit iTraxx Australia index of credit-default swaps that gauges perceptions of corporate bond risk declined one basis point to 178 as of 11:31 a.m. in Sydney, according to Westpac Banking Corp. It reached 239 on Oct. 4, the highest since May 2009.
The index tumbled 51 basis points last month to 166, its first drop in six months and the biggest fall since July 2009, according to CMA, which is owned by CME Group Inc. and compiles prices quoted by dealers in the privately negotiated market.
The Markit CDX North America Investment Grade Index, the benchmark gauge of U.S. corporate credit risk, dropped 23 basis points to 121 in October, CMA data show.
The extra premium investors demand to own Australian corporate debt instead of government securities was unchanged at 245 basis points yesterday, while the yield gap for U.S. notes expanded one to 230, Merrill Lynch indexes show.
To contact the reporter on this story: Candice Zachariahs in Sydney at czachariahs2@bloomberg.net Sarah McDonald in Sydney at smcdonald23@bloomberg.net;
To contact the editor responsible for this story: Rocky Swift at rswift5@bloomberg.net Shelley Smith at ssmith118@bloomberg.net;