Osborne Braces for More Job Cuts as New U.K. Recession Looms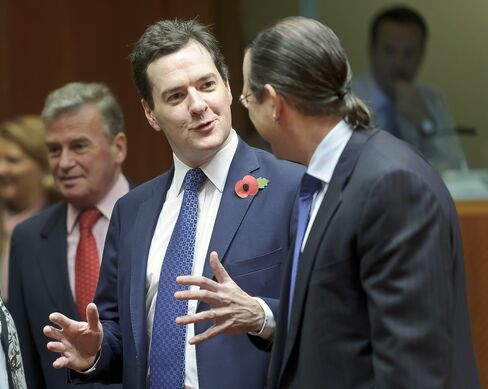 U.K. Chancellor of the Exchequer George Osborne may have to concede that many more government workers will lose their jobs than he forecast, heightening concern over an economy at risk of returning to recession.
In the first three months of the fiscal year that began April 1, employment in central and local government plunged by 104,000, five times the number the Office for Budget Responsibility predicted in March for the year as a whole.
The scale of the job shedding underscores the growing risks to the economic outlook at a time when unemployment is at a 15-year high and the threat of the euro area splintering is rocking financial markets. The budget watchdog, which scaled back its forecast for total public-sector job losses by 2016 to 400,000, may increase that prediction this month to closer to its initial estimate of 600,000.
"Over five or six years this would be relatively easy to absorb, but they're adding to unemployment at a vulnerable time for the economy," John Philpott, chief economic adviser at the Chartered Institute of Personnel and Development in London, said in a telephone interview. "Clearly the short-term outlook is pretty bad."
Six million people, or a fifth of British workers, are employed by the government and state-controlled companies. Osborne and Prime Minister David Cameron are cutting jobs and freezing pay in an effort to reduce a budget deficit equal to about 9 percent of economic output.
Strike Plans
Their 80 billion-pound program ($128 billion) of spending and welfare reductions has sparked opposition, with unions representing teachers, health workers and civil servants preparing to strike on Nov. 30 over plans to make government workers contribute more toward their pensions and retire later.
New projections due to be published on Nov. 29 will probably see the OBR cut its growth forecasts and predict higher government borrowing and unemployment after the economy grew more slowly than expected in the first nine months of 2011.
The National Institute for Economic and Social Research chopped its 2011 growth forecast to 0.9 percent last week, half the 1.7 percent seen by the OBR, and said there is a 50 percent chance of another recession. Unemployment, which climbed to 8.1 percent in the three months through August, will peak at 8.9 percent at the end of 2012, the most since 1995, the London-based institute said.
The surge in public-sector job cuts has cast doubt on Cameron's bet that companies will make up for the losses as he pushes ahead with the deepest budget cuts since World War II.
'Shocking'
The private sector created just one job for every three government positions lost in the second quarter and total employment dropped by 178,000 in the three months through August, the biggest fall since the depths of the last recession in mid-2009.
"It's shocking and it will have an undeniable impact on consumer confidence," Simon Kirby, a research fellow at Niesr, said in a telephone interview. "Every job loss equates to a lack of income for someone. The private sector is not generating enough work."
Osborne's ministry said yesterday that the economy is continuing to grow and create jobs, even amid the uncertainty created by the debt crisis in the euro area, Britain's biggest trading partner.
"The difficult decisions taken by the government to tackle the deficit and rebalance the economy are providing a firm foundation for a sustainable recovery," the Treasury said in an e-mailed statement. "But the scale of the challenge means that the recovery will be choppy."
Manchester
Local authorities have borne the brunt of the employment cuts, accounting for 60 percent of the 240,000 public-sector job losses over the past year. Manchester City Council, which runs the largest city in northern England, announced in January it was eliminating 2,000 posts, or 17 percent of its workforce, after losing a quarter of its funding.
Among the victims was Manchester Advice, which offered free legal counsel to residents on matters including debts, housing and benefits. About 100 people lost their jobs when the service was axed as part of attempts by the Labour Party-run municipal authority to save 110 million pounds this year.
'More Harshly'
"We haven't even begun see the worst of it," said Paul Goggins, who represents the Manchester district of Wythenshawe and Sale East in Parliament for Labour, which is in opposition nationally. "Redundancy payments are softening the blow, but in a few months time when that money's run out and the work's not there, then that will be felt more harshly than it is at the moment."
Cameron and Osborne reject Labour demands to slow the pace of cuts, saying their plan is shielding Britain from Europe's sovereign debt crisis.
U.K. gilts have returned 13 percent this year, indexes compiled by Bloomberg and the European Federation of Financial Analysts Societies show. German bunds rose 8.3 percent and Italian securities lost 6.4 percent. The 10-year gilt yield fell to 2.17 percent on Nov. 1, the lowest since Bloomberg started collecting the data. It climbed 6 basis points to 2.32 percent as of 1:05 p.m. in London.