Nomura Rebounds From Tumble That Pushed Value to Decade Low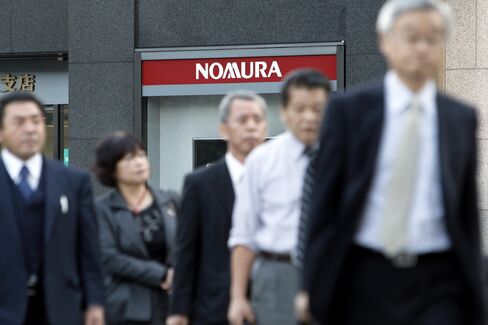 Nov. 9 (Bloomberg) -- Nomura Holdings Inc. shares rose, recovering from a tumble that had pushed its valuation to the lowest in more than 10 years as Olympus Corp.'s disclosure of hidden losses shook confidence in Japanese stocks and led to a rout at a firm already battered by setbacks abroad.
Japan's biggest brokerage rose 10 yen, or 4.1 percent, to 255 yen in Tokyo today, helping reverse a 15 percent decline yesterday that sent the stock to a 37-year low. The benchmark Topix index gained 1.5 percent today.
Nomura wasn't involved in Olympus's concealment of losses, Hajime Ikeda, a spokesman for the securities firm, said after the close of trading yesterday. Nomura, which last week reported its first quarterly loss in more than two years, has tumbled about 50 percent in Tokyo in 2011, shedding almost 1 trillion yen ($13 billion) of market value.
"We cannot rule out distrust over Japanese stocks hurting the earnings environment," Masao Muraki, an analyst at Deutsche Bank AG in Tokyo, wrote in a note today. "But assuming Nomura was not involved in any improprieties, we think the 160 billion yen drop in market cap represents an overreaction," he wrote, referring to the value of yesterday's selloff.
Not Involved
Olympus said yesterday that three executives helped conceal decades of losses by paying inflated fees to takeover advisers, the first admission of wrongdoing since accusations from its former chief executive officer engulfed the Japanese camera maker four weeks ago. Its shares plunged and pulled other equities lower on concerns Japan hasn't escaped corporate governance weaknesses that have dogged it since the stock market bubble burst at the end of 1989.
"We are not aware of any involvement by Nomura in Olympus's hiding of losses in the 1990s, and we weren't involved when Olympus wrote off the losses" between 2006 and 2008, Ikeda said in a telephone interview in Tokyo yesterday.
Nomura traded at 0.44 times its book value after yesterday's drop, the least since at least the start of 2000, and was comparable with Barclays Plc and Lloyds Banking Group Plc, data compiled by Bloomberg show. The company lost money overseas in each of the past six quarters, burdened by staffing costs after purchasing Lehman Brothers Holdings Inc.'s Asian and European operations in 2008.
"It does not surprise me at all that sentiment has turned very negative on Nomura," said Tom Kirchmaier, a fellow in the financial markets group at the London School of Economics. "They had taken on a lot of risk, expanded very fast while losing many people in the newly acquired Lehman subsidiaries. To me this looks like the classical case of overstretch."
Most Traded
Nomura was the most traded stock in Tokyo today, with 170 million shares changing hands, more than five times the three-month daily average, Bloomberg data show.
The company last week posted a 46.1 billion yen loss for the three months ended Sept. 30, the first since the quarter ended March 2009, and said it will triple cost cuts to $1.2 billion. Pretax losses from overseas operations swelled to 52.4 billion yen, the biggest in at least six quarters.
Nomura's woes have been exacerbated by Europe's debt crisis. Political dramas in Italy and Greece and Italy in the past week have reversed confidence in a package of measures hammered out last month for Europe, leading to concern that sovereign debt may sour. Nomura had net exposure to Greece, Ireland, Italy, Portugal and Spain totaling $3.6 billion as of Sept. 30, with $2.8 billion to Italy, it said in a statement Nov. 1.
About $2.2 billion of Nomura's inventory of Italian debt are securities of six months or less, so "we thus see price fluctuation risk as limited," Deutsche Bank's Muraki wrote.
Keiko Sugai, a Tokyo-based spokeswoman for Nomura, declined to comment on the share decline yesterday, and wouldn't elaborate on Olympus's statement. The brokerage wasn't named in Olympus's statement.
"Investors have been selling shares given how its profitability has deteriorated," Kouichi Niwa, senior analyst at SMBC Nikko Securities Inc. in Tokyo, said yesterday. "The valuation of the company is low given its history, and investors will come to revise their view at some point."
To contact the reporter on this story: Takahiko Hyuga in Tokyo at thyuga@bloomberg.net
To contact the editor responsible for this story: Chitra Somayaji at csomayaji@bloomberg.net