Nomura Tumbles as Olympus, Europe Weigh on Japanese Brokers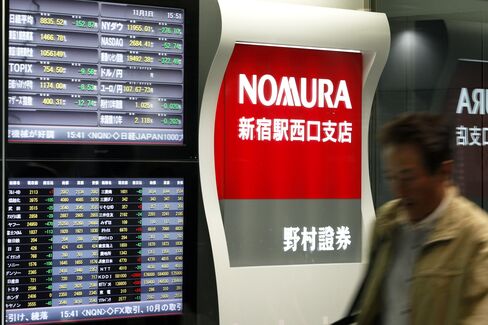 Nomura Holdings Inc. shares tumbled to the lowest in at least 37 years, leading a decline in Japanese brokerages, after Olympus Corp.'s statement that it hid losses sparked concerns about corporate governance in Japan while Europe's debt crisis deepened.
Shares of Japan's biggest securities firm fell 15 percent at the close of trading in Tokyo to 245 yen, the lowest since September 1974, according to data compiled by Bloomberg. The Topix Securities and Commodity Futures Index slid 11 percent, the most of any industry group in the broader gauge. Daiwa Securities Group Inc., Japan's second-biggest brokerage, fell 7 percent to 251 yen.
Olympus said it hid losses by paying inflated fees to advisers on a 2008 acquisition, the first admission of wrongdoing since accusations from its former chief executive officer surfaced four weeks ago. Political dramas in Greece and Italy in the past week have also reversed international confidence in a package of measures hammered out last month for Europe, leading to concern that sovereign debt may sour.
"Olympus's announcement gave a sense of mistrust to Japan's stock market as a whole, prompting investors to sell brokerage stocks," said Masao Muraki, a Tokyo-based analyst at Deutsche Securities Inc. "Exposure to Italy's sovereign debt also is a reason behind the decline in the brokerage shares."
Not Involved
Nomura didn't participate in Olympus's concealment of losses, said Hajime Ikeda, managing director of corporate communications for the securities firm.
"We are not aware of any involvement by Nomura in Olympus's hiding of losses in the 1990s, and we weren't involved when Olympus wrote off the losses" between 2006 and 2008, Ikeda said in a telephone interview in Tokyo today.
Shares of Nomura were the most active by volume today, with
202.5 million shares being traded as the brokerage lost 164.4 billion yen in market value to fall below 1 trillion yen. The stock has plunged 52 percent this year on concern that its global expansion is faltering following the 2008 purchase of Lehman Brothers Holdings Inc.'s European and Asian operations.
"There is speculation in the market that Nomura may somehow be involved in this Olympus case," said Shoichi Arisawa, an Osaka-based analyst at Iwai Cosmo Holdings Inc. "Individual investors in particular probably sold after seeing a high volume of Nomura's shares being traded."
Europe Risk
Keiko Sugai, a Tokyo-based spokeswoman for Nomura, declined to comment on the share decline today, and wouldn't elaborate on Olympus's statement. The brokerage wasn't named in Olympus's statement today. Akihiro Honda, a spokesman for Daiwa, also declined to comment.
Nomura had net exposure to Greece, Ireland, Italy, Portugal and Spain totaling $3.6 billion as of Sept. 30, with $2.8 billion to Italy, it said in a statement on Nov. 1, while reporting its first quarterly loss in more than two years.
Olympus shares plunged by the daily limit and pulled other Japanese equities lower on broader concerns about accounting practices in the country. The camera maker released a statement this morning saying an independent investigation found advisory fees, takeover payments and writedowns were used to hide soured investments from the 1990s.
The Tokyo Stock Exchange said it's considering moving the shares in the world's biggest maker of endoscopes to a watchlist for possible delisting following today's revelations. Japan's Securities and Exchange Surveillance Commission is investigating Olympus, according to a person with knowledge of the situation.
Before it's here, it's on the Bloomberg Terminal.
LEARN MORE