NBA Union Says Owners' Ultimatum Expiring Today Is Unacceptable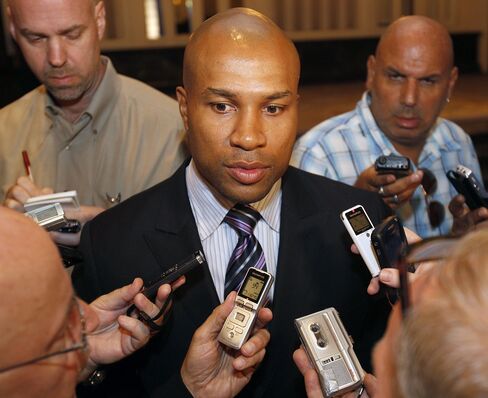 Nov. 9 (Bloomberg) -- National Basketball Association players won't accept 49 percent to 51 percent of basketball-related income from team owners, union President Derek Fisher said.
The offer, made on Nov. 6, expires today. After that, the proposal falls back to 47 percent, NBA Commissioner David Stern has told the union.
Players from 29 of the NBA's 30 teams were present at a union meeting in New York yesterday, Fisher said. While they rejected the league's offer, the union wants to continue negotiating on a new labor accord. Players received 57 percent of basketball-related income under the agreement that expired July 1. NBA owners locked out players after the contract expired.
"It's now time for the NBA to make significant compromises," Fisher said.
Billy Hunter, the union's executive director, said the players' association would be willing to compromise on the revenue split in return for concessions on rules governing player movement and salary. Stern told NBA TV last night that there's no further room for maneuver on such issues. Hunter said he was going to try to contact Stern last night.
"I will take Billy's call," Stern told NBA TV last night. "We will always be willing to negotiate, except our starting point is going to be a new proposal."
The sides are at loggerheads over how to divide about $4.3 billion of league revenue. Stern has said the league's 30 owners collectively lost $300 million last season.
'Fair and Reasonable'
"We're talking about a fair and reasonable Deal," Hunter told NBA TV last night. "Our guys made all kinds of concessions and it never seems to be enough and that's our problem."
Charlotte Bobcats owner Michael Jordan, the five-time Most Valuable Player who was a union member during the last lockout in 1998-99, has become a hard-line member of management, Hunter said.
During the previous lockout, Jordan told then-Washington Wizards owner Abe Pollin that he should sell the team if he couldn't make money. Hunter said yesterday he'd give Jordan the same advice and that Stern may have difficulty selling a deal to the owners.
"He may not have the sway he once had," Hunter said.
Players and owners have been meeting with a federal mediator to try to reach an agreement to end the lockout.
About 50 players, unhappy with the progress and direction of the talks, held a conference call with an antitrust attorney on Nov. 3 to discuss decertifying the union, the New York Times and other media outlets reported.
200 Players
The first step in decertification would require 30 percent of the NBA's roughly 450 players to sign a petition. That would lead to an election by the full membership overseen by the National Labor Relations Board, with a majority needed to complete the effort.
"There are at least close to 200 players who are apparently in the process of signing decert cards," Hunter told NBA TV. "It's something that players are doing on their own, probably at the insistence of their agents."
Decertification could give players leverage in the court system by allowing them to file an antitrust suit against the NBA, Paul Haagen, a professor of sports and contract law at Duke University School of Law in Durham, North Carolina, said in a Nov. 4 telephone interview.
The result could be the NBA canceling the season or operating under antitrust laws that would limit what work rules the league could enforce, Haagen said.
Stern told NBA TV the season can't start until 30 days after an agreement is reached. The league has canceled the first month's games in the season, which was scheduled to start Nov. 1. Fisher declined to comment on whether he thought the entire 82-game season would be wiped out.
"We have not walked down the path of what may or may not happen," he said.
To contact the reporter on this story: Scott Soshnick in New York at ssoshnick@bloomberg.net
To contact the editor responsible for this story: Michael Sillup at msillup@bloomberg.net