Munich Re Quarterly Net Decline Exceeds Analysts' Forecast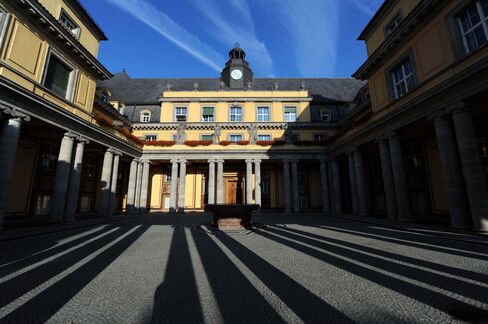 Munich Re, the world's biggest reinsurer, posted a bigger-than-estimated 63 percent decline in third-quarter profit as currency effects weighed on earnings.
Net income dropped to 286 million euros ($393 million), the Munich-based reinsurer said in a statement today, missing the 516.3 million-euro average estimate of seven analysts surveyed by Bloomberg. The company posted currency losses of 342 million euros as the dollar strengthened against the euro, while writedowns on Greek government bonds totaled 45 million euros.
The reinsurer scrapped a share buyback and its 2.4 billion-euro full-year profit target in March after the record earthquake and tsunami in Japan triggered Munich Re's first quarterly loss since 2003. Munich Re, led by Chief Executive Officer Nikolaus von Bomhard, 55, said it aims to pay a stable dividend and reiterated a goal to be profitable this year after nine-month earnings of 75 million euros.
"Munich Re released a weaker-than-expected set of quarterlies but reiterated its wobbly guidance," Christian Muschick, a Frankfurt-based analyst with Silvia Quandt Research who recommends buying Munich Re shares, said in an e-mailed note to clients.
Munich Re climbed 0.2 percent to 93.14 euros at 12:27 p.m. in Frankfurt trading compared with a 1.5 percent gain in the 28-company Bloomberg Europe 500 Insurance Index. The stock has declined 18 percent this year, while Swiss Re Ltd., the world's second-biggest reinsurer, rose 3.4 percent.
'Major Losses'
The currency-translation losses were mainly caused by "inconsistencies between economic asset liability matching and International Financial Reporting Standard rules, which don't allow for discounting of liabilities," Munich Re said.
That accounting difference translates into revaluation losses when the dollar rises and gains when it weakens, the company said. Should the euro rebound against the dollar in the current quarter, Munich Re is likely to post gains, Chief Financial Officer Joerg Schneider said on a conference call today.
"We still envisage a positive consolidated result for 2011 as a whole," Schneider said. "Munich Re will not be making a more concrete profit forecast than this because the final amount will be influenced considerably up to the last day of the year by the incidence of major losses and the volatility of the capital markets and exchange rates."
Natural Disasters
Net income attributable to Munich Re shareholders stood at 75 million euros after the first nine months of the year. Earnings at reinsurers and insurers were hit by record losses of about $70 billion from natural disasters in the first half of the year, according to estimates by Guy Carpenter & Co., the reinsurance broker of Marsh & McLennan Cos.
Catastrophe claims usually increase in the second half of the year with the hurricane season in the North Atlantic and typhoons in the Pacific.
This year's Atlantic hurricane season only saw one major storm hit the U.S. coast. Hurricane Irene struck North Carolina on Aug. 27 then headed north along the East Coast. The storm may cost the insurers between $3 billion and $6 billion in the U.S., according to an estimate from risk-modeling firm AIR Worldwide. Munich Re expects a pretax loss of 195 million euros from the storm.
Munich Re's combined ratio in property and casualty reinsurance improved to 89 percent from 93.8 percent, helped by reserve releases of about 200 million euros for prior-year losses. A ratio below 100 percent means premium income exceeds claims and costs, leaving a profit from underwriting.
Combined Ratio
Munich Re, which aims for a combined ratio of around 97 percent "over the market cycle as a whole," now anticipates a combined ratio of around 113 percent for the full year because of the "very severe natural catastrophe losses" seen at the beginning of the year, it said.
The reinsurer also strengthened its reserves for Australian disability coverage by approximately 150 million euros.
Investment income declined 39 percent to 1.35 billion euros in the quarter as Munich Re sold about 1.4 billion euros of Italian government bonds and invested in countries such as Germany, France and the Netherlands. The reinsurer held 3.6 billion euros of Italian government bonds at the end of September and 600 million euros of Greek bonds out of total investments of 205 billion euros.
Swiss Re Ltd., the world's second-biggest reinsurer, said last week that third-quarter profit more than doubled to $1.35 billion, beating the $539 million average analyst estimate. Earnings were boosted by one-time items including a $354 million gain as lower interest rates boosted the value of its bond holdings, the Zurich-based company said.
Dividend Goal
Munich Re, which hasn't cut its dividend since 1969, paid out 1.1 billion euros last year as it seeks to lure investors including BlackRock Inc. and Warren Buffett with stable payouts. The reinsurer paid a dividend of 6.25 euros a share for 2010.
"Two months before the end of the financial year, it is too early for us to make a definite announcement," CFO Schneider said. "But we are still looking to pay the same dividend amount for the financial year 2011 as for the previous year."